Key points:
The Nanosynth share price surged 23.4% after announcing a new joint venture.
The company has partnered with a wellness firm to launch a new product.
The move comes after Friday's £2.94 million premium-priced capital raise.
The Nanosynth Group PLC (LON: NNN) share price surged 23.4% after a joint development agreement with a global wellness company to launch its first cosmetics product. The company expects the project to last 12 months and to consist of two work phases.

While the two companies will collaborate on the project, each is expected to retain the rights to its intellectual property even as they partner to create a revolutionary product for the cosmetics industry.
Also read: 12 Best Shares To Buy As A Beginner.
Once the project is completed, the two companies intend to enter into an exclusive commercial agreement to supply nanoparticles for the new product to the cosmetics industry. Investors cheered the announcement that will see Nanosyth enter the high-potential cosmetics industry.
Investors welcomed today's announcement following Friday's £2,942,500 capital raise, where the company issued 535 million new shares priced at 0.55p each, representing a 20.9% premium to its mid-market price of 0.455p on Thursday.
The higher price of shares issued indicates that there is demand for Nanosynth shares and that investors think the company is worth much more than its current trading price.
Mark Duffin, Nanosynth's CEO, commented: "We are delighted to secure the first project in our R&D programme, which is a testimony to our leadership in the field of Nanotechnology. Our client's confidentiality and competitive advantage remain our priority during this development phase, and we look forward to becoming their exclusive partners in the future."
So, should you buy Nanosynth shares? The company's shares are trading below a crucial resistance zone
*This is not investment advice.
Nanosynth share price.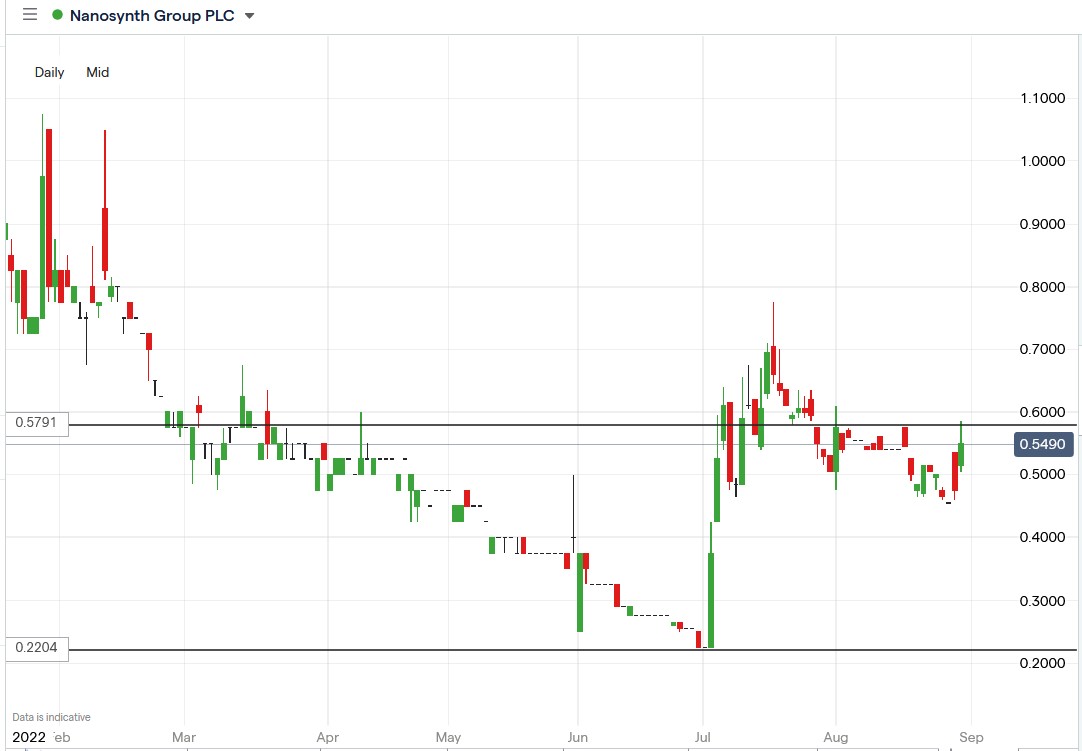 The Nanosynth share price surged 23.37% to trade at 0.5860p, rising from Friday's closing price of 0.4750p.