Key points:
It's possible that Next can only buy into Joules at 33p or better
The gossip is that Next isn't all that happy about this
So, it's possible that the Joules deal is entirely borked
Joules Group (LON: JOUL) shares have not reacted well to the possibility that the deal with Next (LON: NXT) could be borked. The Joules Group's shares are down another 5% today as they've had to react to press speculation. As they say: "There can be no certainty that these discussions will lead to any agreement," and there's the problem. For Joules really would, very much, like to have a capital injection. It would also like to reduce operating costs by hefting its online and logistics operations over onto Next's platform – or someones' at least.

The basic business problem here is simply that Joules has been wrong-footed by changes in the retail market. Part of this is lockdown, which tenderised the capital structure of many a mid-level retailer. Part is the logistics problems accompanying reopening. Then there was overstocking – the goods just weren't flying off the shelves – which led to discounting and margin compression. Joules just isn't doing well as a retail group that is. Ah well, it happens.
Then there was the possibility of a lifeline, with Next stating that they were – perhaps, you understand – willing to buy in. This would alleviate some of the operational problems and also provide a capital influx. Something Joules might badly need as the next few months are the time of year with the biggest strain on working capital requirements. Stocking up for that winter season and so on. There's one little problem with that Next deal though and it's this phrase: "at no less than Joules' current market price".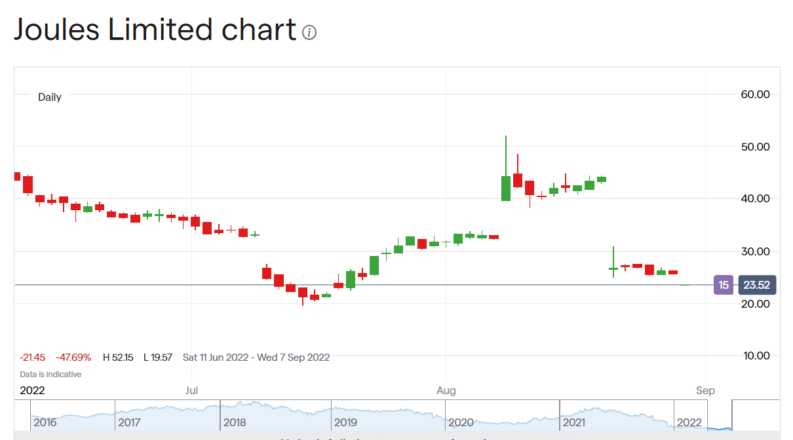 Also Read: The Best Clothing Stocks To Buy
The aim of the deal being discussed is that Next puts £15 million into Joules. But that statement to the exchange that it would be at no less than current price is a hostage to fortune. For the price on the day the statement was made (Aug 7th) was perhaps 44p. Or if we're to be generous we could use the closing price of the day before, 33p. That would be better as it was the price before the announcement after all.
Now, the way these things work is that if you say "at this price or better" then the deal does have to be at this price or better. But since then we've had the trading update, which didn't go well, and the share price was, before this morning, down at 25p. So, why would Next want to buy in at 33p or more? Expecially as with £15 million they'd be buying perhaps 50% (or so, about) of Joules?
Over the weekend there was varied press speculation about how Next wasn't happy with this situation. That they'd prefer perhaps a lower entry price, or perhaps not to do the deal at all – all gossip and rumour of course. Today's announcement is that the discussions continue. But we still end up with that problem. If Next buys into Joules then it really should so so at considerably above the current market price. That makes the deal less likely – and so the further 5% fall this morning.
If Joules hadn't included that phrase about current market price there wouldn't be this bind. But it is possible that that simple phrase will in fact bork the deal. Which wouldn't be good for the Joules share price if we're honest about it.