Key points:
The Netflix stock price fell despite partnering with Microsoft on ads
Investors also ignored a research note from Wedbush analysts
So, should you buy Netflix stock? Read on to find out
The Netflix Inc (NASDAQ: NFLX) stock price was trading down 1% despite the movie streaming service announcing a new partnership with Microsoft to launch a new ad-supported streaming package to attract more subscribers.

The move comes after Netflix lost subscribers for the first time between January and March this year. NFLX stock has fallen 70.44% this year as investors reacted negatively to the falling subscriber numbers, triggered by multiple factors.
First, the Russian invasion of Ukraine saw Netflix ban subscribers from the country, causing the company to lose about a million subscribers. Still, other data sources have said that the actual figure was close to 192,000 subscribers.
Still, the loss of Russian subscribers significantly affected the overall loss of 200,000 subscribers in Q1. The company expects to lose about 2 million subscribers in Q2, with the results set to be released this month.
Investors reacted negatively to the news, as evidenced by the 70.4% decline in Netflix's share price. However, the investment firm Wedbush expects Netflix to lose fewer subscribers in Q2 than its guidance.
Wedbush analyst Michael Pachter issued a research note saying that he does not expect Netflix shares to reach their 2021 highs any time soon but that they could easily reach his $280 target in the next 12 months. He had an outperform rating on NFLX stock.
The advertising deal with Microsoft is another positive milestone, given that other competing streaming services offer ad-supported subscriptions that are pretty cheap. Yet, they have attracted a massive number of subscribers.
With the rising cost of living in the United States and globally, many Netflix subscribers are looking to save money, and some of the expenses they are cutting are their Netflix subscription. However, offering a cheaper subscription may keep some customers from entirely nixing their Netflix subscriptions and instead opting to downgrade to the cheaper version.
So, should you buy Netflix shares? The answer is that NFLX shares look attractive at current prices after an over 70% decline. But, we could be in for some more pain if the company lost more than 2 million subscribers in Q2.
Investors who buy now should be ready for the impact of Netflix's Q2 earnings, which could be either positive or negative.
*This is not investment advice. Always do your due diligence before making investment decisions.
Netflix stock price.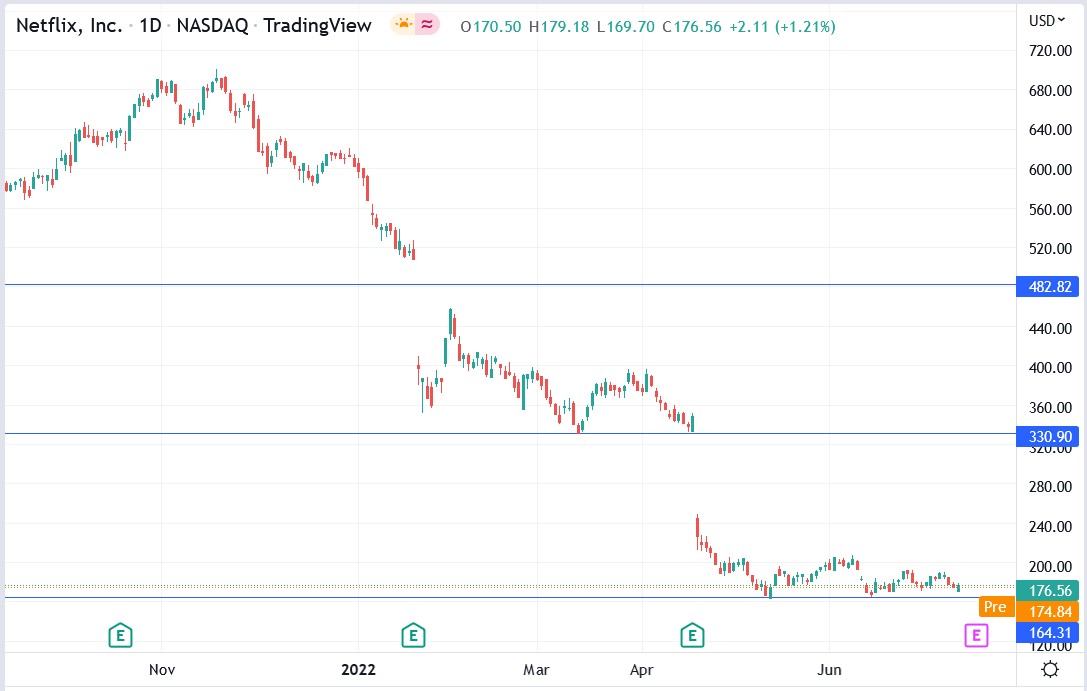 The Netflix stock price was trading down 1% premarket despite the positive development discussed above.