Key points:
Nikola just signed a deal with Crocentric to finance the purchase of its semi trucks.
This is the second deal this week, after the EV maker signed a battery deal.
It appears that Nikola has started the year on the right footing.
Nikola Corp (NASDAQ: NKLA) stock barely moved despite the electric vehicle manufacturer signing a deal with Corcentric Fleet Funding Solutions to provide financing and leasing solutions for buyers of its EVs.

The company, which makes electric and hydorigne fueled semi trucks revealed that Corcentric would purchase Nikola's vehicles directly and then offer bundled lease products to customers who want to use the green trucks.
You might remember that Nikola was embroiled in a massive fraud after it emerged that its founder and former CEO Trevor Milton had lied to investors about the green trucks the firm was developing, which happened to be nothing but hype.
The EV company has since gotten on the right track and delivered its first semi trucks to a transport company operating with the Los Angeles port in December 2021.
Nikola deliver two electric powered trucks and two hydrogen fuel-cell powered semi trucks to be used for drayage purposes within the docks to Total Transportation Services Inc.
Finally there is a ray of hope for investors that the company has put its murky past firmly behind it and is now ready to start competing in the EV sector where stiff competition is emerging from multiple players.
Nikola kicked of the year on a roll after securing a strategic mutli-uyear suppply agreemnt with Proterra (PTRA), which will supply Nikola with its industry-leading battery technology, which will be incorporated into Nikola's Tre battery-electric and fuel-cell vehicles.
The company expects to deliver the first smei-trucks powered by Proterra's technology in Q4 2022 with Proterra deliveringteh first prototypes to Nikola in Q2 2022.
The partnership with Proterra is a brilliant move on Nikola's part given that it is much easier to partner with firm's that specialise in making batteries than designing and manufacturing your own batteries at scale.
Unlike Tesla, amny EV companies do not have the capacity to make all the key parst of their vehicles, hence, they must rely on specialised manufacturers to supply them with high-quality parts.
Such specialised manufacturers tend to put a lot of resources into the parts they manufacture, which an EV manufacturer cannot do since they have to design and manufacture the entire vehicle.
There is alot to look forward to when it comes to Nikola. However, Its shares have fallen 55.8% over the past year, which makes them apper quite cheap, but there might be further declines in future.
*This is not investment advice. Always do your due diligence before making investment decisions.
Nikola share price.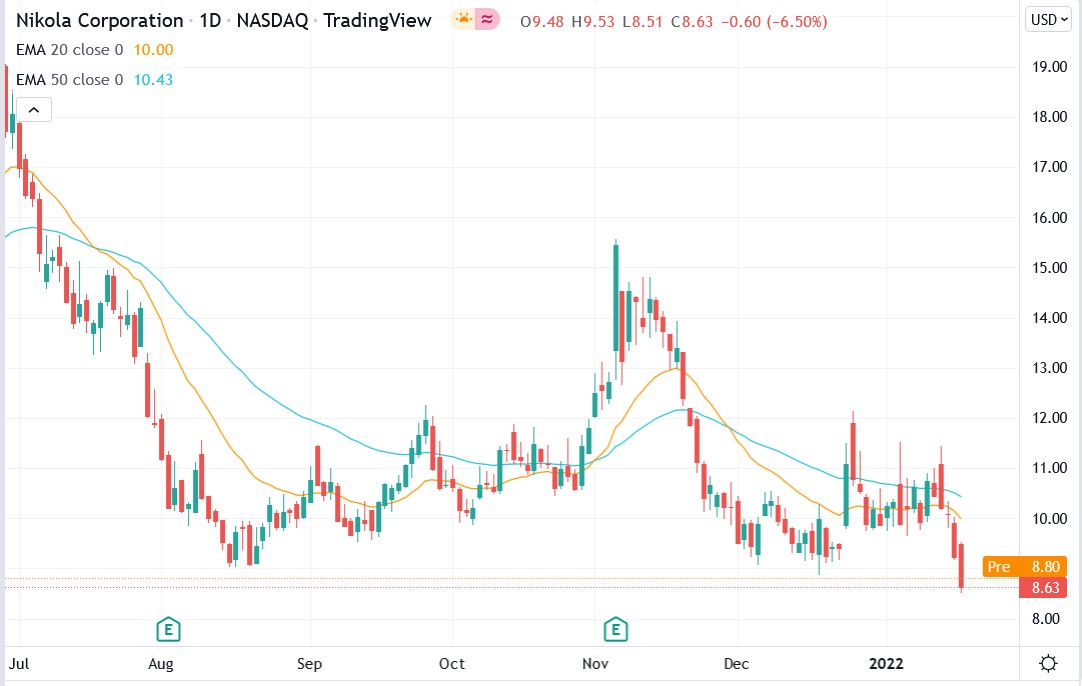 Nikola stock edged slightly higher premarket on today's funding deal, but the gains were minimal.