The Nio Inc – ADR (NYSE: NIO) share price has risen 9.42% in a week as the company applied to start equipping its vehicle models with semi-solid-state batteries that can offer a better driving range. The company filed the vehicle specification changes with the Chinese Ministry of Industry and Information Technology.

---
YOUR CAPITAL IS AT RISK. 81% OF RETAIL CFD ACCOUNTS LOSE MONEY.
---
The specification changes will see the EV company add semi-solid-state batteries to the battery information of three models, including two SUVs and one sedan. Huzhou WeLion Technology, a Beijing WeLion New Energy Technology subsidiary, will supply the semi-solid-state batteries to Nio.
Top Broker Recommendation
YOUR CAPITAL IS AT RISK. 68% OF RETAIL CFD ACCOUNTS LOSE MONEY
WeLion New Energy Technology is one of Nio's battery suppliers. The battery maker started building a production base in Huzhou two years ago and produced the first solid-state battery cell from its production line in November 2022.
Nio announced the 150-kWh semi-solid-state battery at the beginning of 2021. Multiple Chinese news reports indicated that the high-cost battery technology could offer an energy density of up to 360Wh/kg.
Qin Lihong, Nio's co-founder and president, said in February that customers could start renting the 150-kWh battery pack this summer, with an option of purchasing the battery being planned for the future.
NIO remains one of the leading Chinese EV companies competing fiercely with Tesla in China and other international markets. However, while Nio was launching a new high-capacity battery, Tesla's supplier Panasonic postponed the mass manufacturing of 4680 batteries to next year.
Panasonic wants to include some advanced technologies in the batteries and has to refit its production lines to accommodate the technology changes it envisions. The postponement could affect Tesla's production figures, but not by a large margin, given the company's high production numbers.
Tesla started manufacturing some of its batteries at its gigafactory and has enough capacity to cover the small shortfall from its supplier Panasonic. Therefore, the postponement of the opening of the production lines at Panasonic's Wakayama factory in Japan will have a minimal impact on Tesla.
Nio shares were headed higher at writing during the premarket session and looked set to open the trading session higher.
*This is not investment advice.
Nio stock price.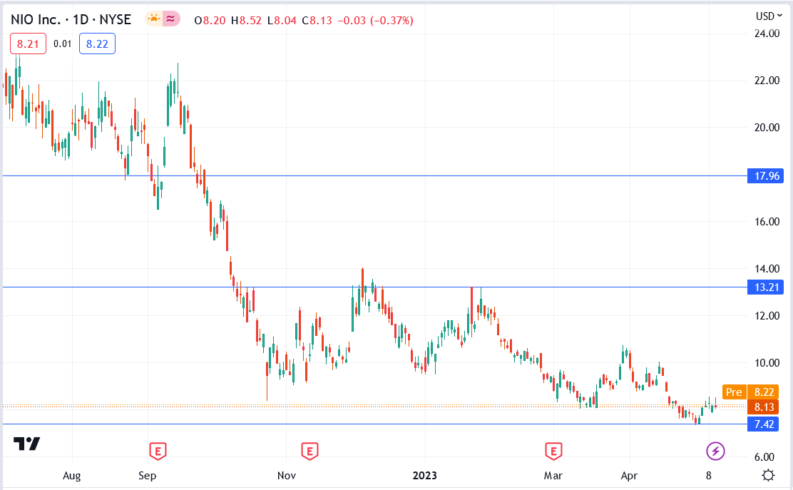 The Nio stock price has risen 9.42% in the past week amid multiple positive factors.
---
YOUR CAPITAL IS AT RISK. 81% OF RETAIL CFD ACCOUNTS LOSE MONEY.
---