The Audacy Inc (NYSE: AUD) stock price soared 86.5% after yesterday's Q1 earnings releases, and the follow-up Q&A session shed more light on the company's future. A key highlight of the Q&A session was pointed questions from Craig Huber, an analyst from Huber Research.
---
YOUR CAPITAL IS AT RISK. 81% OF RETAIL CFD ACCOUNTS LOSE MONEY.
---
A key question asked by Huber was why aren't the company's costs falling by even up to 10%, given that the company had experienced a significant loss of revenue of up to $300 million since 2019. Yet, despite the massive revenue loss, the company has cut costs by a mere $60 million.
Top Broker Recommendation
YOUR CAPITAL IS AT RISK. 68% OF RETAIL CFD ACCOUNTS LOSE MONEY
Audacy's CFO, Richard Schmaeling, noted that the company was considering selling other assets in addition to the sale of some radio towers that had netted the company $17 million and the pending sale of two radio stations for $15.5 million, which should close in Q2 or Q3 this year.
Schmaeling noted that the labour market had tightened and that the company was competing for talent, just like many other firms and, as such, could not cut additional costs, which would affect the firm's long-term prospects.
However, Huber was concerned that the company was ignoring the medium and short-term prospects, given that it was still making losses. Huber noted that if the loss-making trend continued, the company might not be there long-term.
Audacy reported a revenue decline of 5.7% in Q1 2023, compared to last year and an operating loss of $12.2 million versus last year's $8.5 million operating income over the same quarter. The company had an adjusted pretax profit of $3.5 million and a net loss of $35.9 million in Q1.
The above figures compare horribly to 2021 when the company made a pretax profit of $26 million and a net loss of $11 million. Then, the company promised to cut more costs but warned that the situation remained dire.
Since the pandemic struck in 2020, Audcacy, which provides an advertising platform to other companies, noted that it had experienced soft advertising demand leading to lower revenues. Unfortunately, the situation could worsen before it gets better.
*This is not investment advice.
Audacy stock price.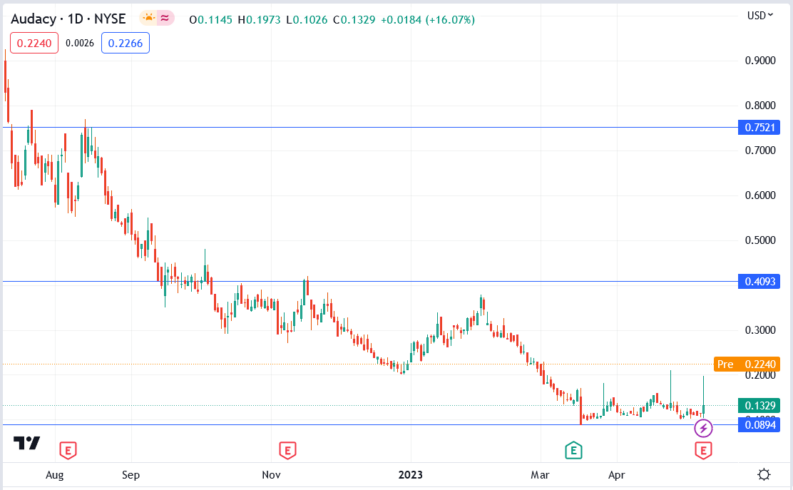 The Audacy stock price soared 86.53% to trade at $0.2479, from Wednesday's closing price of $0.1329.
---
YOUR CAPITAL IS AT RISK. 81% OF RETAIL CFD ACCOUNTS LOSE MONEY.
---