Key points:
Novacyt shares edged lower despite the approval of its COVID-19 test.
The UK approved NYCT's PROmate® COVID-19 2G Real-Time PCR test.
However, today's muted reaction occurred at a crucial resistance zone.
The Novacyt SA (LON: NYCT) share price barely moved after the company's PROmate® COVID-19 2G Real-Time PCR test was approved for use in the UK under the country's Coronavirus Test Device Approvals (Amendment) Regulations 2021 ("CTDA").

The approval by the UK Health Security Agency could provide a significant boost to Novacyt's revenues since the PROmate® COVID-19 2G test is the first direct-to-PCR test to be added to the CTDA register giving it an advantage over its competitors.
Today's muted reaction could be attributed to investor expectations about the market for COVID-19 tests, with the UK set to relax most of its COVID-19 rules by the end of February.
However, I do not think the demand for COVID-19 tests has diminished, given that even with the relaxed regulations, many organisations will still require negative COVID-19 tests from their clients.
For example, airlines, cruise ships and other businesses in the hospitality industry may still require their customers to produce negative COVID-19 tests before they can be served.
Therefore, while fully vaccinated airline passengers do not need COID-19 tests before taking their flights and after arriving in the UK, unvaccinated travellers still have to show proof of a negative COVID-19 test taken two days before their departure.
Hence, demand for COVID-19 tests still exists, albeit much less than before. Furthermore, investors may be considering that PCR tests are more expensive than lateral flow tests due to their higher accuracy.
Many people still prefer to use lateral flow tests, although most governments require PCR tests due to their accuracy and reliability.
As a Direct-to-PCR test, the PROmate® COVID-19 2G PCR test can be used in sports, media, film, travel, and workplaces. In addition, the test does not require a laboratory setting to generate results.
Today's news comes after Novacyt's COVID-19 genesig® Real-Time PCR test was approved in the UK under the CTDA in November 2021, attesting to the high quality of the tests. The company is currently supplying its tests to the NHS under a National Microbiology Framework.
However, the tests are on the temporary protocol list, which expires on 28 February 2022. Novacyt is waiting for further updates regarding the tests from the relevant authorities.
David Allmond, Novacyt's Group CEO, commented: "Our PROmate® COVID-19 range offers a unique combination of workflow efficiency, results in as little as 80 minutes and exceptional clinical performance, optimised for both our genesig® q16 and q32 instruments. It provides total viral inactivation, with a ready-prepared mix containing internal control for run validity, meaning there is no need for a category 2 laboratory to handle the live virus, thereby removing handling risk and bringing the test nearer to patients. With this approval from the CTDA, we can continue to meet the demand for high-quality COVID-19 testing in the UK."
Novacyt shares fell over 13% yesterday at a crucial resistance zone, explaining today's muted price action. As a trader and investor, I would watch the stock to see if it can break above the resistance zone, at which point I would open a bullish trade.
*This is not investment advice. Always do your due diligence before making investment decisions.
Novacyt share price.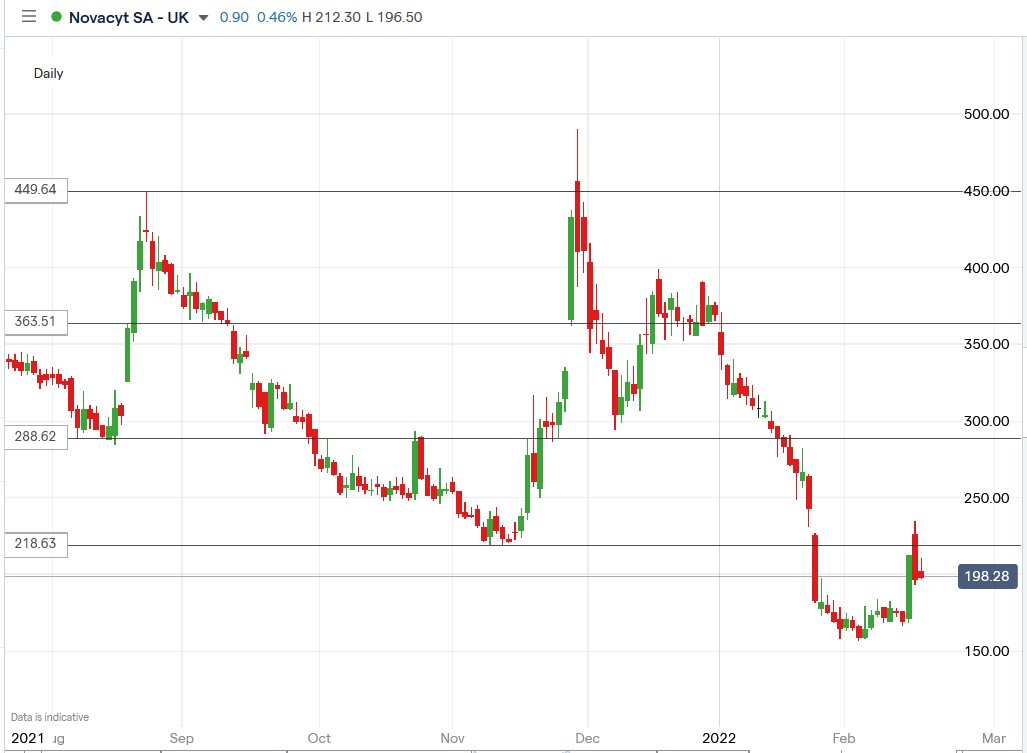 Novacyt shares barely moved on today's news as they continued trading below a significant resistance level.