Key points:
M&G shares barely moved after acquiring TCF Investment.
The firm will incorporate TCF's model portfolios into its services.
MNG shares are trading near a critical resistance zone.
The M&G PLC (LON: MNG) share price barely moved after announcing that it had completed the acquisition of TCF Investment and would not incorporate the investment firm's services into its product portfolio.

Investors seemed unbothered by the announcement as MNG shares kept trading sideways, posting slight losses for the day. A cursory look at the company's daily price chart indicates that MNG shares are trading below a critical resistance level, which explains the lack of movement.
It usually takes quite a decisive move to break above such a level, given that it has survived three previous attempts to break above it in 2022.
MNG shares have risen 7.62% in 2022, which is an impressive feat for the investment fund., but have been unable to break above the 218p resistance level.
The TCF acquisition brings a host of new services to M&G since TCF's speciality was providing model portfolios for investors. In addition, TCF had a single service known as MAPS, which was tailored to meet customers' needs with different risk profiles.
The investment firm had a collection of multi-asset model portfolios, which will continue to be offered to clients with M&G planning to launch other model portfolios to complement the existing portfolios.
M&G Wealth will take charge of TCF's portfolio of products with TFC Investments' founders Gary Mairs and David Norman leaving the business later in the year as M&G Wealth's Chief Investment Officer, Shanti Kelemen, taking over.
Shanti Kelemen, M&G Wealth's Chief Investment Officer, said: "TCF Investment has an excellent long-term performance track record and a scalable platform for the management of model portfolios. This complements M&G plc's existing investment capability and accelerates our ability to offer model portfolios."
Adding:
"It will allow us to bring new services to market, through all our distribution channels quickly. We will also introduce new model portfolios to supplement MAPS later this year, with a focus on investing globally and incorporating environmental, social and governance factors in the investment process."
David Norman, TCF Investments' Chief Executive, said: "In the 13 years since launch, TCF Investment has built a well-respected and fast-growing model portfolio business with an enviable performance track record.  Combining this with M&G plc's financial strength, wider investment capability and distribution reach will provide the perfect opportunity to create a market-leading proposition for consumers and intermediaries."
M&G shares look attractive at current prices. However, I would wait for a break above the 218p level before buying. Then, I would buy on a retest of the level, with my first target at the 240p level.
*This is not investment advice. Always do your due diligence before making investment decisions.
MNG share price.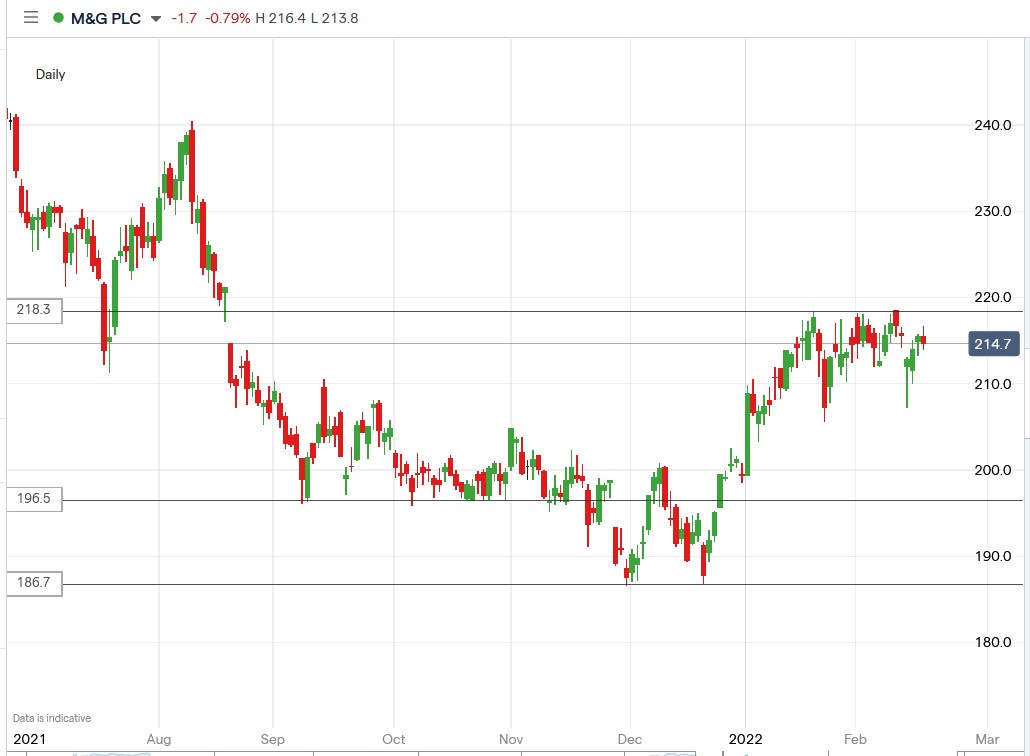 M&G share price barely moved as investors ignored the acquisition of TCF Investment.