Key points:
Novavax stock price has fallen 60.5% in 2022. Can it stage a rebound?
Multiple significant delays precipitated the stock's decline.
To rebound, the company must keep its promises going forward.
The Novavax, Inc. (NASDAQ: NVAX) stock price has fallen 60.5% in 2022, leaving many shareholders hoping the company can stage a comeback rally. However, the company recently crashed investor hopes for a rally after the US CDC approved its COVID-19 vaccine for adults.

News of the CDC's recommendations came barely a week after the company received Emergency Use Authorization (EUA) from the US Food and Drug Administration (FDA) for its COVID-19 vaccine. However, the company's share price fell 27% after the announcement.
Investors' adverse reaction was based on the fact that approximately 77% of American adults have already been fully vaccinated, significantly reducing the market for its vaccine. Therefore, the sales of its COVID-19 vaccines in most developed countries will be minimal at best.
However, other developing countries have much lower vaccination rates primarily because of the overall distrust among their populations towards the COVID-19 vaccines. Many unvaccinated people in such countries do not plan to get vaccinated, limiting the population of potential clients in such countries.
Still, there is hope for Novavax after its COVID-19 vaccine was approved for use in Japan's children between the ages of 12 and 17 with acute respiratory symptoms. Japan's Ministry of Labor and Welfare approved the Nuvaxovid COVID-19 vaccine for use in children within the country.
Novavax plans to manufacture the vaccine in Japan via its partnership with Takeda (TAK), which also covers the vaccine distribution within the country. The vaccine has also been approved for use in Australian children aged 12 to 17 with severe acute respiratory syndrome COVID-19.
Furthermore, Novavax is working on a combo COVID-19/flu vaccine and is far ahead of its peers in clinical trials. In addition, the company has promised to deliver an Omicron booster shot to the markets by the end of 2022.
The recent decline in Novavax's stock price is evidence of investors' frustrations with the company's missed deadlines in the past. However, to stage a comeback, Novavax must keep its promises.
So, should you buy NVAX shares? The answer depends on your investment goal. As a smaller company, Novavax has greater potential returns than its bigger peers, such as Moderna.
*This is not investment advice. Always do your due diligence before making investment decisions.
Novavax stock price.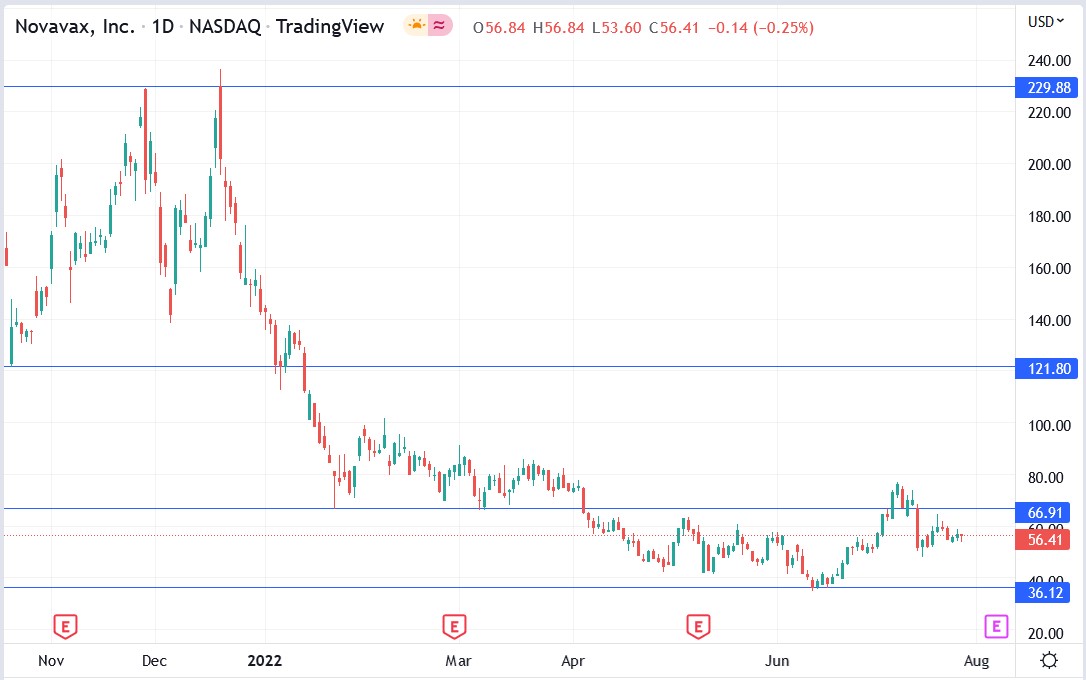 The Novavax stock price has fallen 60.52% in 2022. Can it stage a rebound?