Key points:
Jetblue airways just announced a deal to acquire Spirit Airlines.
However, its share barely moved due to the looming antitrust concerns.
Will the takeover win regulatory approval? Read on to find out.
The JetBlue Airways Corporation (NASDAQ: JBLU) stock price barely moved during premarket trading after the airline announced a deal to buy rival Spirit Airlines (NYSE: SAVE), bringing to an end several months of pushback from Spirit Airlines board.

Jetblue had countered a merger deal agreed by Spirit Airlines and Frontier Airlines, which would have seen the two airlines combine in a stock and cash deal that valued Spirit Airlines much lower than Jetblue's all-cash deal and one-time dividend payment.
Also read: Best Travel Stocks To Buy Right Now.
The Spirit Airlines board had struggled to get shareholder approval for the Frontier Airlines deal, which led it to postpone a vote on the deal multiple times. Finally, however, the two airlines threw in the towel yesterday after it became clear that shareholders would never approve the deal.
Getting back to the main point, Jetblue's stock price barely moved during premarket trading as investors adopted a wait-and-see attitude towards the deal that is likely to face immense regulatory scrutiny on an antitrust basis.
Industry experts expect the tie-up to result in higher airfares for Spirit Airlines customers, which is one of the main reasons many believe that aviation regulators may not approve the deal.
The Biden administration has taken a much stricter approach to antitrust laws than the Trump administration, focusing on how certain acquisitions may affect consumer choices and prices. Hence, many believe Jetblue will have to make significant sacrifices for regulators to approve the Spirit Airlines acquisition.
While the Jetblue management team may be celebrating its win over Frontier, investors are holding their breath with little hope that the deal will gain regulatory approval. Experts also point to Jetblue's plan to redesign Spirit Airlines planes to include first-class seats as an indicator that the airline will raise ticket prices.
Many experts see Jetblue's acquisition of Spirit Airlines as anti-competitive, given that low-budget carriers such as Spirit airlines continually pile pressure on the larger carriers to lower their prices by providing air passengers with cheaper flights.
The real challenge has just begun; despite Spirit Airlines shareholders preferring Jetblue's higher all-cash offer, the road ahead is not easy, and there is a high likelihood that the deal may not materialise.
*This is not investment advice. Always do your due diligence before making investment decisions.
Jetblue stock price.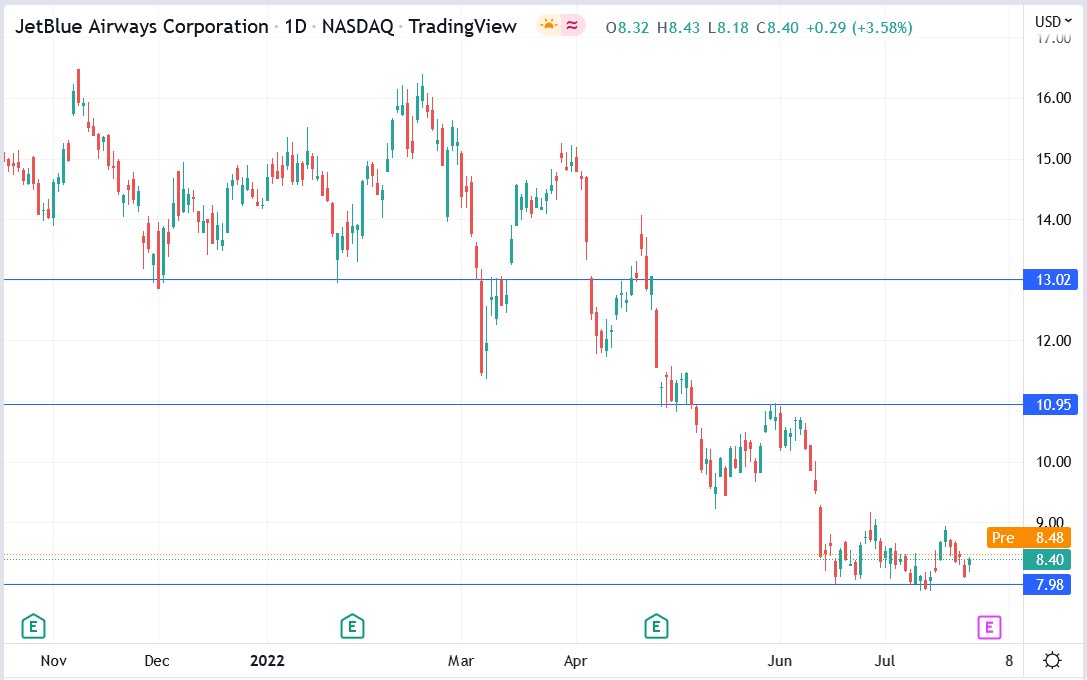 The Jetblue stock price barely edged higher on a deal to acquire Spirit Airlines.