Key points:
Open Orphan shares surged 11.5% after winning a  £5 million contract.
The company's hVIVO subsidiary was awarded the contract by a biotech firm.
The European biotech firm was a client of its Venn Life Sciences division.
The Open Orphan PLC (LON: ORPH) share price surged 11.5% after its subsidiary hVIVO won a £5 million contract to conduct a human challenge trial focused on the respiratory syncytial virus (RSV) for a European biotech company.

hVIVO will test the company's intravenous antiviral candidate using its proprietary RSV Human Challenge Study Model. The study will test the drug candidate's efficacy in a group of healthy young adults before the drug can proceed to the clinical trials stage.
Investors cheered today's news, given that the European biotech company was a client of its Venn Breda team, which conducted previous clinical work for the firm.
Open Orphan highlighted its ability to cross-sell its services after convincing the biotech firm to use its human challenge trials to test the efficacy of its antiviral drug before commencing clinical trials in the target patients.
The company has been busy upgrading the capacity of its quarantine facilities in London after increasing its capacity to 62 beds from 43, a 45% increase in a cost-efficient manner. The firm also opened a new facility in Manchester to expand its recruitment area away from the London metropolitan area.
Open Orphan's volunteer recruitment division, known as FluCamp, will be responsible for recruiting young, healthy volunteers for the study. The division's recently expanded its recruiting capacity after opening a new screening facility in London.
The RSV study is crucial given that the virus is the biggest cause of lower respiratory infections in children and the elderly, and adults with pre-existing chronic medical conditions such as COPD.
Yamin 'Mo' Khan, Open Orphan's CEO, said: "I am pleased to announce this £5m contract to test our client's antiviral candidate using the hVIVO RSV Human Challenge Study Model. RSV is a significant threat to public health, and we are delighted to support this European biotech in the development of its antiviral candidate."
Adding:
"Following the recent expansion of our FluCamp facilities, which boosts our volunteer and patient recruitment capabilities as well as increasing our bed capacity by c.45%, we are now even better equipped to identify volunteers and to complete our growing pipeline of studies in a time-efficient manner."
Dr Andrew Catchpole, hVIVO's Chief Scientific Officer, said: "This contract is a further demonstration of the significant value of human challenge studies. Efficacy data provided by the Company following the completion of the study can lead to entry into Phase II as well as optimisation of a Phase III programme. For Big Pharma as well as smaller biotechs, the substantial time and financial savings compared to typical field-based studies is increasingly making the human challenge the trial design of choice for achieving early proof of concept data."
Open Orphan shares have fallen 34.78% in 2022 but are attempting to rally higher after bottoming earlier this month. The company's prospects are pretty promising, making it an excellent target for investors in the biotech and biopharma sector.
*This is not investment advice. Always do your due diligence before making investment decisions.
Open orphan share price.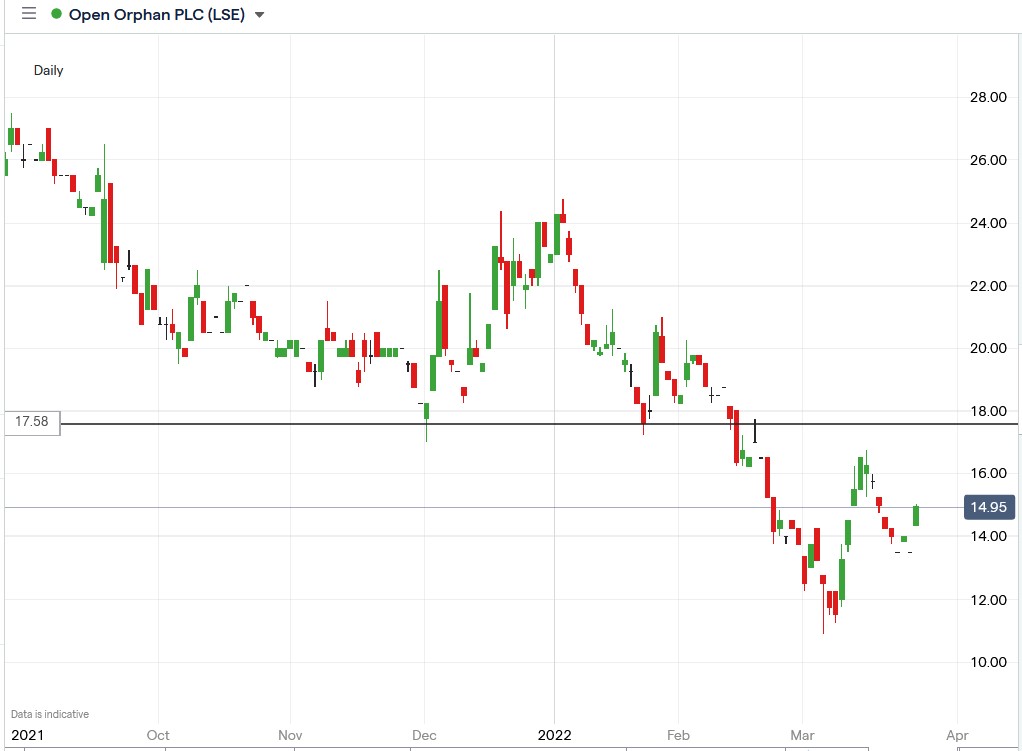 Open orphan shares have risen 11.48% to trade at 15.05p, rising from Thursday's closing price of 13.50p.