Key points:
Palisade Bio stock spiked 90% higher on a letter to proceed from the FDA.
The company is working on a drug to restore bowel movement after surgery.
PALI stock looks attractive at current prices after a massive selloff.
The Palisade Bio Inc (NASDAQ: PALI) stock price spiked  90% higher after receiving a "Study May Proceed" letter from the U.S. Food & Drug Administration (FDA) regarding its bowel function drug candidate known as LB1148.

The drug met its primary endpoints in two separate phase 2 trials and just received the go-ahead from the FDA to proceed to a phase 3 clinical trial. The trial will focus on testing the drug's efficacy and tolerability profile.
Palisade Bio is set to commence the phase 3 trial in the second half of this year after enrolling 600 participants scheduled to undergo a bowel resection surgery involving either a laparotomy or laparoscopic surgical approaches.
The study will be conducted at multiple sites across the globe and will be a randomized, double-blinded, parallel-group, placebo-controlled clinical trial.
Investors are excited for the phase 3 trial to get underway so that the drug can proceed to commercialization if the trial is successful. However, there are no guarantees that the trial will be successful since we have seen many phase 3 trials fail in the past.
If the phase 3 trial is successful, Palisade Bio will have transitioned from a clinical-stage biopharmaceutical company into a full-fledged pharma company with a marketable drug.
Tom Hallam, PhD, Palisade Bio's CEO, said: "In two separate Phase 2 trials—one in cardiovascular surgery patients and one in G.I. surgery patients —LB1148 has demonstrated statistically significant acceleration of return of G.I. function. These data have laid important groundwork for proceeding to our Phase 3 trial,"
Adding:
"Now, as a late-stage clinical program, LB1148 continues to show promise with a favorable safety and tolerability profile. We are optimistic that our Phase 3 clinical trial will reaffirm these findings and, if successful, will lead to this product being available to patients who could benefit from it."
Michael Dawson, M.D., Palisade Bio's Chief Medical Officer, said: "Getting approval for Phase 3 clinical trial is a huge milestone for LB1148. It could simplify healing from the almost seven million surgeries each year in the U.S., where patients are at risk for postoperative ileus. A quicker return to bowel function means patients recover faster, while potentially reducing costs to the healthcare system."
Palisade Bio Stock is trading near its all-time lows and has significant upside potential, given that it was trading at over $1,000 in 2017. There is minimal downside potential making the stock attractive to the right investor.
*This is not investment advice. Always do your due diligence before making investment decisions.
Palisade Bio stock price.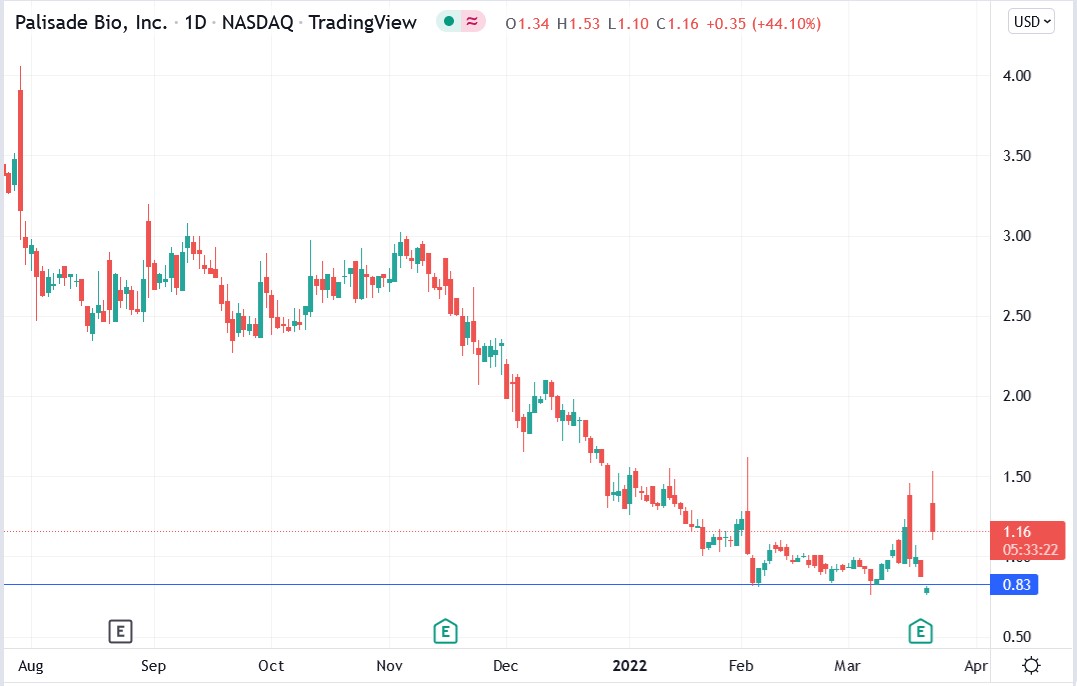 Palisade Bio stock price spiked 90% higher to trade at $1.52, rising from Monday's closing price of $0.80.