Key points:
Pensana seems to be doing all the right things in a booming market
Yet the share price stubbornly refuses to register those facts
Why is this, what's the holdback?
Not that Pensana (LON: PRE) quite describes this as free government money but their announcement does indeed suggest that there is some. Which leads to a slight thought about why the Pensana share price is only up that 1% or so on this news. A possible explanation for the problem is that investors are becoming aware of quite how small the rare earths market is, quite how much new investment is flowing into it. And we've been here before too, just over a decade back. It's possible – as it is so often with minor and small metals markets – that the surge in production will overwhelm the rise in demand to the considerable detriment of both prices and investors.

The basic business case for Pensana is fairly simple. The electric vehicle and renewables revolution is and will massively increase the demand for the "magnet metals" – neodymium, praeseodymium, dysprosium and terbium. This is true by the way, no doubt about it. So, investing in producing more of these is a good idea – at which point possibly. It's also true that the chokepoint in the industry is not, in fact, in the mining of the ore. It's in being able to treat that concentrate from the ore and turn it into the individual elements. Until now there's only really been one, at scale, plant outside China that can do that with a much smaller one in the Baltics. Pensana has got this part of the argument entirely correct. Their mining activity is interesting but of no grand importance. Their separation plant at Saltend, that's the crux of the matter.
So, they've just broken ground on building that separation plant and that's good. Then there's what I'm calling the "free money": "Pensana is also pleased to announce that it has secured funding under the UK Government's £1bn Automotive Transformation Fund ("ATF") to support development of the Saltend rare earths processing hub." If that funding wasn't at below market rates – that is, if there wasn't element of free to it – then there would be no point in applying for it nor boasting of having got it.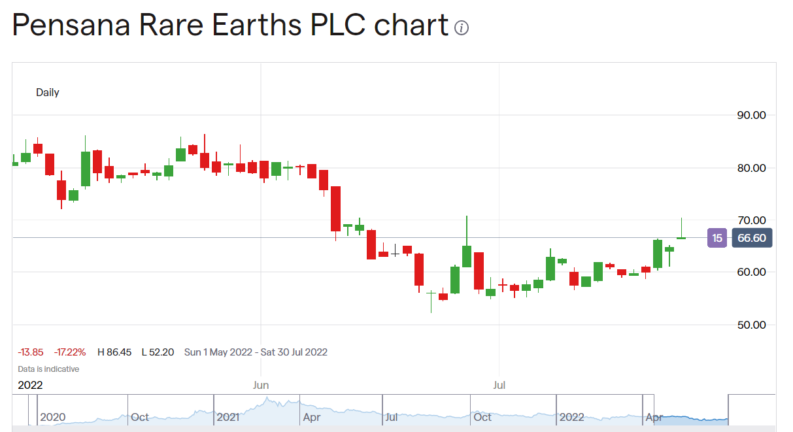 Also Read: Metals Mania – Why Are Metals Prices Surging?
So, why isn't Pensana surging? Booming market, doing the right things, surely the price should reflect this? One reason is simply risk – the plant has to get built, and to work properly. But more to the point we've seen this surge in rare earths before. Following 2010 in fact. Prices jumped on supply restrictions and demand rises. Two firms, Lynas and Molycorp got financed to reopen and or expand. 5 and more years later one had had to entirely recapitalise, the other was bust. The surge in production led to a collapse in prices.
That is, Pensana can do everything sensibly – which from outside they seem to be doing – and yet that's not what will produce the valuation of Pensana shares. Instead, it matters what everyone else in the rare earths space does. The market is small. Perhaps 150,000 tonnes a year for the whole globe currently, that's made up of 15 different elements. The Pensana plant intends to supply 5% of this market – great, but there are perhaps half a dozen other people with the same separation plant idea and many, many, more miners looking to make concentrates.
Pensana's share price depends on how many other people enter the rare earths market – so, valuations have to be based upon how many are going to do that.