Key points:
Vela shares edged higher after issuing its quarterly investment update.
The shares later fell back. Vela is trading at a discount on its assets.
So the company's shares are pretty attractive at current prices.
The Vela Technologies PLC (LON: VELA) share price edged 4.35% higher after releasing its quarterly investment update. The company had 13 investments worth £5,972,000 as of 30 June 2022, which is much higher than its market capitalisation of £4.47 million.

The investment company also had £631,000 in cash at the end of June, bringing its net present value to £6,603,000. Therefore, it is clear that Vela Technologies is trading at a significant discount on its net assets, which makes it an exciting proposition.
Also read: The Best Cheap Tech Stocks Under $10.
Vela shares have fallen 25% this year as the share price of some of its portfolio companies recorded declines, given that it invests in early-stage and pre-IPO companies specialising in disruptive technologies in various industries.
However, the company has fared much better than leading tech firms whose shares fall significantly this year. As a result, investors rotated from growth stocks to value stocks such as utilities and energy stocks that have booked significant gains this year.
Vela has invested in companies such as Mode Global Holdings, St George Street Capital Ltd, Kanabo Group, Northcoders, and MTI Wireless. The company's investments started paying off after it received its first-ever dividend from MTI Wireless Edge Ltd in June.
Investors wondering whether they should buy Vela shares should factor in the risk associated with early-stage tech companies and the potential profits. But, of course, with high risk comes high reward, which is why growth stocks attract many investors.
One should also weigh the pros and cons of buying Vela shares versus directly buying shares in the thirteen companies held by Vela. Ten of the companies held by Vela Technologies are public firms; hence, investors can easily acquire a stake in them.
However, keeping track of what is happening within each of the ten companies is not easy, which explains the growing popularity of ETFs and pooled investment vehicles. However, Vela can easily track what happens at each of its 13 investments since that is their day job.
For retail investors, it might be easier to buy Vela shares and let the investment firm keep track of the ten companies.
*This is not investment advice. Always do your due diligence before making investment decisions.
Vela share price.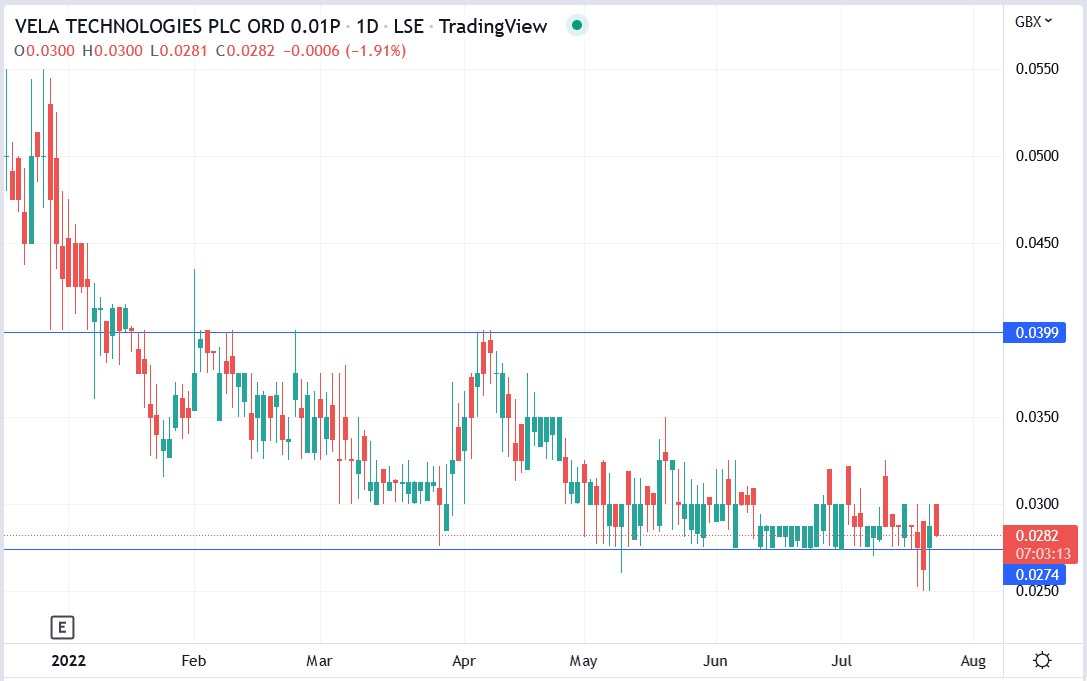 The Vela share price edged 4.35% higher to trade at 0.0300p, rising from Thursday's closing price of 0.0288p.