Using technical and fundamental analysis, we'll uncover the drivers of the metals price surge, what the next move might be, and how to access news and research to help you keep on top of events. Trading the metals markets follows the same basic principles as trading forex, equities, or crypto. Our team of experienced metals traders will share their insight on what to look out for and how to book trades with a trusted broker.
Nickel 2021 – 2022 – Short Squeeze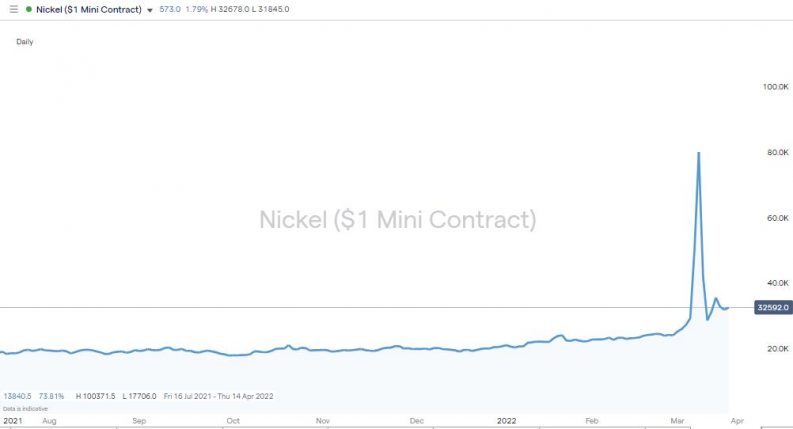 Source: IG
Short-term trading strategies could feasibly take advantage of moves like the 108% price surge in the nickel market seen in the single trading session of 8th March. Strategies based on momentum indicators can take longer to realise gains, but trading the slow and steady rise in copper prices is a lower risk option to day-trading nickel.
Copper 2021 – 2022 – Bull Market Price Action
Source: IG
Why Are Metal Prices Surging?
Extreme price volatility is nothing new for the metals markets. In fact, the peculiar and long-term imbalance between supply and demand factors means that dramatic price swings are an underlying feature of markets in gold, silver, platinum, palladium, nickel, copper, iron ore, aluminium, lithium, and zinc.
Demand Factors Influencing The Price of Metals
Levels of demand for metals can change overnight. Interest rate changes, political tensions and a whole range of fundamental factors can come into play and impact how much metal manufacturers require. The recent surge in metal prices has, in the main, not been driven by changes in demand levels. Even during the COVID pandemic, demand remained relatively stable and has continued to trade sideways since lockdowns came to an end.
Infrastructure transition– The one demand side factor that can be considered a catalyst for a booming metals market is the transition to a carbon-free economy. A global consensus has been formed on the issue of cleaner energy and that means new products, a lot of them made of metal, will be needed to roll out the infrastructure to support EVs, transport systems and green energy
The forming of a potential commodities super-cycle is considered in greater detail in this report. These relatively rare events can lead to long-term rises in metal prices and an opportunity for traders to cash in. If one is about to take place, it will be largely driven by supply side factors.
Supply Factors Influencing The Price of Metals
Supply side issues are often the cause of metal market bull runs. It takes years to research and develop a new mine to the point where it is supplying metals to buyers. This lag means that if demand remains buoyant in the short-term, then prices will too. The first quarter of 2022 saw a perfect storm of supply issues drive metal prices higher.
Energy Costs– It's estimated that 40% of the costs associated with bringing aluminium to market are attributable to energy costs. The processing and transporting of metals have recently become much more expensive, with the price of US crude oil sky-rocketing by more than 490% between April 2020 and April 2022.
Long COVID– Quarantine restrictions and social distancing rules made it harder to mine, refine and transport metal commodities. During the pandemic, freight rates for the transportation of bulk materials reached a 10-year high due to congestion in principal ports.
Lack of Investment– the COVID pandemic left many companies facing an existential crisis. Big mining companies, therefore, scaled back on R&D of new mines to protect their balance sheets. This has created an air block in the pipeline of new mines coming online.
Which Way Will Metals Prices Head Next?
To establish which way price might head, it's worth putting the surge in metal prices seen in early 2022 into some context. It's fair to say that it caught some analysts on the back foot. The below statements made at the end of 2021 offer some colour on how the recent price surge has confirmed that it's never a good idea to take metal prices for granted.
"[2021] has been a year with strong demand recovery from the pandemic. Looking into 2022, we expect it's a year of normalisation. We expect demand growth to moderate."
Wenyu Yao, analyst at ING (Source: Reuters)
"With the decline of investment and production as key growth drivers, this will see diminishing incremental economic growth and a reduction in materials demand as a share of output."
Justin Smirk, economist at Westpac (Source: Reuters)
How to Trade Metals
Your approach to the metals market will, to a large extent, come down to your starting position. If you're already in a metals position, then one option is to adopt a momentum strategy approach and build up the position during dips in price. Alternatively, it could be a time to consider locking in some profits using automated 'take profit' orders.
If you're new to the metals market, the good news is that price trends can run for a considerable time – so buying into the market is still a possibility. Approaches that identify trade entry points include pull-back and trendline trading strategies. These use technical analysis indicators to pinpoint optimal entry points but do sometimes require a degree of patience.
It is also worth considering the different nature of the respective metals markets. The charts in the below selection of metal trading ideas highlight how price volatility and risk-return varies. Finding the market that fits your trading style and investment aims is step one of the process. It can be useful to test strategies and try out different brokers by taking 10 seconds to open a free-to-use demo account, which lets you practise using virtual funds.
Copper Market Trading Ideas
Copper is a good entry-level metal market. The high volume of trades put through the market each day ensures the market works efficiently and that also reduces the risk of a short-squeeze or bid-offer spreads widening.
Copper 2021 – 2022 – Bull Market & Supporting Trend Line
Source: IG
The supporting trendline has, for two years, acted as a reliable indicator of when to buy copper. All trends come to an end, but until that line breaks, a moment when price gets close to the line will be seen as a trigger for buying in.
One potential red flag for copper bulls would be the RSI (Relative Strength Index) on a daily time frame reaching 70. On the last two occasions that happened (as seen on the red arrows below) there was a subsequent market sell-off.
Shorting the metals market is a high-risk approach, but given the reliability of the RSI >70 signal, it might be something to consider. Heading to one of these CFD brokers, which have been reviewed by the AskTraders team, provides platforms that support short-selling using CFDs.
Copper 2021 – 2022 – Watch Out For RSI >70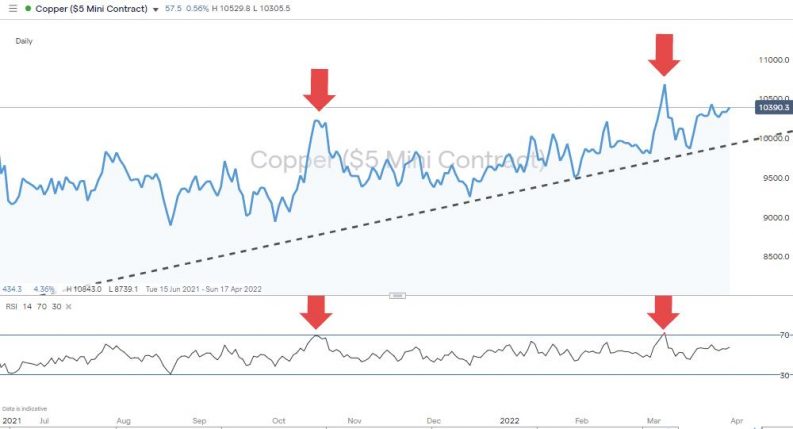 Source: IG
Iron Ore Market Trading Ideas
Iron ore can't quite match copper's role as a key element in the move towards green energy. That goes some way to explaining why, on a two-year chart, copper is printing new highs, whilst iron ore is still trading below price levels seen in May 2021.
Iron Ore Daily Price Chart 2021 – 2022 – Trendline Breakout
Source: IG
Copper may be the market darling, but the trendline breakout pattern on the iron ore daily price chart should be enough to generate interest in the market. Copper wiring and battery parts may be an obvious element in the move to carbon-free technologies, but the wind turbines and transport infrastructure that copper is used in conjunction with will also require a lot of steel, and by default, iron ore.
Nickel Market Trading Ideas
The nickel market of March 2022 may, in years to come, be used as an example of what happens when financial markets break down. Phenomenal intraday price moves resulted in the London Metal Exchange suspending the market. As if that wasn't enough of an extreme step, the exchange authorities then cancelled trades that had already been booked that day.
Nickel Daily Price Chart 2022 – Market Suspended
Source: IG
The doubling of price in a single trading session was followed by a price crash once the exchange reopened. Despite the exaggerated and extreme price moves, nickel was on 30th March still up +35% on a month-to-date basis.
With geopolitical risk still hard to quantify, many traders might consider the current nickel market to be one that is best traded using a risk-free demo account.
Aluminium Market Trading Ideas
The price of aluminium has more than doubled in less than two years. The 133% price rise in the metal has even outstripped the 122% price increase in copper between April 2020 and April 2022.
Aluminium Daily Price Chart 2021 – 2022 – Trendline Support
Source: IG
With higher energy costs apparently locked in, in the short-term at least, the path of least resistance continues to appear to be upwards. As with copper, there is a long-term supporting trendline in place, but with price currently so far above that support level, some caution and patience might need to be applied.
Final Thoughts
Whether you're new to the metals markets or have experience of trading them before, the extremely high price volatility being seen right now is something to factor in. It could result in substantial returns or losses, so getting to grips with some of the peculiarities of the sector and the different nature of each market will help your trading bottom line.
While market prices are hard to predict, ensuring your trading activity and broker are safe is something within your control. Navigate to the AskTraders list of trusted brokers to find trading platforms that have been reviewed and checked for their trustworthiness. The brokers on that list offer a user-friendly and cost-effective way to trade the markets that are dominating the headlines. There are opportunities to trade dramatic short-term price moves and underlying long-term trends, so there is sure to be something to fit your trading style.