One of Europe's most important economies is grinding to a halt due to a general strike triggered by proposed pension reforms.
The industrial action in France lifts the lid on the opaque world of pension liabilities and how they distort the valuations of major corporations.
Industrial action in the France transport sector has moved into its 29th day. Even in a country with a proud history of worker activism, this represents a record length of dispute and is the longest period that rail workers have been out on strike since 1968. The catalyst of the recent dispute isn't anything as immediate as overtime pay or working conditions. Instead, the dispute revolves around pensions and pension reforms. The subject, which has traditionally had a 'manana' feel to it has closed down parts of the French travel network as it becomes very much an issue for the here and now.
The reforms proposed by the French government involve streamlining the complex system of 42 different pension schemes, which cover both the private and public sectors. President Macron wants to create a unified system, and as with most overhauls, there are winners and losers. The spark that ignited the protests was individuals being able to calculate their projected losses. The oxygen that brought about a general strike was the underlying suspicion that the president had weighted the reforms to ensure there are, in aggregate terms, more losers. Macron's government has previously looked to scale back the significant benefits associated with the French social welfare system.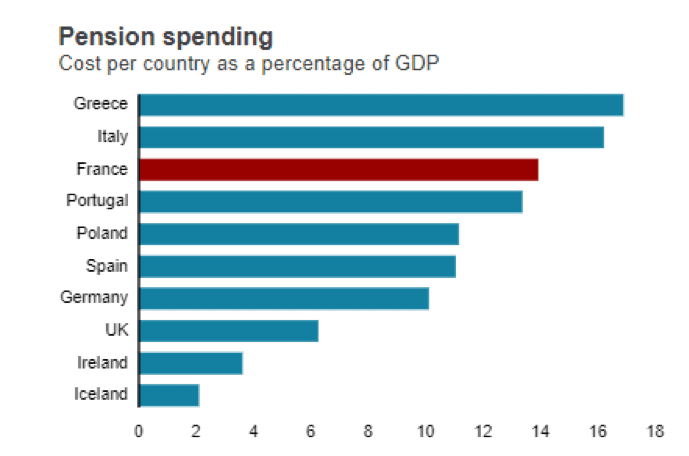 The official retirement age in France has been raised in the last decade from 60 to 62 years of age. This still remains one of the lowest among the OECD group countries. France's Prime Minister Edouard Philippe also commissioned a report, which concluded that under the existing system, the country's pension deficit might reach €17.2bn by 2025. Expressed as a percentage of GDP, this equates to about 14% of the nation's output being spent servicing its pension liabilities. Close rivals Germany (10%) and the UK (6%) have their own challenges with pension reform programs but still post significantly lower liabilities (source: BBC).
As the French economy rolled back into action after the holiday period, Mr Macron was in combative mood. He said:
"It would be a betrayal of our children, their children after them, who would then have to pay the price for our giving up."
 Source: BBC
The reaction from the unions was a call for a day of mass protests on 9th January, and in the mean-time, France's national rail operator, SNCF, is expected to cancel half of its high-speed train services. Inter-city and suburban services were set to be even harder hit with workers taking local journeys likely to see as few as 25% of services operating. The Paris metro lines are expected to operate with a limited service.
The government and unions are expected to hold further talks on 7th January. A resolution would likely form only a short-term fix. The fundamental issue is that western populations are ageing, which means governments and corporations face uncertainty about how they are to finance their pension liabilities. The problem may have traditionally appeared almost secondary to more immediate forms of remuneration, but the fact that it can bring about a general strike marks it as a new and significant risk for investors to consider. The situation in France is mirrored in other countries and also in the corporate world.
Corporate liability
The state of the rapidly ageing populations of the western economies looks likely to inspire increased concern for workers, employers and investors. A report by Llewellyn Consulting for Pension Insurance Corporation (Source: Pension Insurance Corporation) suggests that in the corporate world, companies that are running pension liabilities look likely to be experiencing an exaggerated undervaluation of their equity. Investors are overcompensating for opaque accounting by trimming back valuations. If the increased openness about the subject leads to a lifting of the lid on the situation, then there could be significant consequences for the financial markets.
The phrase 'underfunded pension risk' is by no-means the catchiest in the investing universe, but it might be about to be an increasingly used buzz word. Corporations benefit from a large degree of discretion in terms of what pension terms they offer employees. It is a staff recruitment and retention tool, but meeting the liabilities is a world associated with murky accounting and limited disclosure, particularly in the US. The report by Llewellyn Consulting for Pension Insurance Corporation states:
"The overall conclusion is that, whether through valuation adjustments, specific risk assessment, or crude rules of thumb, both the size of the pension deficit itself and the scale of the associated pension obligations really do matter to markets when assessing company value."
Source: Pension Insurance Corporation
Share price
Not only are pension liabilities an increasingly important element of fundamental analysis, but it is an area where a degree of subjectivity appears to be coming into play.
"Taken at face value, the preliminary evidence based on the published data suggests that a relatively large weight (160%) is given to net pension deficits, and that this weight is somewhat greater than that given to non-pension company book values. This implies that overall company values are reduced by about £160 per £100 of pension deficit."
Source: Pension Insurance Corporation
As with most strategies, the trick is to identify not only the valuation anomaly but also the likelihood and timing of any trigger factor that might bring about a change in price.
The 160% weighting to pension deficits may be a result of opaque reporting and investors applying systematic bias. Therefore, firms that have such a weighting and announce a policy of increased transparency of reporting could benefit from adjustments to 'fair value' valuations.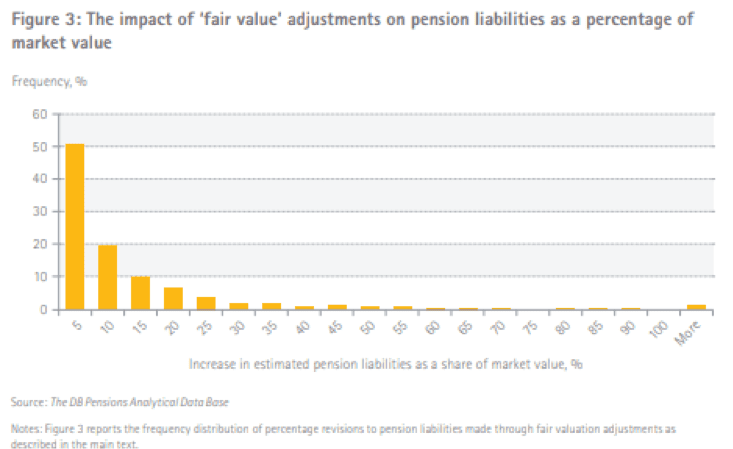 The increased public profile of the subject will create more 'noise' and trading opportunities. As the Llewellyn Consulting report continues:
"Both the size of the pension deficit itself and the scale of the associated pension obligations really do matter to markets when assessing company value."
Source: Pension Insurance Corporation
The collapse of UK construction firm Carillion may have allowed short-sellers to turn a profit, but it left a lot of long-only traders out of pocket. That firm's disregard for its pension liabilities were an early indicator for some. Currently, a good percentage of FTSE100 firms are posting surpluses on their pension liabilities.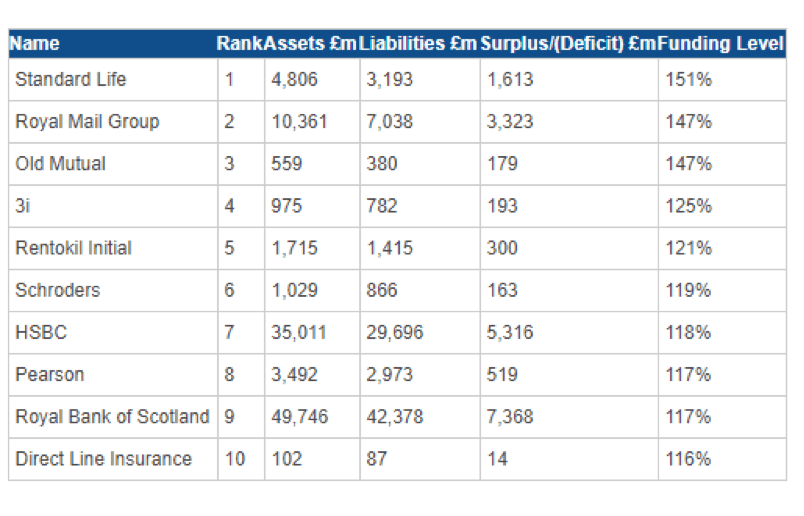 The other end of the table shows those that are posting deficits: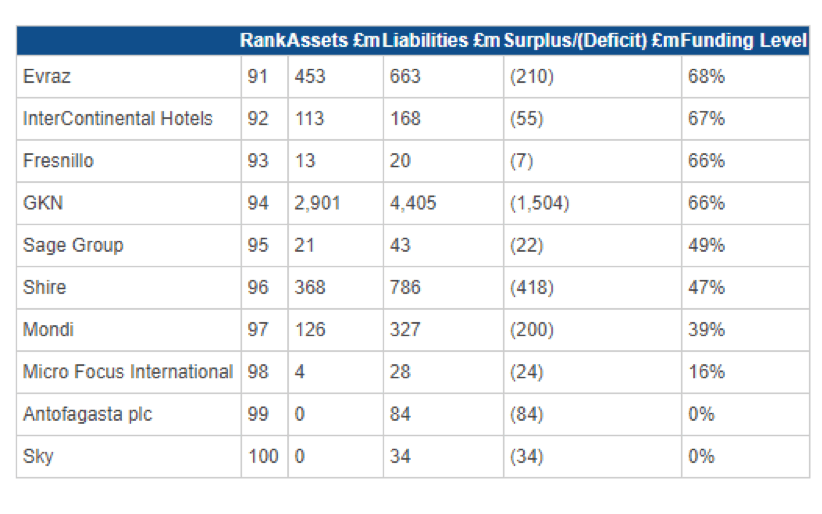 The question for investors is whether this means the firm's share price is below 'fair value' or if it's a sign that the management is following a business plan similar to that of Carillion.