Shares of Redx Pharma PLC (LON: REDX) surged 7% after announcing that it had qualified to receive the first milestone payment of $4 million from AstraZeneca, which licensed its RXC006 drug candidate targeted at treating fibrotic diseases.

The biotech company has developed a new class of potential treatments known as porcupine inhibitors based on a novel approach to treating fibrotic diseases such as idiopathic pulmonary fibrosis.
AstraZeneca licensed RXC006 from Redx Pharma last year and developed the drug meant to treat idiopathic pulmonary fibrosis. The $4 million is part of a total of $17 million in early payments that Redx is entitled to before the drug reaches clinical trials.
Redx Pharma is set to receive up to $360 million in milestone payments if the drug successfully progresses through clinical trials and is commercialised, after which it will be entitled to royalty payments in the mid-single-digit percentages.
Lisa Anson, Redx Pharma's CEO, said: "We are extremely pleased that AstraZeneca is progressing RXC006 and the successful achievement of this milestone payment highlights, once again, Redx's ability to generate molecules that have significant potential as novel medicines for unmet medical needs."
The biotech company is currently working on its drug candidates, including RXC004, a porcupine inhibitor that targets Wnt-driven tumours in Phase I clinical trials.
Another drug is RXC007, which is in its first-in-human studies. RXC007 is an oral ROCK2 inhibitor that targets fibrosis.
Redx Pharma's fundamentals are pretty promising, but its price chart is almost untradable from a short-term traders perspective, given the many gaps between daily candles.
*This is not investment advice.
Redx Pharma share price.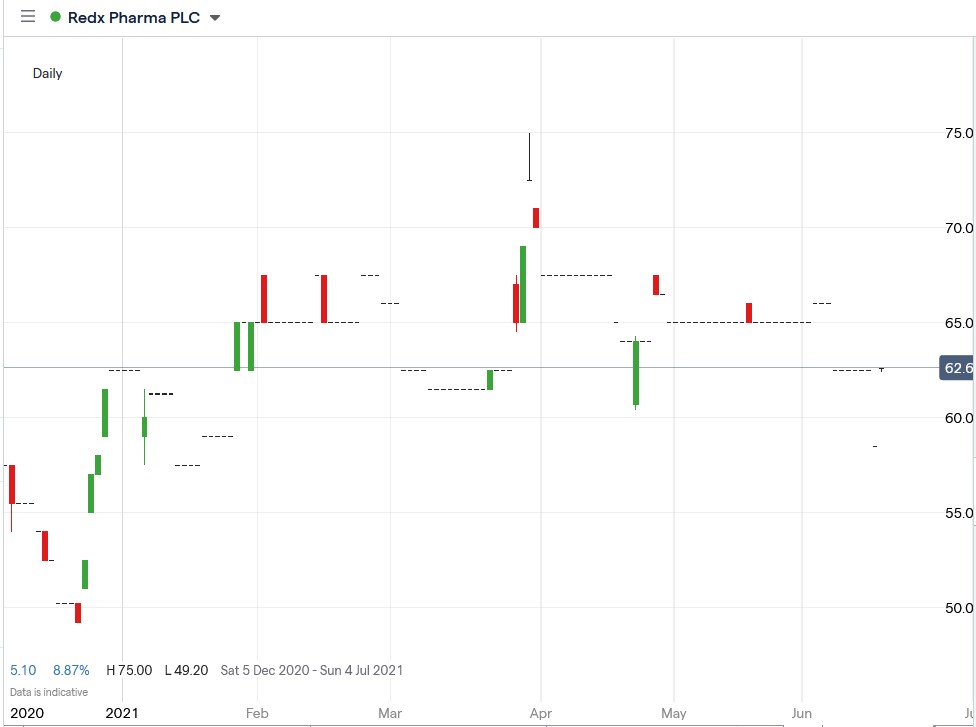 Redx Pharma shares surged 7% to trade at 62.60p, rising from yesterday's closing price of 58.50p.