Heightening geopolitical risk in the Gulf is causing shockwaves across the financial markets.
A rotation out of risk means there are individual winners and losers.
As the US and Iran engage in a face-off, there appears to be an inevitability that reaction and counter-reaction are likely.
Events in the Middle East have taken some of the steam out of the global equity markets. The stellar run into the year-end may well have already been showing signs of being overbought. But if you want a trigger for the technical tide to turn, then a face-off between the US and Iran is likely to fit the bill.
One week into the trading year and the S&P500 is posting a negative year-to-date return of -0.27% during Monday's session. By the market close, stocks had rebounded into positive territory for the year, but it was not the start to the year that long-only traders will have wanted. The opportunities for more generous profits lie with those running hedges and scalping — both are strategies that might have benefited from the increased market volatility.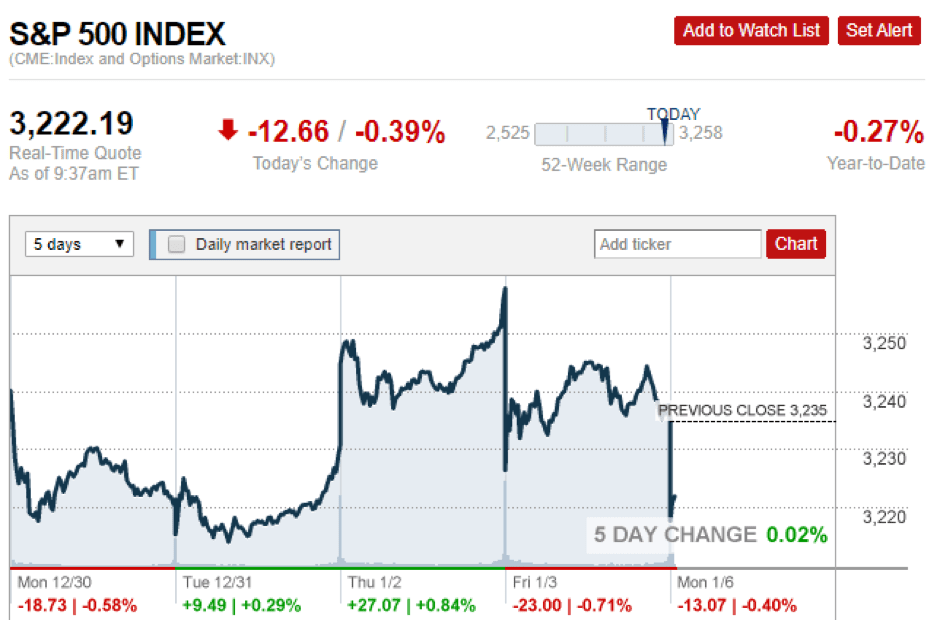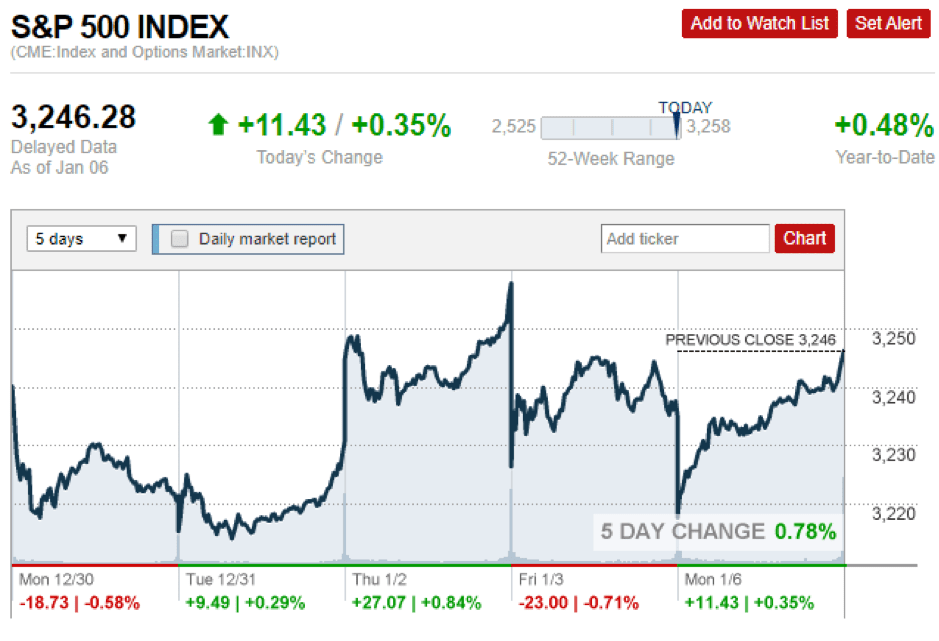 Greater uncertainty in the markets may mean that alternative investment strategies fair better in 2020 than they did in 2019. Data from Hedge Fund Research reports that hedge funds posted annual returns of 8.5% in 2019. Theses were the industry's best figures since 2013 but are still some way off the S&P500, which recorded an annual return closer to 30%. Even the US bond market outperformed hedge funds with the Bloomberg Barclays index returning 14.5%.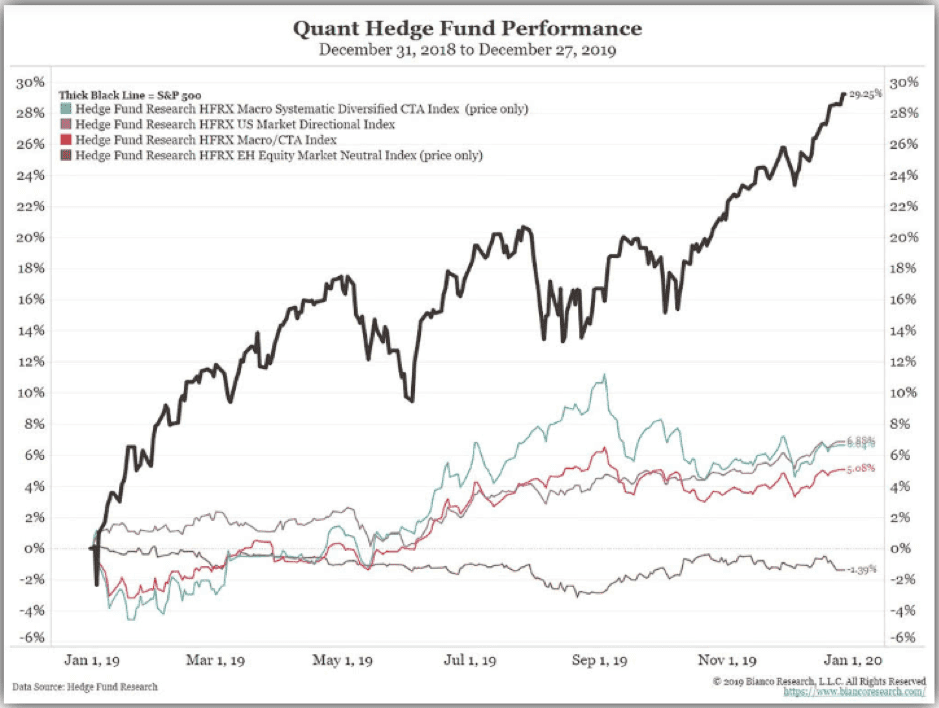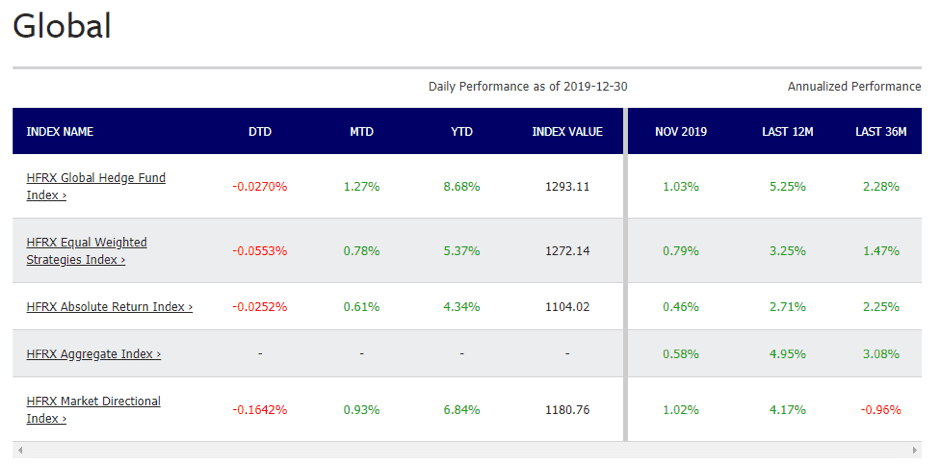 Source: Hedge Fund Research
With a lot of the detail of portfolio construction kept a company secret, analysts will have to wait until the January month-end reports, which come out in the first week of February. That should give a glimpse of which of the funds were positioned to benefit from the market correction. It could possibly set the tone for performance results through the rest of the year.
Rotation and Volume
The tick volume data from the SPX500 chart (MetaTrader) shows a significant peak on Friday as markets responded to the news of the US ordering the killing of Qasem Soleimani. The hammer candlestick pattern coincided with a significant increase in trading volumes and points towards a rotation into more defensive stocks rather than a straightforward move out of stocks. The long lower tail reached as low as 3,206, hinting at a break of the 3,200 support level before rallying to close at 3,234. Looking at volume to confirm the move shows that the only day with greater tick volume was 13th December, the date of the UK general election.
SPX500 daily — daily candles ‑ 20th November 2019–6th January 2020:

Discounting the UK election, it is only back on 10th October that tick data volume traded higher than it did on Friday.
SPX500 daily — daily candles — 8th October 2019–6th January 2020:

The rotation between sectors is further demonstrated by the winners-losers table for Monday. Stocks in the Dow that had made gains had exposure to oil (XOM and CVX) or the stability associated with flipping burgers. McDonalds posted a 0.347% gain.
Losers include the aircraft manufacturer Boeing (BA), financial giant AMEX (AXP) and bellwether of global growth Caterpillar (CAT).

Source: CNBC
One of the more optimistic interpretations of events is made by Eurasia Group President Ian Bremmer and Chairman Cliff Kupchan. In a note released on Monday, they outlined the consultancy's top risks for 2020. CNBC reported:
"While they acknowledged that Iran was indeed a geopolitical risk, Bremmer and Kupchan claimed that 'neither Trump nor Tehran wants all-out war'."
The reports continued, saying that instead:
"Deadly skirmishes inside Iraq between US and Iranian forces are likely… The new 'axis of evil' — Iran, North Korea, Venezuela, and Syria — is unlikely to blow up in 2020, despite the headlines."
Source: CNBC
Gold leads the way
Goldman Sachs published a report on Monday, which picks out gold as an asset likely to benefit from the events in the Gulf. It actually opens the door to a pairs trade, long gold–short oil, although that could be a bumpy ride.
Both oil and gold spiked on Friday. For many investors, the move to gold represented a flight to safety. Long oil offered a hedge against supplies of the commodity being impacted but also offered some outright alpha.
With some of the dust settling, Goldman Sachs' Global Head of Commodities Research Jeffrey Currie and his team said in a note Monday:
"The range of potential scenarios is very large; spanning oil supply shocks or even oil demand destruction — which would be negative to oil prices. In contrast, history shows that under most outcomes gold will likely rally to well beyond current levels."
Source: CNBC
Goldman has a three-month price target of 1,600 t/oz for gold. Currently trading at seven-year highs in the region of 1,560, it has broken through a trend-line resistance.
Gold — XAUUSD — Five-year price chart: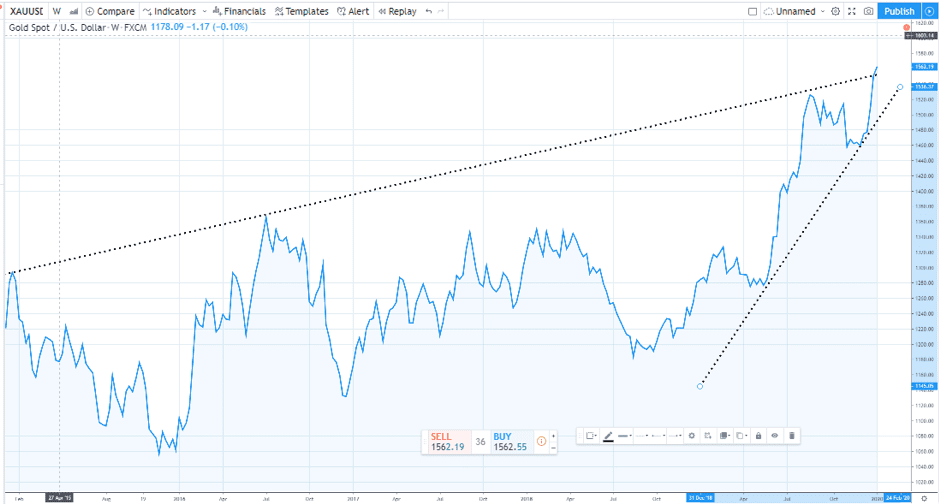 Gold is traditionally seen as a safe-haven asset. While that has certainly been brought into play, the price of the metal is also supported by a weaker dollar, rising inflation expectations and weak economic growth.
The report by Currie and his team states:
"History shows that under most outcomes gold will likely rally to well beyond current levels."
Source: CNBC
In contrast, oil has all the risk already priced in. Actual disruption is now necessary to sustain current oil prices of around $69 per barrel, and so the only way is down.
Soleimani's death was marked by three days of national mourning. Tuesday saw that period draw to a close and the general buried in his home town of Kerman. Now, the pressing question is 'what next?'. The ball is in Tehran's court, for now, but as Goldman points out, the market is already pricing in that it comes back over the net in the near future.