Shares of Rockfire Resources (LON: ROCK) have fallen after the company released results from 3D processing of helicopter magnetic data at its Copper Dome porphyry project in North Queensland, Australia.
The gold and metals exploration firm said the newly processed data highlights strongly magnetic drilling targets at depth.
Two main targets have been highlighted, approximately 500m below the surface, showing strong magnetic responses, which the company is interpreting as magnetite alteration – an important feature associated with many porphyry copper deposits.

The larger target is 1.5km long, 700m wide, and occurs between 400 m and 1.3 km deep and remains open beyond that depth.
The smaller target is 900m long, 250m wide, and occurs between 600m and at least 1km deep.
Rockfire stated that historical drilling from 1972, directly above the targets, intersected typical porphyry grades.
The company is now preparing for drilling, initially at the Copperhead porphyry copper project, and intends to drill these new magnetic anomalies at Copper Dome during this field season.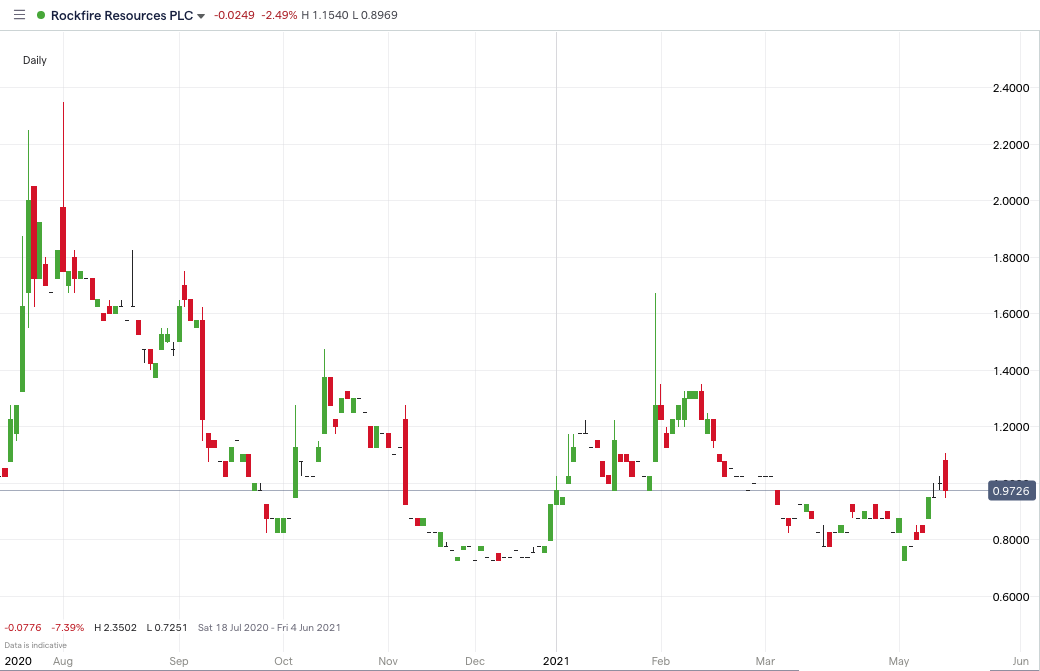 David Price, CEO of Rockfire, commented: "This 3D modelling has produced images of two very high-intensity magnetic responses beneath the dome. Both targets deepen towards the south, suggesting that the source may lie to the south. The closest they come to the surface is around 500 m depth, but historical drilling has hit copper much closer to surface.
"After nearly 50 years with no significant exploration at Copper Dome, Rockfire is planning to drill these new targets. With confirmed copper and gold close to surface directly above the targets and well-defined high magnetic targets at depth, these factors bode well for discovery.
"Rockfire is preparing for drilling at Copperhead initially and drilling at Copper Dome is also planned."
Rockfire's share price is trading 3% below Tuesday's closing price at 0.97p.
Should You Invest in Rockfire Resources Shares?
After a fall from the $2,000 level, could gold be set for another run higher? If you're a gold investor, you won't want to miss out on these stocks… Discover which companies our analysts are focusing their attention on for the coming months. If gold does move back to $2,000, these investments could see significant gains