Key points:
Ross stores stock plunged by 24.5% after Morgan Stanley cut its price target.
The discount retailer lowered its full-year forecast amid a harsh environment.
Investors panicked when the retailer compared its current situation to 2008.
The Ross Stores, Inc. (NASDAQ: ROST) stock plunged 24.5% after Morgan Stanley cut its price target for the discount retailer from $139 to $129. However, analysts at other investment firms were less optimistic about the retailer, evidenced by the much lower price targets.

Analysts at BMO Capital Markets lowered their price target for Ross Stores from $116 to $99 via a research note issued today, while analysts at Loop Capital slashed their ROST price target from $95 to $80 earlier today.
Ross Stores released its Q1 earnings report after the market close on Thursday, which missed analysts' expectations. The retailer, which operates the 'Dress for Less' and 'dd's Discounts' brands, generated revenues worth $4.33 billion, missing analysts estimates of $4.53 billion.
The retailer's earnings per share came in at $0.97 versus consensus estimates of $1.00, while same-store sales fell 7%, a trend that has been seen with other retailers. In addition, investors were perturbed by the comments made by an executive.
Barbara Rentler, Ross Stores CEO, commented: "We are disappointed with our lower-than-expected first-quarter results. Following a stronger-than-planned start early in the period, sales underperformed over the balance of the quarter. We knew fiscal 2022 would be a difficult year to predict, especially the first half when we were facing last year's record levels of government stimulus, and significant customer pent-up demand as COVID restrictions eased."
Adding:
"Given our first-quarter results and today's increasingly uncertain macro-economic and geopolitical environment, we believe it is prudent to adopt a more conservative outlook for the balance of the year."
Investors were worried that more bad news was in store for the discount retailer after one of the company's executives compared the current operating conditions to the great recession of 2008.
The discount retailer also lowered its full-year earnings guidance, which spooked investors.
Ross Stores' earnings indicate that very few retailers will be spared from the industry's harsh operating conditions, including high inflation levels and high labor and transportation costs.
*This is not investment advice. Always do your due diligence before making investment decisions.
Ross Stores stock price.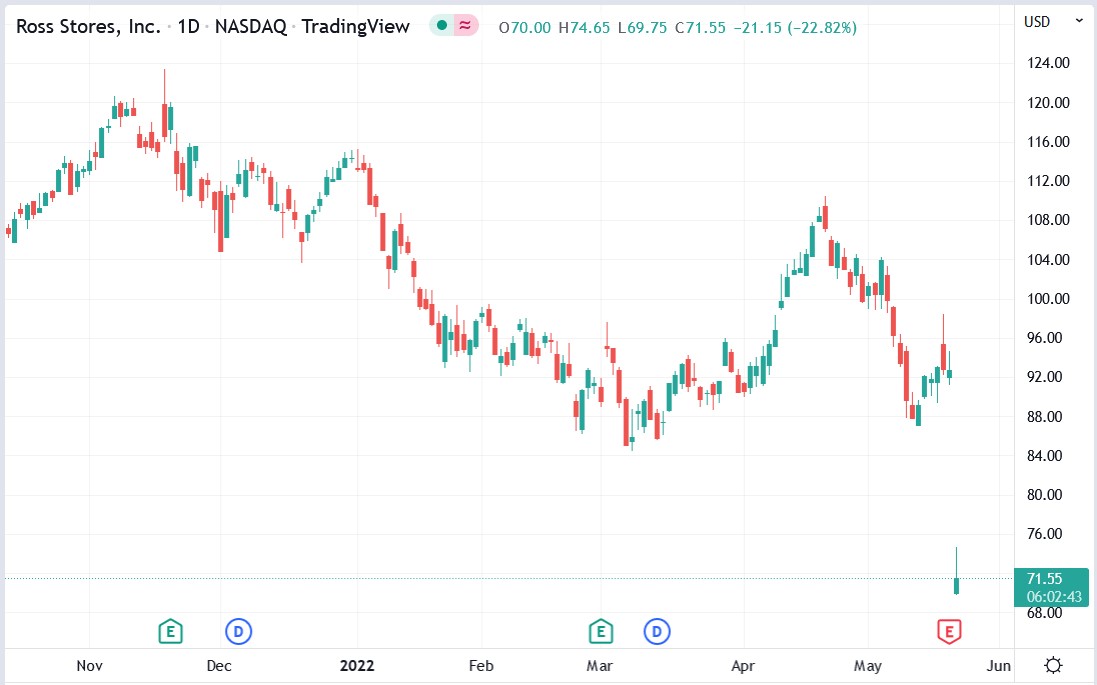 Ross Stores' stock plunged 24.45% to trade at $70.04, falling from Thursday's closing price of $92.71.