Stocks and shares are a great way to get into trading the financial markets. The stock markets have been around in various formats for hundreds of years and are a long-established form of trading. The markets are so well established that online brokers allow you to trade them in small size and require only small amounts of cash to be put up front. This partly answers the question 'how do beginners invest in stocks with little money?'. Another feature of an online brokerage account is it can make trading shares incredibly easy and cheap. Buying shares in a company involves just a few clicks of a button.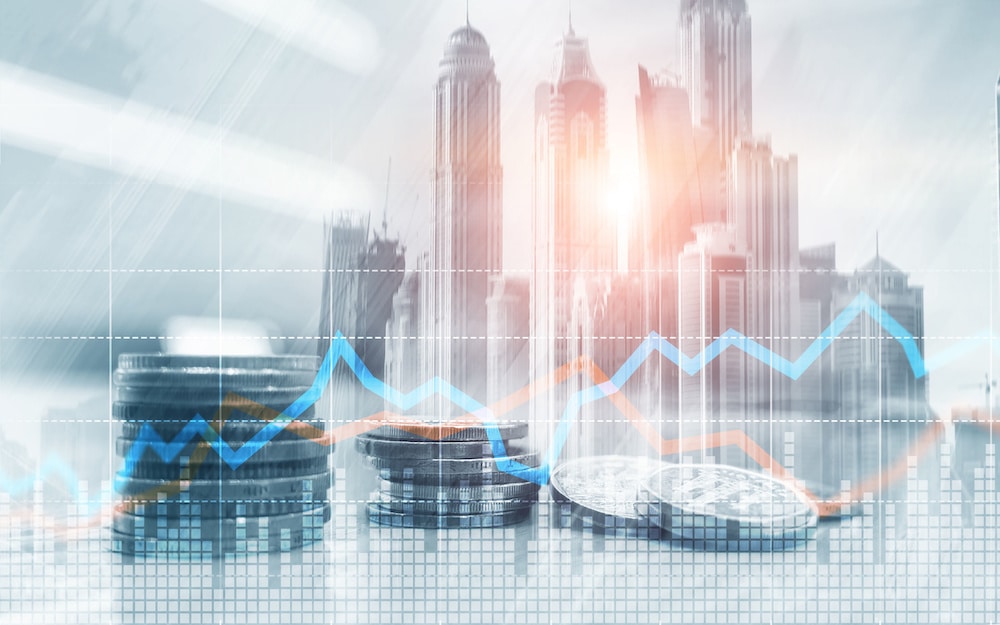 Why shares are ideal for your first trade
Another plus point from a beginner's perspective is that stocks typically have low-medium price volatility. This means there is likely to be enough profit in a trade to keep you interested, but not so much as to blow up your account if price moves against you.
Exchanges such as the London Stock Exchange and Nasdaq, which firms are listed on, require the firms to provide a high level of transparency in their financial reporting. There is enough volatility to generate profits if you pick the right company to invest in, but being a regulated market, you'd be unlucky to be exposed to fraudulent activity.
Getting into the shares trading as a beginner
The physical process of investing in stock through an online broker platform is very easy. Registering for a free Demo account and trying it out is highly recommended. The hands-on experience gained from trading virtual positions in firms such as Amazon, Apple and Tesla, is incredibly valuable and within minutes answers the question – 'how do beginners buy stocks?'
Online brokers
Firms that offer free to use share trading accounts include eToro and IG. Booking test trades in a risk-free environment can fast-track your learning. Taking the next step towards successful trading involves improving your understanding of the basic features of the process, which we detail below.
Putting on a trade
Buying shares at eToro involves going to the market for your selected firm, entering the amount of money you want to invest and clicking open trade. There are other features such as leverage, stop-losses and take-profits, which can be added to your new position but the transaction is as simple as exchanging cash for a holding in the company you want to buy.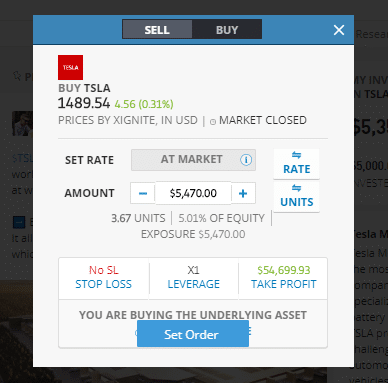 Source: eToro
Profit or loss
Your holding of shares will increase and decrease in value according to the prices in the underlying market. The below long position of $5,000 worth of Tesla shares was bought when prices were $1,391.17 and in the intervening period, prices have risen to $1,489.24. Generating a profit in dollar terms of $352.47 and a percentage change of +7.05%

Source: eToro
This position is traded on the Nasdaq exchange and when that market is open the position and profit or loss (P&L) will be subject to real-time price feeds.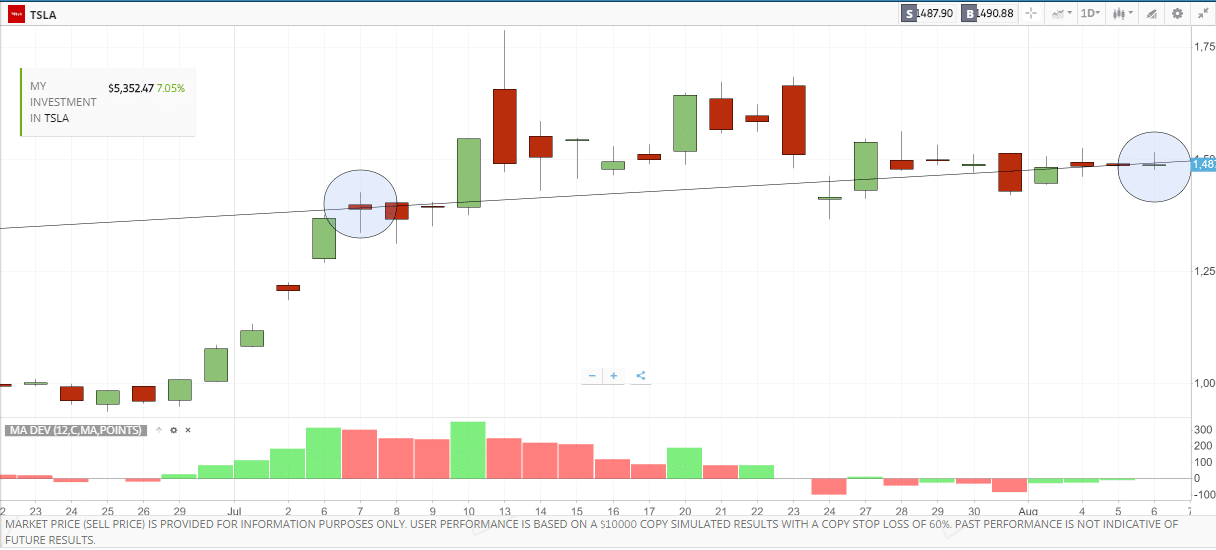 Source: eToro
The chart of the Tesla share price shows the price move in graphical terms. The entry point on the trade and latest market price are denoted by ellipses.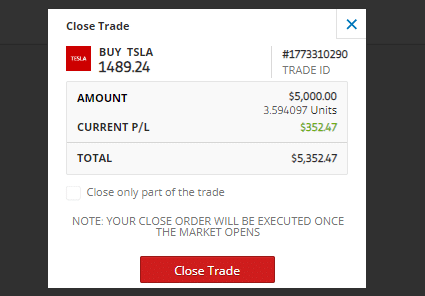 Source: eToro
Closing out your position is just the reverse of putting it on. If you bought shares in Ericsson at eToro and now wanted to sell them you follow the below process.
This converts the equity holding back to cash. The profit or loss will be crystallised and reflected in your cash balance.
Making a starter portfolio – 7 best shares
If you are asking yourself what should a beginner invest in, then one of many share investment tips is to build a portfolio of different names. This diversifies risk by mitigating 'single stock risk'. Your investment aim is to have a portfolio that gradually builds your personal wealth rather than flies to the moon to then only fall back down to earth.
One interesting feature of CFD trading of shares is that you can 'sell short' as well as 'buy long'. If you think a particular firm is overvalued, then taking a 'sell' position in their shares will generate a profit if the price of them goes down.
Amazon
A long-term favourite of stock investors. The tech giant has invested profits into new services such as Amazon Web Services. Its core e-retail offering continues to grow in size and the firm's turnover, and share price, both benefited from the COVID-19 pandemic. Changes in shopping habits that were expected to take years were instead crammed into months as lockdown living saw the world shift to buying online.
Tesla
Elon Musk's electric vehicle operation has recently become the world's largest producers of EVs, which has demonstrated incredible growth. There is some risk with investing in a stock associated with euphoria, but the market is littered with people who bet against Tesla and lost.
Ericsson
Western countries looking to roll out the technological infrastructure required for 5G telecoms have to consider using Ericsson. These are big budget projects and political manoeuvring has led to Chinese firm Huawei being discounted from most bidding operations. The firm has always protected its profit margins and looks set to continue to do so, especially now it and Nokia form a duopoly.
Getlink
The owner of the Eurotunnel service is a COVID-19-based trading strategy. Le Shuttle offers relatively safe passage from the UK to Europe because passengers have to remain in their own cars. Being a safe portal to continental holidays led to the firm's website crashing when COVID-19 restrictions were eased and families looked to book holidays. Risk factors include lock-down being re-instated.
Dunelm
UK home furnisher Dunelm has a share price showing exciting moves, which might not be associated with a furnishings and furniture retailer. The firm's dynamic management team used the COVID lockdown as an opportunity to overhaul its online operations, which are now in much better shape. Any societal shift away from city living to remote working in countryside locations would come with a lot of house-moves and associated 'make-overs'.
Zoom
Zoom is possibly one if the biggest winners from the global lockdown. The video conferencing service has functionality which many find more appealing than that found at alternative providers. The share price doubled over the course of the coronavirus pandemic on the back of people being forced to work from home. Many tip that trend to continue now that many workers are realising they prefer the new way of doing things.
Sainsbury's
UK supermarket Sainsbury's is a defensive play and balances off some of the fireworks offered by the tech-stocks. If a second wave of COVID-19 does materialise, people will always have to eat. In the short-term, there could be downward pressure on the share price – maybe even an opportunity to sell short? The Government-subsidised Eat Out to Help Out scheme has led to more 'treat' meals being taken at cafes and restaurants. This could eat into the high-margin ready meal business the supermarket heavily relies on.
What are the qualities of great beginner shares?
The good news for beginners is that as asset types go, stocks are also relatively easy to understand. If you think a firm will be a success, then buying shares in that company means as a shareholder, you are positioned to take a share of any future profits generated by that business. The greater the expected future profits, the higher the share price now.
Volatility and dividends
A firm such as Sainsbury's, with relatively stable earnings projections will be expected to have a more stable share price. One such as Tesla will have higher price volatility.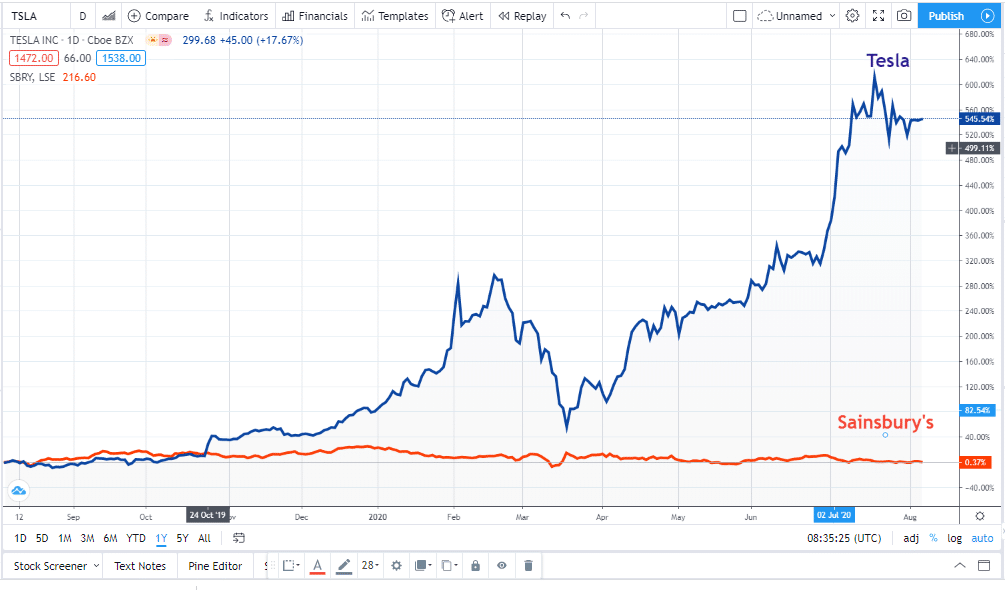 Source: TradingView
The one-year price chart for the two stocks illustrates the degree to which price volatility can differ between stocks. It's important to note that dramatic price moves can go against you as well as in your favour.
Tesla is something of an exception. The dramatic price rise is based on the premise that it will in the future, become the dominant car producer in a multi-billion-dollar global market. It's not based on current earnings, as the firm is still yet to post a profit and has a price-to-earnings ratio that is too toppy for some to consider investing at these levels.
Shares of large profitable companies
For most stocks, valuations are based on real-life commercial fortunes, which offers some stability to share prices. Bigger, profitable companies offer greater security to investors. Even more exciting stocks such as Amazon and Tesla might not see price moves on the same scale as commodities like silver and gold and cryptocurrencies such as Bitcoin. Those markets are more about immediate supply and demand constraints, whereas even Tesla shares have a proportion of their value based on long term earnings forecasts.
Share history
Past performance is another useful tool for those learning how to pick stocks. The price charts available at brokers track the progress of price action and can give a graphical indication of the direction of travel.
Technical analysis
Technical analysis takes this to another level. Measures of historical share prices are converted into metrics such as SMA's (Simple Moving Averages) and trend lines help predict what trends have taken place and signs they might be breaking down – and need to be traded out of.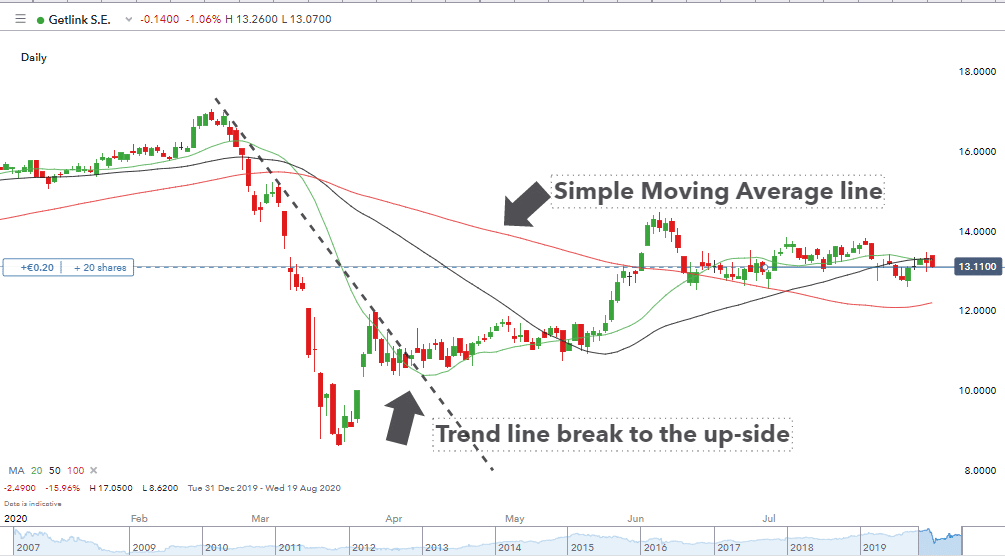 Source: IG
Holding periods and what to avoid
One top tip for beginners is to establish how long you intend to hold your position. Over-trading, or even worse, flip-flopping between long and short positions, are common mistakes made by those who are new to trading, which are best avoided. Choose a strategy and stick to it.
Beginner-friendly analysis and stock trading strategies
There are two important factors to keep in mind when picking and developing your stock trading strategies. The first is that it needs to fit in with the amount of time and resources you can devote to trading. Some strategies require more time to be devoted to them. A realistic appraisal of your situation and appropriate strategy type selection will put you in a better position for making profits.
The second consideration is whether your chosen strategy is the right one for current market conditions. The constantly changing dynamics of stock markets mean that at some time, they'll provide a better opportunity for profits to particular strategies. This also applies at a single stock level. Stocks within your portfolio may behave differently regardless of the broader market conditions.
The good news is that there is a strategy to suit every eventuality. The research provided by this article considers a variety of different strategies and outlines the pros and cons of each. Broadly speaking, they can be broken down by holding period. Short-term strategies such as 'scalping' and 'day trading' involve more frequent trading and lower risk/reward. 'Trend following' and 'momentum' strategies take a longer view of the markets. They may draw on fundamental analysis, for example, a change in a firm's way of doing business which is expected to feed through as a change in price.
There are a lot of ways of valuing a stock and, importantly, it's important to not dismiss the power of your own research.
FAQs
Research released by Tradeciety shows that investors with a large differential between their existing economic conditions and their aspiration levels hold riskier stocks in their portfolios. This reflects the common mistake of building a portfolio to match your aspirations rather than the market conditions. Research notes are freely available and it's important to focus on good investments rather than trade your dreams.
Yes and no. Trading is about tipping the balance of probabilities in your favour. Basic principles include using a regulated broker, developing an appropriate strategy and keeping an eye on costs. Many brokers also offer commission-free share trading and online platforms don't take a cut from any profit you make. Making basic errors will cost you money and the average individual investor underperforms a market index by 1.5% per year.
The term 'penny stock' generally refers to an equity issued by a very small company that trades with a share price that is lower than other more established firms on the same exchange. The vast majority of penny stocks are valued at that level because of a poor financial outlook. As a result, trading them carries more risk. Shares in larger and better-established firms offer greater security, but if you have a burning desire to trade penny stocks this research note would be a good place to start.