Shield Therapeutics (LON: STX) share price is rallying after it said it is on track for the US launch of Accrufer by the end of June.
Since the company's fundraise in March, Shield said preparatory work has accelerated dramatically with five key workstreams underway.
They have established a US subsidiary, Shield Therapeutics Inc, and are also setting up the product supply chain and logistics. In addition, Shield has signed agreements with providers for product warehousing and distribution.

In the marketing department, market research has been carried out amongst prescribers. Shield said it continues to support its belief that Accrufer has the potential to address a significant unmet medical need. The marketing plan will include both personal and non-personal promotion.
The company is working in conjunction with a well-established contract sales organisation. The sales organisation will be 100% dedicated to the promotion of Accrufer. Shield is planning to launch initially with 30 sales representatives, with the recruitment completed by early June.
Accrufer will be made available to healthcare professionals online and through a team of medical science liaison (MSL) employees.
The Wholesaler Acquisition Cost (WAC) for Accrufer has been set at $500 per pack, containing 30 days' supply at two capsules per day.
National Account Managers are already actively engaging payer organisations to provide their patients access to Accrufer. This process is underway, but it will take 12-18 months before the London-listed company has comprehensive coverage across a large proportion of payers and its sales forecasts in the early months take account of this.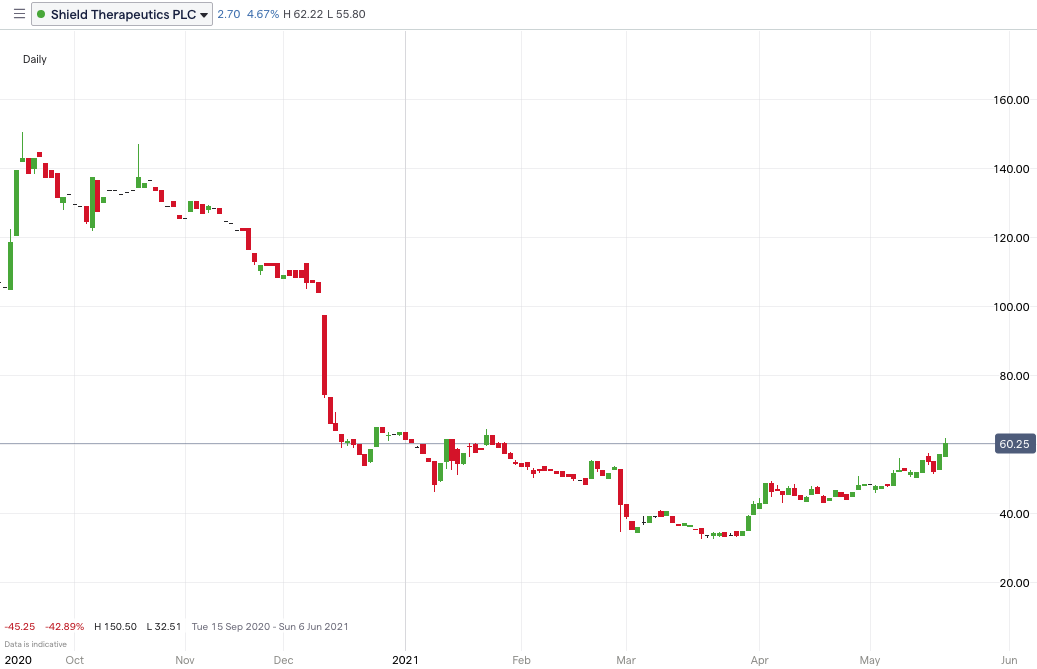 Tim Watts, CEO of Shield Therapeutics, said: "A huge amount has been achieved in the last two months since the fundraise completed and I am very grateful to all Shield employees, and in particular to Brian Groch and his US team, for the efforts they are making to prepare for launch."
Shield Therapeutics' share price has climbed over 4.6% to 60.75p following the update.
Should You Invest in Shield Therapeutics Shares?
One of the most frequently asked questions we receive is, "what stocks are best to buy right now?" It's a wide-ranging question, but one that we have answered… Our AskTraders stock analysts regularly review the market and compile a list of which companies you should be adding to your portfolio, including short and longer-term positions. Here are the best stocks to buy right now