Shares of Baron Oil PLC (LON: BOIL) fell 10% today, extending its pullback from the highs hit in late April following the completion of its earn-in agreement with SundaGas regarding the Chuditch discovery.
The company's shares have pulled following the late April parabolic rally as expected, and many traders are wondering what's next for its share price.
While nobody knows what will happen in the markets tomorrow, we can use price action analysis and other technical methods to predict future markets.

Baron Oil shares are trading at a great level just off their recent lows with significant bullish potential given that the independent oil and gas company's shares have traded as high as 0.57p in the past.
The company's Timor-Leste project, which SundaGas were exploring, holds the most potential. Baron Oil is set to begin 3D seismic reprocessing of the Chuditch discovery to determine its true potential, the viability of drilling an appraisal well and further exploration wells.
Baron Oil expects to report the final results of the seismic reprocessing in Q1 2022, which means there will likely be no significant updates regarding the project until 2022.
Furthermore, the company has committed to funding the work programme at Chuditch until November 2022 to the tune of US$3.5 million. The work will include the licensing and processing of the 3D seismic data.
Baron Oil has two other projects, one in North East Scotland with two major prospects defined and one in the Piura region of Peru. Positive development from these two projects could fuel the next rally phase.
As much as I like Baron's current share price, I will no be buying its shares given the long road ahead before it can start generating revenues. The company's price chart is also very volatile and does not provide predictable trade setups.
*This is not investment advice.
Baron Oil share price.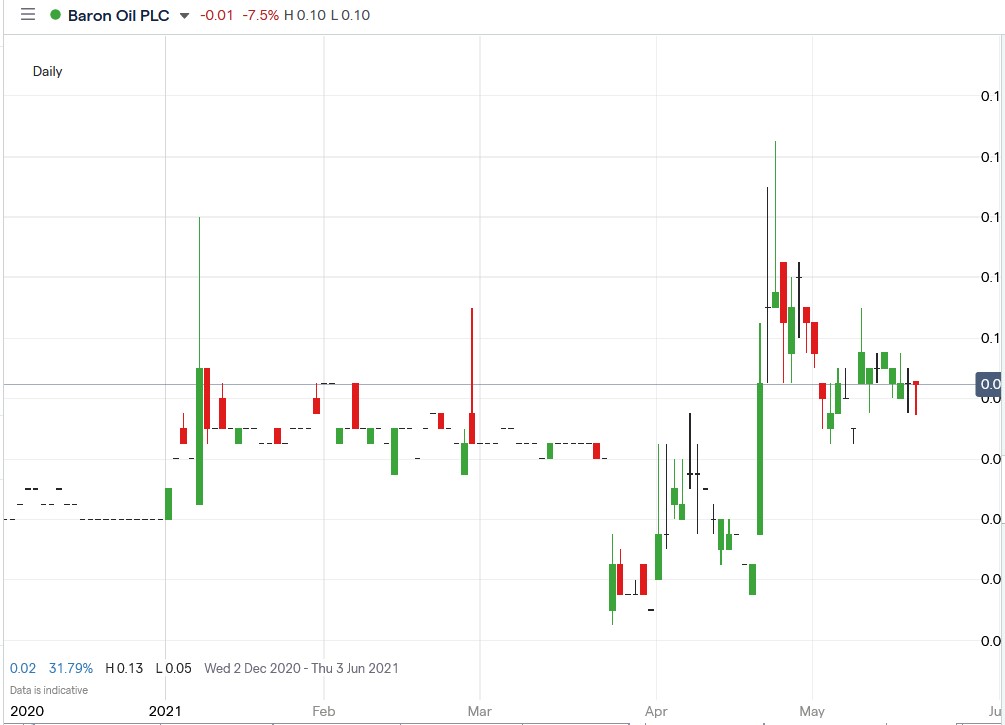 Baron Oil shares fell 10% to trade at 0.09p, falling from Thursday's closing price of 0.1p.