ECR Minerals PLC (LON: ECR) share price rallied 6.96% after announcing the resolution of its 25% shareholding in Cordillera Tiger Gold Resources Inc, a Philippines gold mining and exploration company.
The company's shareholding has been pending resolution since 2016, when it was acquired. Afterwards, a former director of Cordillera Tiger moved to court to block the transaction that could have seen ECR Minerals acquire a 25% stake in the company.
ECR Minerals was pleased to reveal that the share transaction had been finalised, and it has the share certificate and the relevant documentation. ECR has invested £1.2 million in the Danglay project to date.

Cordillera Tiger owns an exploration license for the Danglay gold project, with an inferred resource estimate of 63,500 gold ounces. ECR Minerals believes that the project has further exploration potential.
The Danglay project is located in a mining district with prolific gold and copper deposits to the North of the Phillippines. ECR also noted that the political climate in the country towards the mining industry is improving, which is excellent.
David Tang, ECR Minerals chairman, said: "I am pleased to report that after a lengthy delay, our 25% shareholding in Cordillera Tiger has now been formalised, and we are now in possession of the documentation and share certificate,"
Adding:
"Shareholders will, of course, know that ECR's priority and focus is on developing its Australian assets, but with our commitment to helping the Danglay community and our £1.2mln investment in the Danglay gold project to date, we believe the resolution of this longstanding issue and the improving political climate adds material value to the ECR asset portfolio."
Today's rally occurred at a crucial support level extending the bullish trend that started yesterday. ECR Minerals shares have fallen 70.9% since January, and many are hoping that it might recoup some of its losses before the year ends.
Meanwhile, the company's current share price might be attractive to long term investors and short term traders alike. Still, there are no guarantees that we won't get a further decline in future.
*This is not investment advice. Always do your due diligence before making investment decisions.
ECR Minerals share price.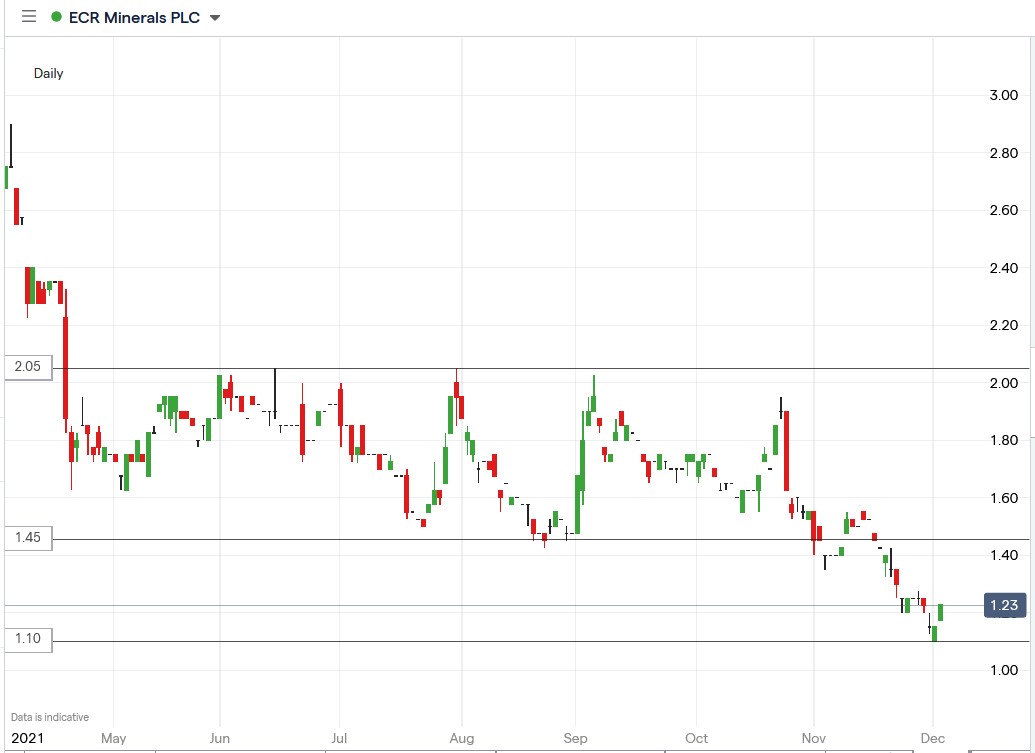 ECR Minerals share price rallied 6.96% higher to trade at 1.23p, rising from Wednesday's closing price of 1.15p.
Should You Invest in ECR Minerals Shares?
After a fall from the $2,000 level, could gold be set for another run higher? If you're a gold investor, you won't want to miss out on these stocks… Discover which companies our analysts are focusing their attention on for the coming months. If gold does move back to $2,000, these investments could see significant gains.