Key points:
[email protected] ME Capital shares rallied 12.5% despite a lack of news.
Many questions have arisen about the company's operations and future.
The inventory monetisation firm is looking to raise more funds.
SYME also postponed the publishing of its FY 2021 results.
The [email protected] Capital PLC (LON: SYME) share price rallied 12.5% as it recovered from the significant drop occasioned by news that the company was planning to raise £7.5 million in new equity from Venus Capital.

The inventory monetisation company said it would use the funds raised to repay loans and convertible notes from long-term financier Mercator Capital Management. However, it was unclear whether Mercator was planning to exit its long-standing relationship with SYME, where it has been providing funds to the company in exchange for equity.
Some analysts led by Tom Winnifrith have been warning for a long time that [email protected] Capital's entire business model is a scam and that the company was out to fleece investors while enriching its founders.
However, I have argued that [email protected] Capital has a legitimate business based on the publicly-available information, but this does not mean that the company cannot fail. One of the most common ways companies fail is that they run out of money as financiers pull away, which is now a real risk to SYME.
[email protected] Capital is currently raising funds to repay Mercator loans and convertible notes. I will be interested to see if Mercator will end its relationship with the inventory monetisation company once its loans and convertible notes have been repaid. Mercator's exit could spell further problems for SYME investors as the company moves on to a new relationship with Venus Capital.
The inventory monetisation company also delayed the publication of its full-year 2021 financial results to take advantage of the FCA's two-month COVID-19 relief on publishing. Still, the company must publish its results by the end of May 2022.
Delaying the publishing of financial results usually paints a company's image in a negative light, given that it usually indicates that the firm is struggling to reconcile some reporting metrics.
Furthermore, [email protected] Capital had to postpone many of its key business milestones to its current financial year. It struggled to find financial backers for some of its inventory monetisation products and services.
The company is progressing much slower than anticipated, which could make some of its partners cautious in their dealings, creating a vicious cycle that could lead to SYME's demise. Therefore, investors must be aware of the risks facing SYME when deciding whether to buy or sell the company's shares.
Still, things could turn out positive for SYME if its services kick-off strongly, attracting clients and partners alike while generating much-needed revenues for the firm. Otherwise, the company will be forced to keep raising money, further diluting existing investors.
*This is not investment advice. Always do your due diligence before making investment decisions.
SYME share price.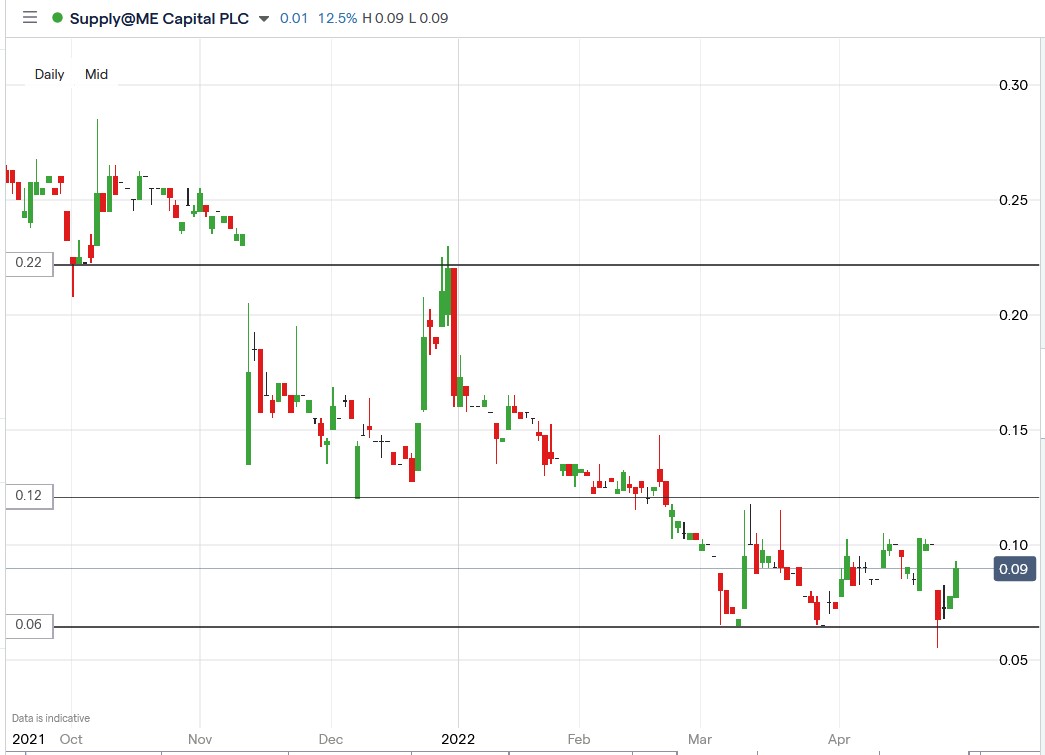 SYME shares rallied 12.5% to trade at 0.09p, rising from Friday's closing price of 0.08p.