Key points:
Synairgen shares rallied 13.4% on phase 2 trial data from COPD patients.
The company is testing the effectiveness of SNG001 against viral infections.
SNG shares could surge if the drug proves effective and is commercialised.
The Synairgen plc (LON: SNG) share price rallied 13.4% after announcing positive data from the additional analysis of sputum samples from its phase 2 clinical trial of SNG001 in patients with Chronic Obstructive Pulmonary Disease (COPD) and a confirmed viral infection.

SNG001 contains interferon beta, a broad-spectrum antiviral protein, which demonstrated effectiveness in clearing the human rhinovirus (HRV) from infected lungs compared to patients dosed with a placebo.
Also read: The Best Healthcare Stocks To Buy Right Now.
Investors cheered today's announcement, which shows there is hope for Synairgen's lead drug candidate, SNG001, after failing to meet its primary endpoints in phase 3 clinical study against COVID-19.
Synairgen has continued developing SNG001 after showing that while the drug was not very effective against COVID-19, it demonstrated effectiveness against more severe forms of COVID-19.
The study's final results will be published in a peer-reviewed journal before the drug can proceed to phase 3 clinical trials if the phase 2 trial proves successful.
Richard Marsden, Synairgen's CEO, said: "Our new data from COPD patients shows that SNG001 can accelerate viral clearance from the lung and builds on our existing data supporting SNG001's mechanism of action and our focus on severe viral lung infections. This additional assessment supports continued and further investigation of SNG001 as a possible broad-spectrum antiviral."
Synairgen shares are far from their recent highs after the crash occasioned by the failure of its COVID-19 program. However, investors buying SNG shares now could be looking at significant gains in the future if SNG001 proves successful against other severe viral lung infections.
*This is not investment advice.
The Synairgen share price.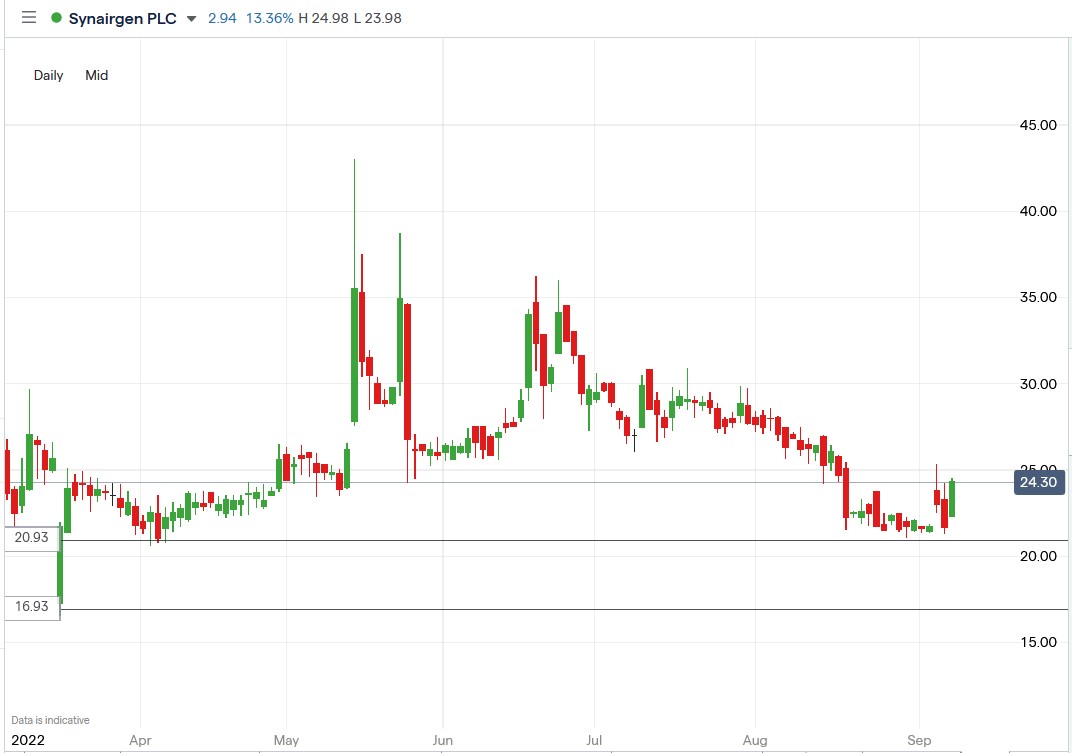 The Synairgen share price rallied 13.39% to trade at 24.55p, rising from Tuesday's closing price of 21.65p.