Key points:
Synairgen shares surged by 64.8% after releasing new SNG001 data.
The new data indicated that the drug can still be used on some patients.
SNG001 can help COVID-19 Patients with compromised respiratory function.
The Synairgen plc (LON: SNG) share price soared by 64.8% after presenting the detailed analysis of its SPRINTER phase 3 trial of its SNG001 drug candidate in hospitalised patients.

In February, the biotech company reported that the study failed to meet its primary and secondary endpoints, triggering a massive selloff in its share price.
However, the latest data was collected after the ad hoc analysis of the initial data focusing on the progression of patients with compromised respiratory function to severe disease or death within 35 days by 25.7%.
Synairgen will present the detailed analysis of the data collected during the SPRINTER study later today at the Clinical Trials Symposium of the American Thoracic Society 2022 (ATS 2022) International Conference in San Francisco, California.
The results of the ad hoc study focused on patients with a compromised respiratory function that were 65 years and older and who also had co-morbidities associated with worse COVID-19 outcomes.
SNG001 had a more potent treatment effect on the above patient group, which made up about one-third of the overall study population. In addition, it significantly reduced the risk of progression to severe disease and death compared to placebo by 70% in the Per Protocol population.
Phillip Monk, PhD, Synairgen's Chief Scientific Officer, said: "The post hoc analyses presented at the ATS conference today suggest that SNG001 may be having a beneficial effect with respect to prevention of severe disease or death. These results provide a strong clinical rationale to continue to investigate SNG001 in a trial evaluating progression and/or mortality in hospitalised patients with COVID-19 and more widely in patients with severe viral lung infections."
Investors were happy to see that there is some hope that SNG001 can be used as a COVID-19 treatment in high-risk patient subgroups, especially those with clinical signs of compromised respiratory function.
Syniargen shares were headed higher at writing and traded up 65% on the news. However, the stock still has a long way to go before reclaiming its recent highs above 211p.
*This is not investment advice. Always do your due diligence before making investment decisions.
Synairgen share price.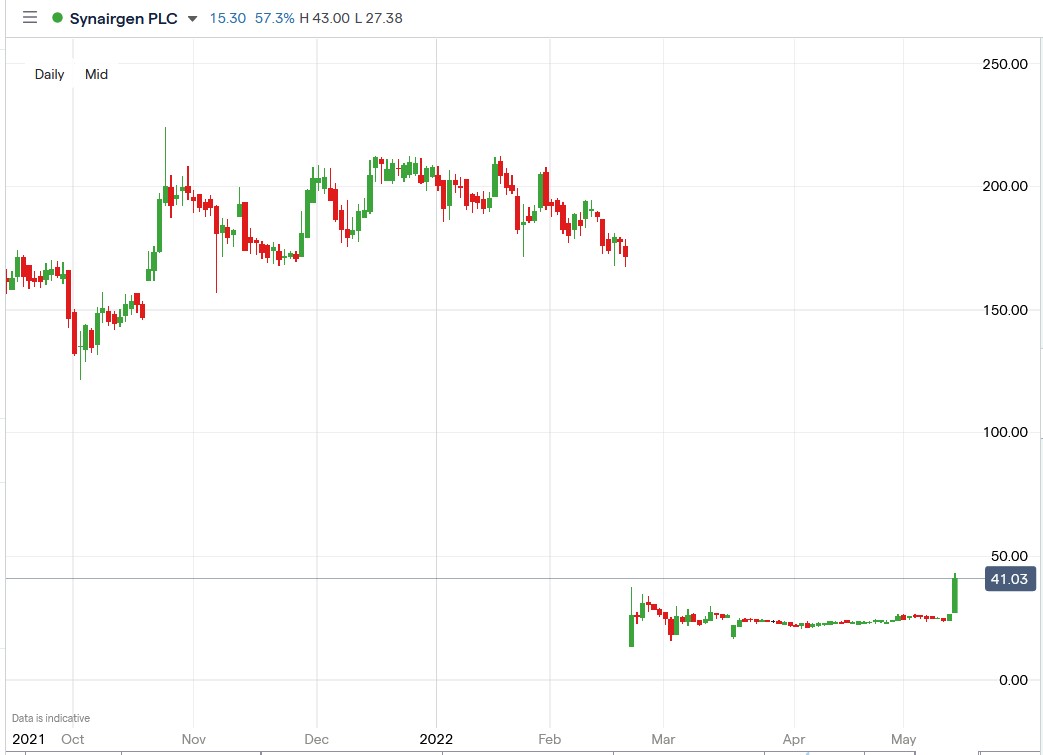 The Synairgen share price surged 64.78% to trade at 43.09p, rising from Monday's closing price of 26.15p.