Key points:
Tesco shares barely moved on mixed Q1 results as investors waited.
The retailers catering sales soared while its UK retail sales fell slightly.
So is Tesco the best UK retailer? Read on to find out.
The Tesco PLC (LON: TSCO) share price barely moved after the British retailer released its  Q1 results for the 2022/2023 financial year. The company reported mixed results as its UK like-for-like (LFL) sales fell 1.5% during the period, while ROI  LFL sales plunged 2.4%.

The multinational grocery and general merchandise retailer revealed that its catering sales under the  Booker brand soared 19.4% to £2.1 billion, driven by the relaxing of most Covid-related lockdown measures earlier this year.
Tesco also said that it would continue matching prices offered by discount supermarket chain Aldi, which has endeared it to cash-strapped consumers as record-high inflation levels in the UK and globally leave customers with less disposable income.
However, the retailer faces multiple challenges driven by high fuel costs, which have raised its operations costs even as it struggles to offer lower prices to consumers. In addition, the retailer is looking to negotiate lower prices with its suppliers to avoid raising the prices of its goods, given the current macroeconomic situation.
Tesco has also promised to raise the salaries of its employees by 6%, which will further contribute to its higher operating costs. In addition, the price matching feature with Aldi will likely squeeze its operating margins, further piling pressure on its overall profits.
Luckily for investors, Tesco maintained its full-year profit guidance, indicating that it intends to remain profitable despite its numerous challenges. The retailer is in the middle of a cost-cutting program that will reduce about £1 billion in operating costs over three years.
By cutting costs and maximising profitability in its grocery and catering businesses, Tesco might pull off its ambitious goal of maintaining its current profitability despite its numerous challenges.
Tesco shares are trading at a support zone that has been in place since February 2020, which could be the perfect place for a rally. However, a break below this crucial level would lead to further declines. Therefore, before buying Tesco shares, I would wait for a solid bounce off the support level. Still, a break below the level would invalidate the bullish thesis.
*This is not investment advice. Always do your due diligence before making investment decisions.
Tesco share price.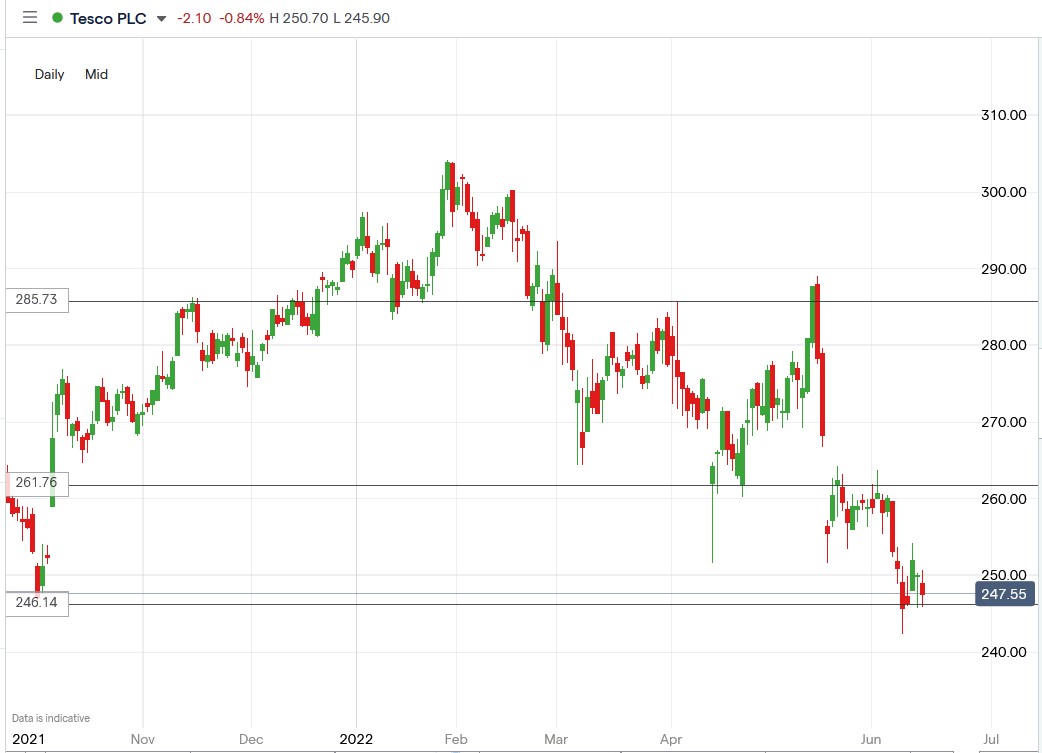 The Tesco share price was trading sideways at the time of writing after releasing mixed results.