Genedrive PLC (LON: GDR) share price fell 8.73% despite not making any new announcements extending the existing downtrend. Here's why Gendrive shares have fallen 65.6% since January and what I think could happen next.

The British molecular diagnostics company recently reported a lower pretax loss for its 2021 financial year of £1.9 million ($2.6 million) compared to last year's pretax loss of £20.4 million.
Last year's massive loss was primarily driven by the company's high financing costs worth £14.7 million, compared to this year's £3.6 million financing cost.
Genedrive's shares have fallen this year after the company's high throughput COVID-19 test failed to gain traction in the market, which led to lower sales than initially expected.
David Budd, Gendrive's CEO, said: "It has been a disappointing year for revenues, and we have been unable to achieve the commercial traction on our high throughput Covid-19 test that we anticipated."
The diagnostics company is being forced back to the drawing board as its bet on the COVID-19 test has failed, which to most experienced business people is just part of the deal when you are in business.
However, investors have taken kindly to Genedrive's failures, evidenced by the massive decline in its share price since January. So the question on most investors minds at the moment is, what's next for the company?
Genderive's other revenue streams include its contract with the US Department of Defense, which has since stalled, putting a damper on a promising project that could have generated significant revenues for the firm.
However, the company still has a distribution agreement with Beckman Coulter Life Sciences that could generate millions in revenue in the future.
After Indian health regulators approved Genedrive's COVID-19 test, the company later received an import license but has not made the sales it anticipated in the country.
The lack of approval for the coronavirus test from the World Health Organisation (WHO) and the US Food and Drug Administration (FDA) is probably one of the reasons why the company's shares have fallen drastically.
Genedrive can still pick up the remaining pieces of its business, such as the distribution agreement with Beckman Coulter and build its business around it.
*This is not investment advice. Always do your due diligence before making investment decisions.
Genedrive share price.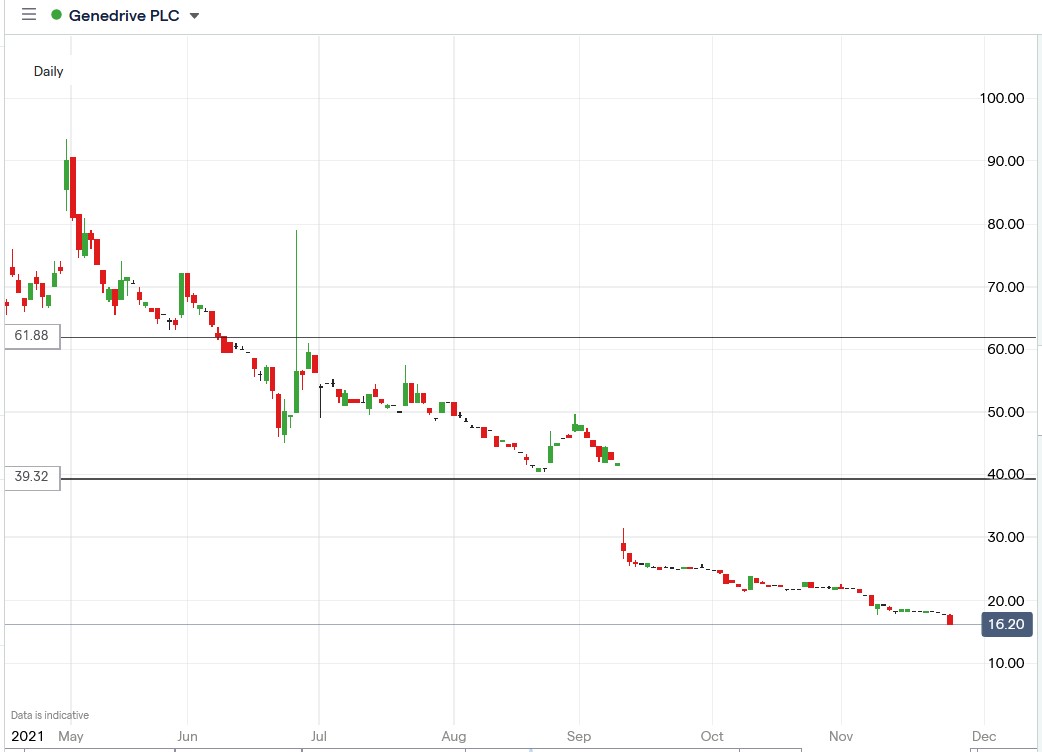 Genedrive share price plunged 8.73% to trade at 16.20p, falling from Wednesday's closing price of 17.75p.
Should you invest in Geendrive shares?
Genedrive shares are traded on the London stock exchange's AIM market (the alternative investment market), which is the submarket specifically for smaller companies. AIM stocks are attractive to investors as they have tax advantages and smaller companies have the potential to benefit from rapid growth. But are Genedrive shares the best buy? Our stock market analysts regularly review the market and share their picks for high growth companies.