Key points:
MedAvail stock price has soared over 100% in two days on buying pressure.
Buyers seem to have stepped up without any significant news from the firm.
The move could be a delayed reaction to the firm's capital raising trends.
The Medavail Holdings Inc (NASDAQ: MDVL) stock price soared 44%, adding to yesterday's 64.43% rally in an unexplained move triggered by an influx of buyers.

The company's last significant announcement was earlier this week, on Monday, April 4, 2022, when it announced the closure of a private placement that raised approximately $40 million for the company.
MedAvail sold 37.6 million shares at $1.0625 per share, much higher than its trading price. While the latest move higher might not be triggered by any fundamental news, it could be a delayed reaction to the private share placement.
The rally in MedAvail prices has persisted for two consecutive indicating significant buying pressure. At the time of writing, over 9.4 million shares had changed hands. While we cannot identify who is behind the rally, it could be an institution acquiring a substantial stake in the firm.
Interestingly, the latest private placement was the second such placement initiated by MedVail this year after the company completed another $50 million capital raise via private placement on March 3, 2022.
MedAvail released its Q$ and full-year 2021 financial results on March 24, 2022, where its full-year revenues surged to $22.1 million, driven by a 161% jump in retail pharmacy services to $20.2 million.
It is unclear why the pharmacy services company needs to raise vast amounts of money for general corporate services and fund strategic initiatives. The company also issued warrants to the investors participating in the private placements diluting existing investors.
However, despite the massive dilution of existing shareholders, MedAvail shares have surged by over 100% in two days, defying all logic that dictates the stock should be falling. The latest move reminds me of a quote by Warren Buffett that a stock market is a voting machine over the short term, but it is a weighing machine over the long term.
Investors holding MedAvail shares before the two-day rally should take their profits after today's rally. I wouldn't buy the stock at current prices, given the massive continuous dilution of existing shareholders.
*This is not investment advice. Always do your due diligence before making investment decisions.
MedAvail stock price.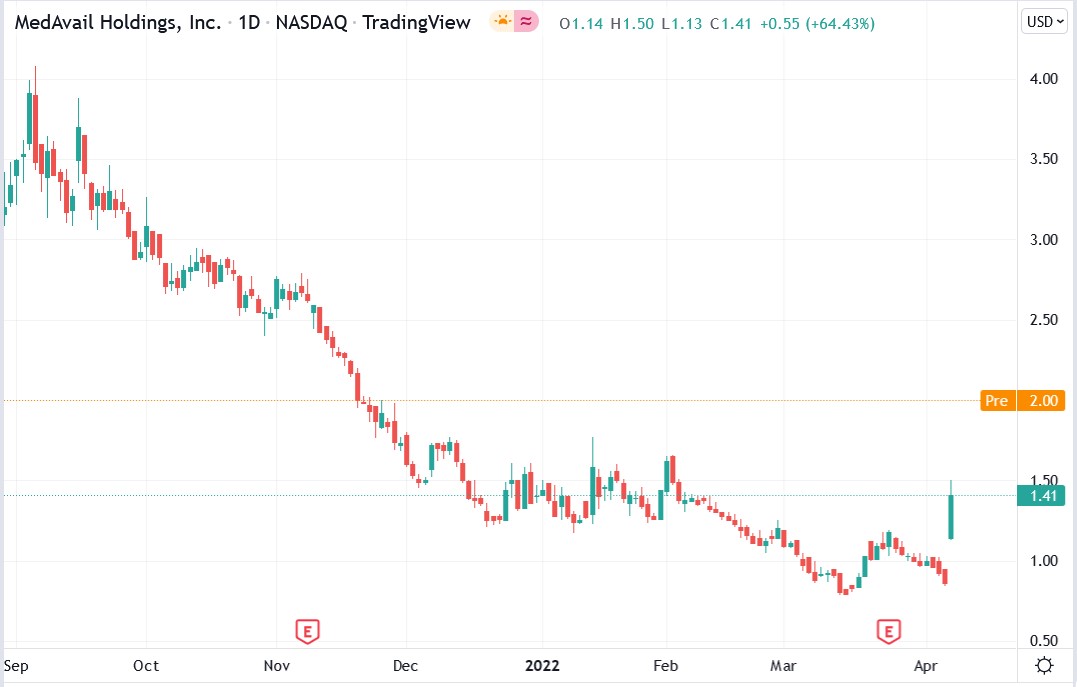 The MedAvail stock price soared by 137.2%% to trade at $2.04, rising from Wednesday's closing price of $0.86.