Key points:
The Target stock price plunged 7.72% after warning of lower margins in Q2.
Investors reacted harshly initially but softened their stance later as TGT rose.
Is Target a good investment? Read on to find out.
The Target Corporation (NYSE: TGT) stock price plunged 7.72% after the retailer cut its margin forecast for Q2 to 2% from the previous estimate of 5.3%. The move caught many by surprise, given that the retailer registered a significant drop in its profits during Q1 2022.

Target now says it has to offer steeper discounts to consumers amid a significant shift in consumer buying behaviours due to the record-high inflation witnessed across the United States. The retailer clarified that it would focus on clearing stock during Q2 and stocking more food and beverage products along with other essential items consumers must buy despite the difficult times.
Target said it would have to raise the prices of many of its goods to pass on the extremely high transport and fuel costs that have hit most businesses. But, unlike other retailers, Target's motto of keeping prices low has started hurting it as the pressure on its margins mounts.
Today's announcement has sent shockwaves throughout the retail sector as investors speculate about which retailers could follow in Target's footsteps and start cutting their sales forecasts.
Many expect retailers such as BestBuy, which specialises in consumer electronics, to suffer the most as consumers cut their spending on discretionary items due to the high cost of living occasioned by the high fuel costs.
Meanwhile, Target expects its margins to rise to 6% in the year's second half as it implements price hikes. However, the retailer will first have to clear its current stock within the remaining portion of Q2.
Target shares had recouped a significant portion of its earlier losses at writing as the markets priced in the news and started looking forward to the higher margins promised in H2, which is just around the corner.
Is Target a good investment? It's too early to tell, but the TGT stock has fallen 29% in the past month, making it attractive to investors. I would buy the stock at current levels and hold it for a few months with my profit target at $220-$250. A break below $140 would invalidate my bullish thesis.
*This is not investment advice. Always do your due diligence before making investment decisions.
Target Corp stock price.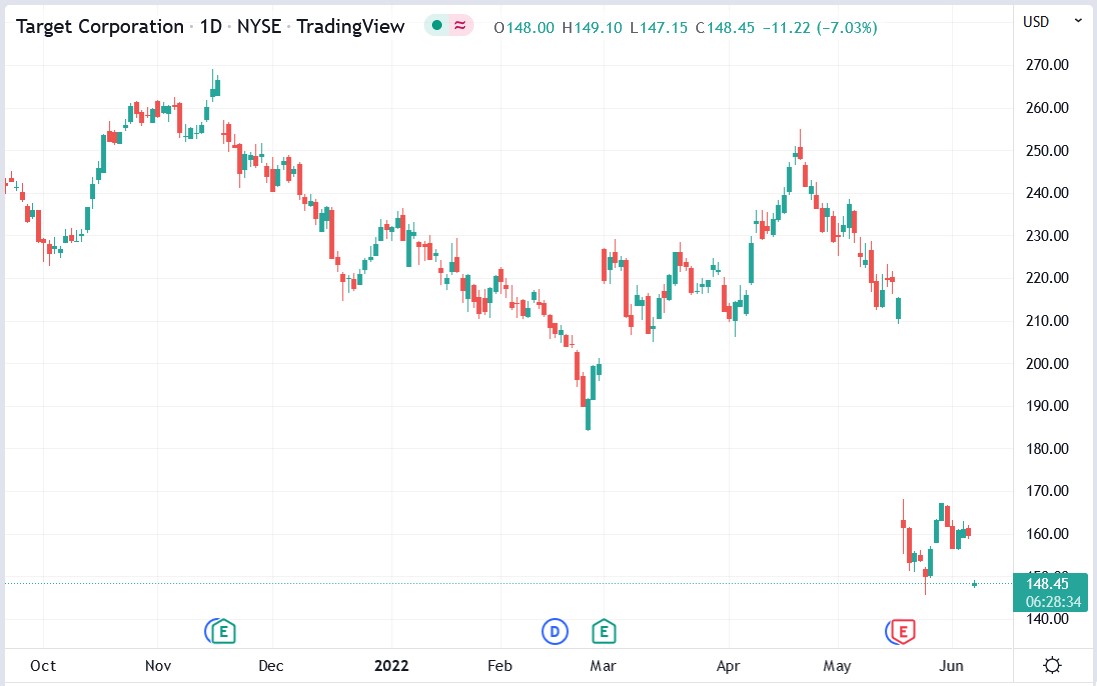 The Target Corp stock price fell 7.72% to trade at $147.34, from Monday's closing price of $159.67.