Key points:
Kohl's stock price rallied 11.35% amid takeover talks with Franchise Group.
The department store chain operator will be acquired for $8 billion.
However, the deal will close in three weeks or be cancelled.
The Kohl's Corporation (NYSE: KSS) stock price rallied by 11.35% after revealing that it was in exclusive talks with Franchise Group Inc (NASDAQ: FRG) to be acquired for $8 billion valuing each share at $60.

Investors reacted positively to the announcement, given the rally in KSS shares. However, investors are waiting to see if the deal will be formalized, given that KSS shares were trading around $47 at writing, $13 off the acquisition price of $60.
The markets are adopting a wait-and-see approach towards the potential acquisition, which would handsomely reward Kohl's shareholders, some of whom have been calling for a sale, a move vehemently opposed by Kohl's management.
There is no guarantee that the deal will be formalized, given that Kohl's shares were trading above $60 a few months ago, and some might argue that  Franchise Group is taking advantage of the recent decline in KSS stock price to acquire the firm.
However, given the many headwinds facing the US retail sector, a takeover might be the best option for Kohl's as its peers slash their margin and sales targets as consumers slash their spending on discretionary purchases.
The situation is likely to worsen given the record-high inflation levels in the US and the inadequate supply of crude oil triggered by the European Union and US sanctions on Russian oil exports.
Macellum Advisors, an activist investment fund that owns 5% of Kohl's shares, has been phishing for the company to explore a potential sale of some of its assets to unlock shareholder value. However, the fund failed to garner support from other shareholders who rallied behind the management team and failed to approve Macellum's 10 board nominees at a recent meeting.
Still, it appears that Kohl's management team is now open to a sale given the challenging operating conditions in the retail sector as consumers' disposable income shrinks due to the high cost of living triggered by the high inflation levels in the US.
The two companies have three weeks to complete the due diligence process, agree on financing and close the deal, which still has to be approved by the boards of both firms.
*This is not investment advice. Always do your due diligence before making investment decisions.
Kohl's stock price.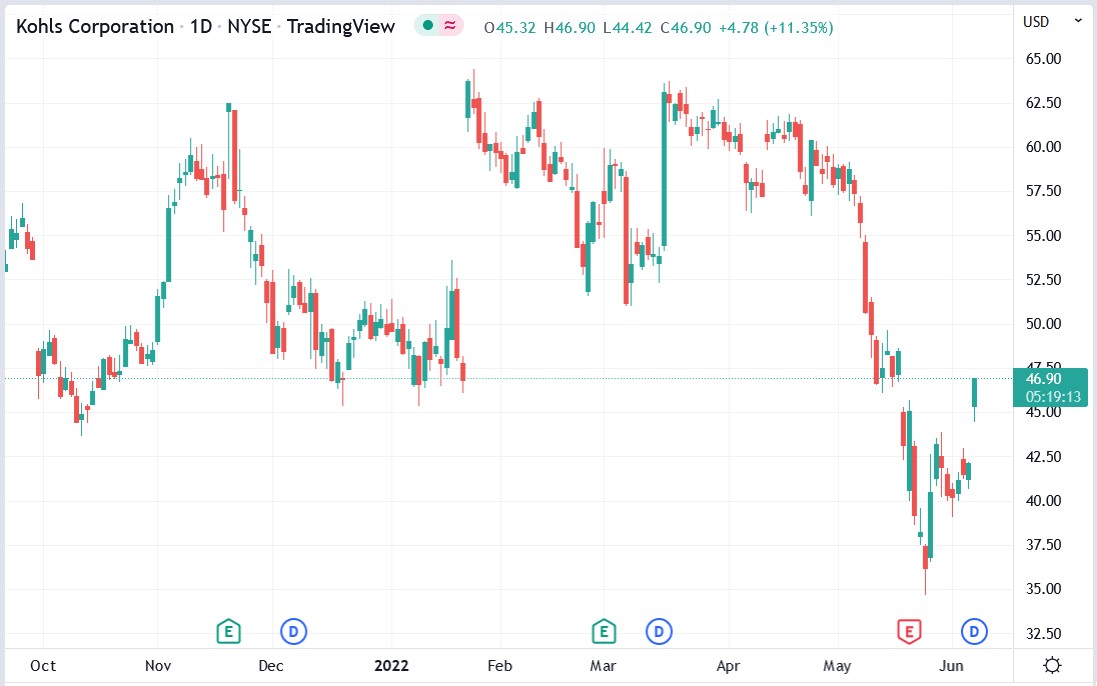 Kohl's stock price had risen 11.35% to trade at $46.90, from Monday's closing price of $42.15.