Key points:
The United States Oil ETF (USO) stock price is up 61.1% in 2022.
The ETF could rise further if US oil prices keep rising during the summer.
However, we could see a decline once Oil prices hit the $140 level.
Read on to find out what could happen to USO's stock price.
The United States Oil ETF (NYSEARCA: USO) stock price has risen 61.1% in 2022, and many expect it to keep rising as the peak summer travel period starts. The US government is trying to alleviate the situation by releasing its reserve oil supplies, but the situation remains dire.

The question on most people's minds is how high can oil prices go? JP Morgan says that oil prices could soon hit $140 per barrel, a level from May to June 2008 before the recession. I agree with JP Morgan's assessment of future oil prices since the current situation almost mirrors 2008 when the stock markets were rallying before the crash that led to the great financial recession.
The current macroeconomic situation seems like the perfect setup for another recession as the Federal Reserve raises interest rates to stem rising inflation while still trying to save the stock market from an imminent crash.
Today's interest rate decisions will shed light on the Fed's future monetary policy decisions, which could significantly impact the stock market. The Fed finds itself in the unfortunate position of raising interest rates to fight inflation while simultaneously working to prevent the US economy from sinking into a recession.
Therefore, we will likely see oil prices rise as the summer travel season kicks in and demand the limited commodity skyrockets. However, the high inflation has left most consumers with less disposable income, which might dampen their desire to travel.
From a contrarian perspective, oil demand during summer may not be as high as expected if the US economy sinks into a recession. Hence, we might see oil prices fall after hitting new highs. Alternatively, OPEC+ and their allies might raise production, leading o increased supply and lower prices.
Therefore, contrarian investors might choose to short USO once oil prices hit the $140 level expecting a decline. However, there are no guarantees that oil prices will not surge past the $147 2008 high.
*This is not investment advice. Always do your due diligence before making investment decisions.
USO stock price.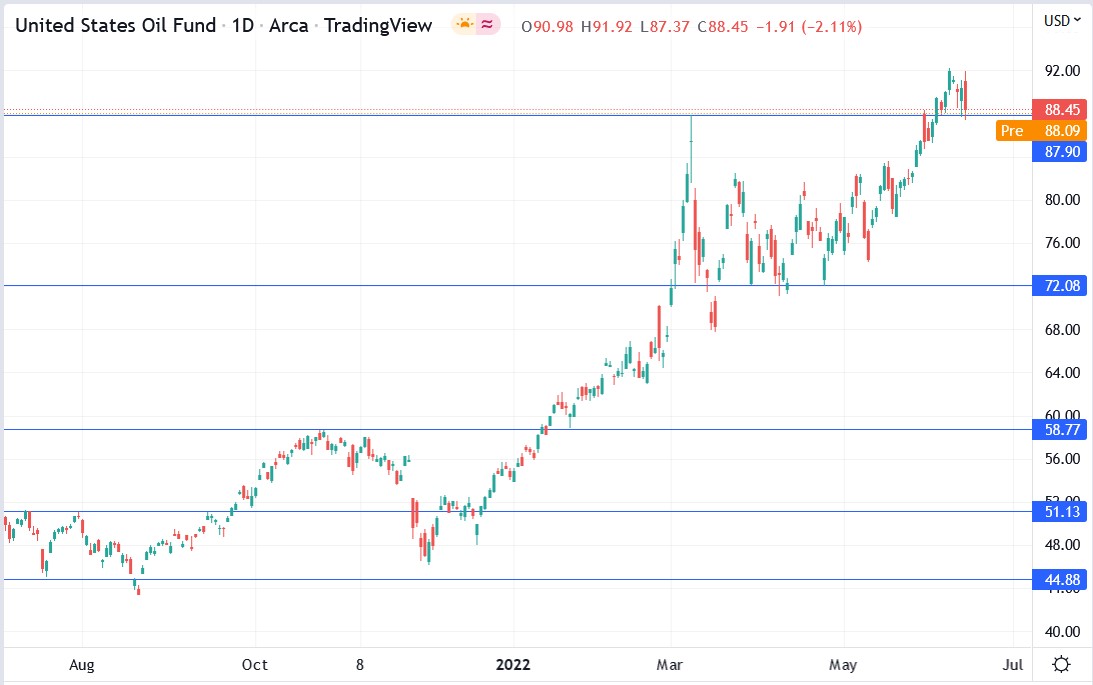 The USO stock price rose 61.14% in 2022, and many expect it to rally much higher as oil prices soar.