Shares of Thor Mining Plc (LON: THR) surged 6.09% higher after revealing that it had won a A$110,000 (£60,000) grant from Australia's Northern Territory Government for its Molyhil tungsten-molybdenum project.
The project, located approximately 220 kilometres northeast of Alice Springs, was one of 18 successful projects to receive funding as part of the Resourcing the Territory, Geophysics and Drilling Collaborations programme.
Thor Mining will use the grant to fund the drill testing on recently identified magnetic targets located next to the mineralisation at the Molyhil deposit.

The company is well-positioned to profit from rising battery metals and gold prices, given the broad scope of its projects across Australia and the United States. Still, most of its projects are yet to reach the production phase.
Nicole Galloway Warland, Thor Mining's Managing Director, said: "This is another fabulous result for Thor and its shareholders. The successful grant is a strong validation by the Northern Territory Geological Survey of the prospectivity of the magnetic targets identified at Molyhil."
Adding:
"This is the third successful government grant Thor has received this year, towards co-funding of our upcoming 2021 drilling programs: three grants for three different projects in three different states."
The company intends to start drilling at the Alford East Copper-Gold Project in Southern Australia, which was recently awarded a A$300,000 grant by the South Australian Government next week.
Work on the USA Uranium Project and Ragged Range gold Project in western Australia will begin soon after the Alford East drilling project.
Thor Mining share price.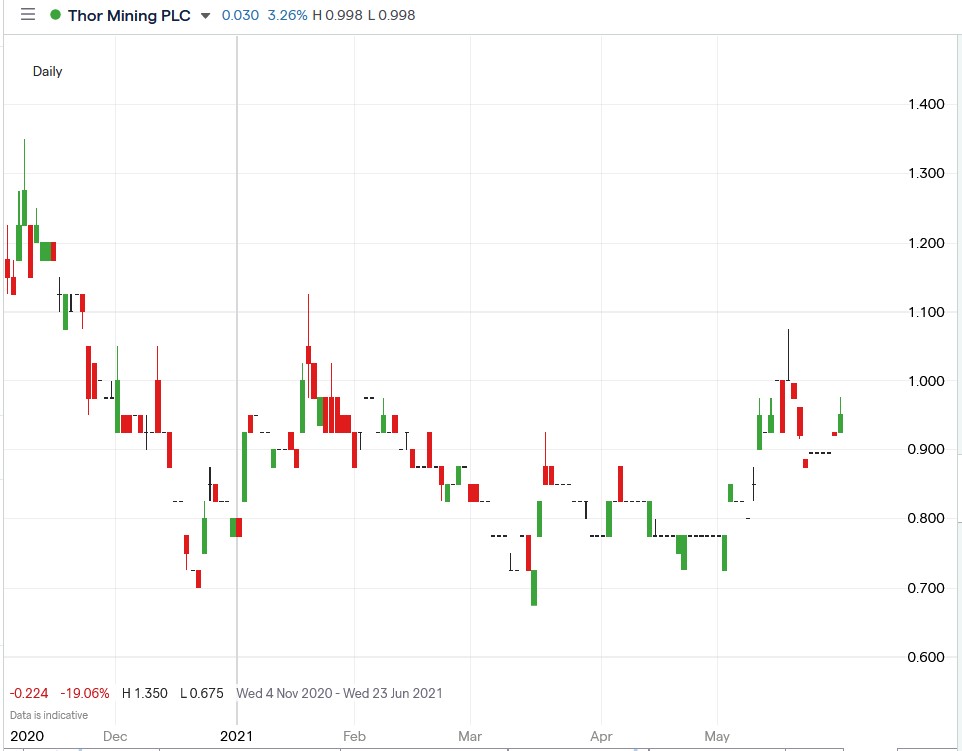 Thor Mining shares surged 6.09% to trade at 0.976p, rising from Wednesday's closing of 0.92p.