Shares of Tiziana Life Sciences PLC (LON: TILS) are down 60.4% from their January highs after investor focus shifted away from drugs developing cures for the COVID-19 pandemic as vaccination programmes got underway.
Investors abandoned stocks such as Tiziana that had rallied higher over the past year on the assumption that the vaccination programmes would be an adequate deterrent to the global pandemic over the long term.
Tiziana reported upbeat results for the first clinical trial of its TZLS-501 monoclonal antibody known as Foralumab in early February, but this was not enough to stop its downtrend as its shares kept falling after the announcement.

The company is yet to start phase II clinical trials. Yet, investors have all but abandoned it and its peers, which were market favourites last year, but have been relegated to the bottom since vaccination campaigns started.
However, could things change for Tiziana and its peers? Analysts hoped that the recent surge of infections and deaths in India could reignite investor appetite for COVID-19 drug discovery companies, but this has not happened yet.
Maybe it is mainly because the world is just not used to having a cure for viruses. Most viruses, including the flu virus, are deterred via vaccination and the treatment of symptoms instead of an actual cure.
Tiziana and its peers are using cutting-edge technologies to try and find a cure for the SAR-CoV-2 virus, and with time, experts are confident that there will be significant breakthroughs in how the world treats viruses.
However, the lack of interest from investors in such companies may lead many of them to abandon their projects driven by a lack of funding, which would be unfortunate.
The world needs a cure for the coronavirus, which could open the door for more treatments of viruses, including the Human Immunodeficiency Virus (HIV).
Tiziana share price.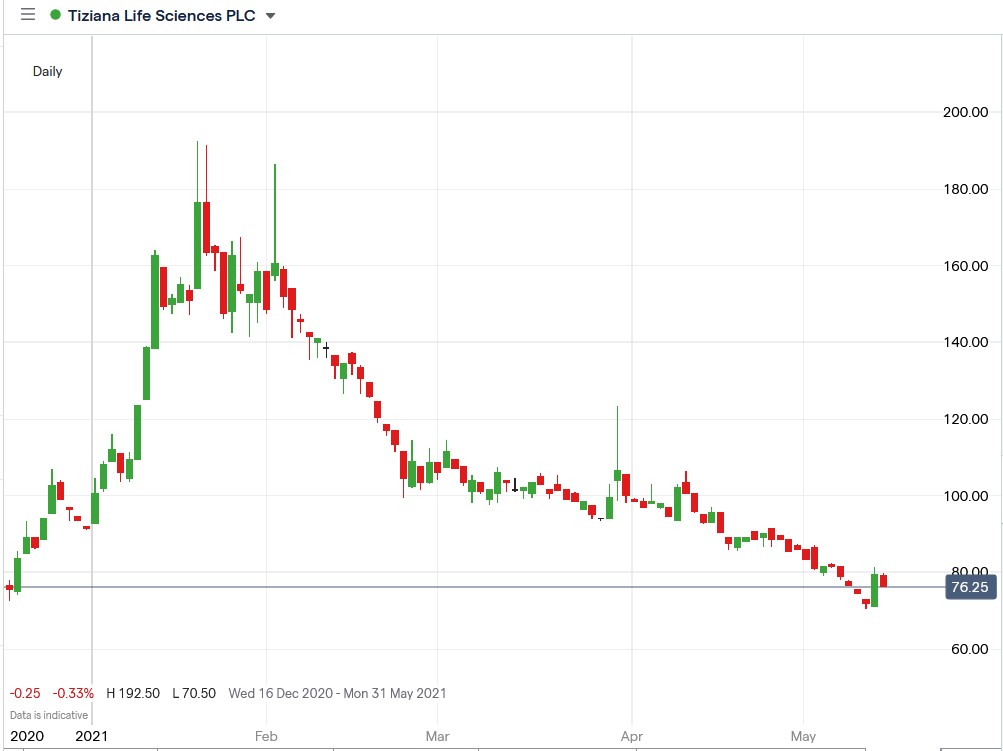 Tiziana shares are down 60.38% from their January high of 192.5p to their current price of 76.25p.