Key points:
Tonix Pharma stock rallied 39.3% on the smallpox vaccine patent award.
Investors cheered the move, but TXN-801 is still far from commercialisation.
So is Tonix Pharma a buy? Read on to find out.
The Tonix Pharmaceuticals Holding Corp (NASDAQ: TNXP) stock price rallied 39.3% after the firm was awarded a US patent titled "Synthetic Chimeric Poxviruses" for its TNX-801 monkeypox and smallpox vaccine. The patent also covers the technology underpinning the Recombinant Pox Virus (RPV) platform.

Investors cheered the patent award, as evidenced by the rally in TNXP shares. However, investors who might have been confounded by the technical nature of the press release issued by Tonix Pharmaceuticals should not worry too much.
Most of the document explained the correlation between TNX-801 and the 1860 U.S. smallpox vaccine known as VK05. The vaccine was developed by Dr Edward Jenner, who invented the vaccination process in 1798. The original horsepox vaccine was discovered in an attempt to treat cowpox, which Dr Jenner believed originated from horses.
Tonix Pharma also explained in detail how its Recombinant Pox Virus (RPV) platform was crucial in discovering vaccines against poxviruses such as monkeypox, smallpox, and horsepox.
These details do not matter much to retail investors unless they have a deep interest in the science behind the development of vaccines. Instead, most investors would like to know whether Tonix Pharma is a solid investment or not.
Tonix Pharma shares have fallen 93.85% in the past 12 months, but seem to have recently bottomed. TNXP shares have been rising over the past three days and today's rally is a good sign.
While the current setup looks like a great buying opportunity, investors should remember that Tonix pharma still has a long way to go before it can commercialise TNX-801 as it is yet to start clinical trials.
Seth Lederman, M.D., the Tonix Pharmaceuticals CEO, said: 'This patent is an important milestone in protecting our expanding pipeline of vaccines that address known and potentially novel pathogens. TNX-801 is a horsepox-based live virus vaccine currently in development to protect against monkeypox and smallpox."
Adding:
"Horsepox was one of the first few viruses ever generated by synthetic biology and remains among the largest. As we prepare to advance horsepox-based live virus vaccines into clinical development, we are excited to have this new patent as an important element of our patent estate."
*This is not investment advice. Always do your due diligence before making investment decisions.
Tonix Pharma stock price.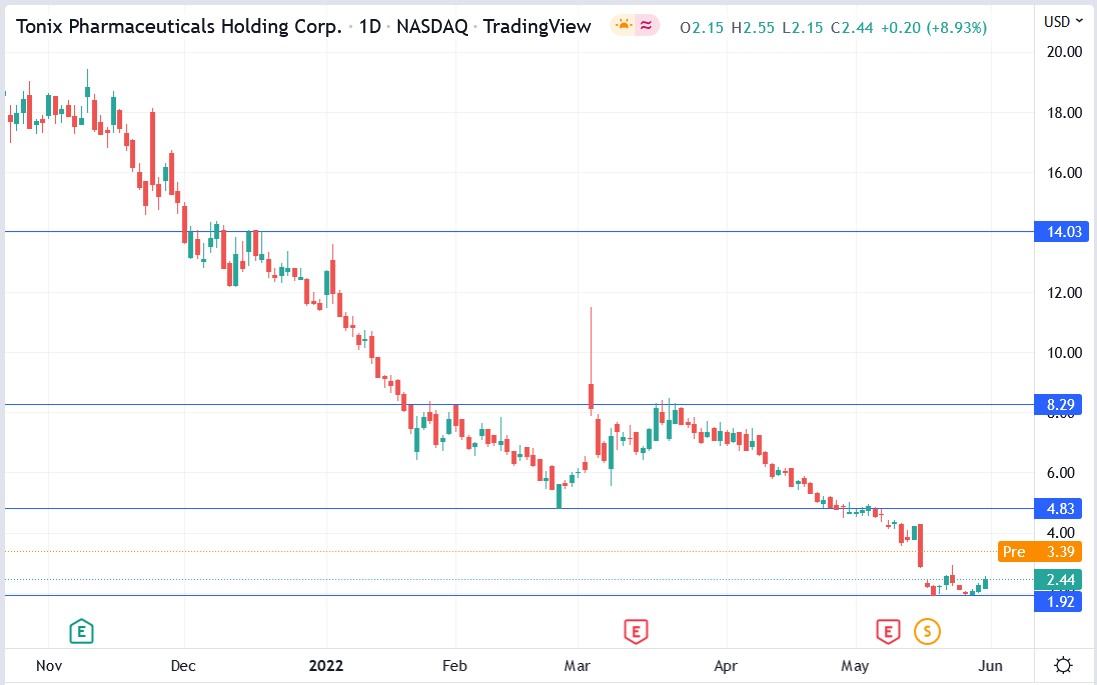 The Tonix Pharmaceuticals stock price rallied 39.34% to trade at $3.40, rising from Tuesday's closing price of $2.44.