Key points:
The Direxion 3X bull ETF (SOXL) stock price has risen 30% in a week.
The move came as the ICE Semiconductor Price Return Index rose.
So should you buy SOXL stock for your portfolio? Read on to find out.
The Direxion Daily Semiconductor Bull 3X Shares (NYSEARCA: SOXL) stock price has risen 30% in the last week as the ICE Semiconductor Price Return Index rose. As a bullish leveraged ETF, investors who bought SOXL stock have seen their investment surge 30% in the past week.

Unfortunately, you cannot trade an index directly; hence, you have to use ETFs like SOXL that tracks the underlying indices to benefit from a specific index's price moves. In this case, buying SOXL stock on May 25, 2022, would have been brilliant as the underlying semiconductor index rallied higher.
However, given that SOXL is a leveraged ETF that seeks to generate at least 3X the gains or losses, investors holding SOXL from the beginning of the year are sitting on losses of 63.45%. Unfortunately, there is little chance that SOXL's stock price shall rally back to its January 2022 highs.
As with most leveraged ETFs, SOXL has a history of losing money over time and has undergone numerous reverse stock splits to boost its shares in the past after the price declines significantly, making the ETF less attractive to traders who use it to capitalise on short-term price movements.
We do not recommend holding leveraged ETFs such as SOXL for an extended period because of their decaying properties, which means that they will always lose value over the long term. However, some might argue that given that the underlying index is rising, SOXL stock could rally much further since its results are based on the index's results.
While such an argument has some merit, the trouble comes in when the underlying index starts losing value. For example, as a 3X leveraged ETF, SOXL will lose three times the value lost by the index. Therefore, investor losses will be much more significant.
SOXL is intended to generate returns daily since the returns over more extended periods usually deviate significantly from those of the index tracked by the ETF. Therefore, if you want to match the returns posted by the ICE Semiconductor Price Return Index, you should try non-leveraged ETFs such as the iShares Semiconductor ETF (NASDAQ: SOXX).
Meanwhile, experienced investors can use SOXL to secure short-term gains and triple their returns if they accept the inherent risks.
*This is not investment advice. Always do your due diligence before making investment decisions.
SOXL stock price.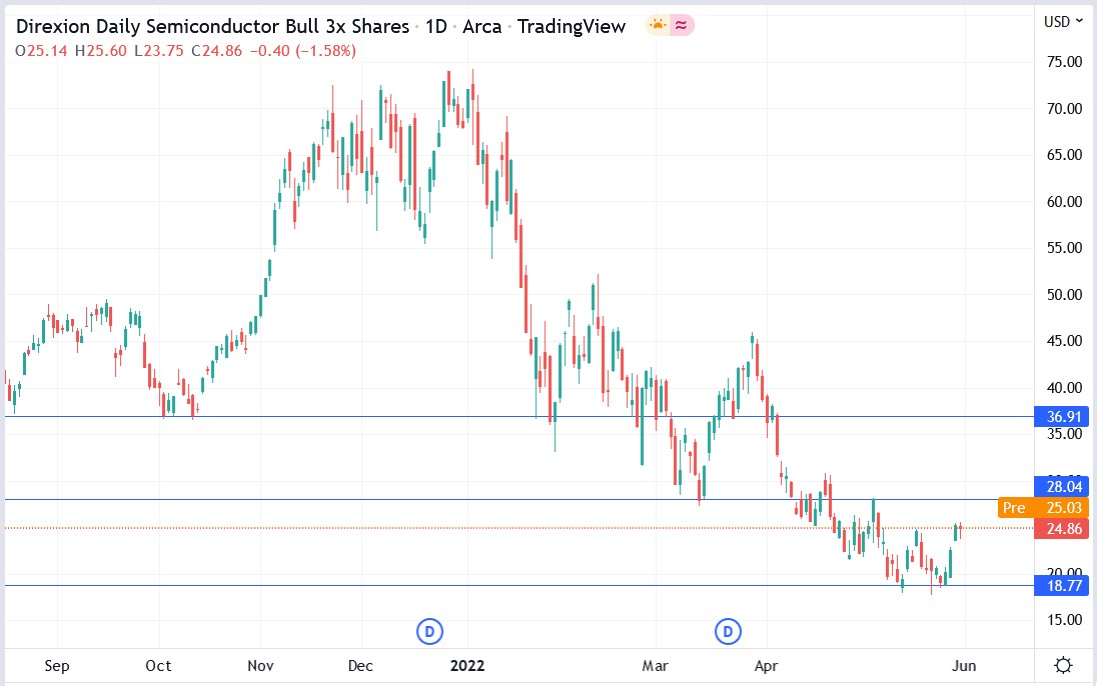 The SOXL stock price has risen 30.16% in the past week as