Key points:
The Union Jack (UJO) share price rallied 6.2% on the Wressle field update.
The oil company has generated $8 million from the oilfield since last year.
UJO shares have fallen 25.3% in three months but are still up YTD.
The Union Jack Oil PLC (LON: UJO) share price rallied 6.19% after announcing that it had generated revenues worth $8 million from its Wressle oil field in North Lincolnshire since the well resumed operations in August 2021.

The company, which owns a 40% stake in Wressle, said the well continues to operate under natural flow without needing a water cut. In addition, the oil company noted that it remains cash flow positive and had no debt on its balance to date.
Also read: Oil Trading Guide – How To Trade Oil.
Investors cheered today's announcement as UJO revealed that it had £9,150,000 in cash balances and short-term receivables as of 24 July 2022. Furthermore, the company expects to report its maiden profit during the first six months of 2022 based on its unaudited results.
Additionally, the company mentioned that due to its capital expenditures on UK assets, it does not expect the recently-announced Energy Profits Levy of 25% to have a material impact on its operations.
David Bramhill, Union Jack's Executive Chairman, commented: "The revenues of in excess of US$8,000,000 from the Wressle development continue to bolster the Company's Balance Sheet. Since the last production update published in June 2022, another impressive production performance from the Wressle-1 well has been recorded, and the trend remains positive. Cash balances are expanding significantly on a monthly basis, and we are funded for G&A, OPEX and contracted or planned CAPEX costs, including any drilling activities for at least the next 12 months."
UJO's Executive Chairman also updated markets on the Gaffney Cline report that is currently being updated to reflect the higher oil output recorded since the firm started its work. Oil production at Wressle has surged 45% since the work began.
UJO shares have risen 67.68% in 2022, buoyed by rising oil prices, but have fallen 25.25% in the past three months as oil prices fell. So while the shares look attractive, there are no guarantees that we won't get further declines.
*This is not investment advice. Always do your due diligence before making investment decisions.
UJO share price.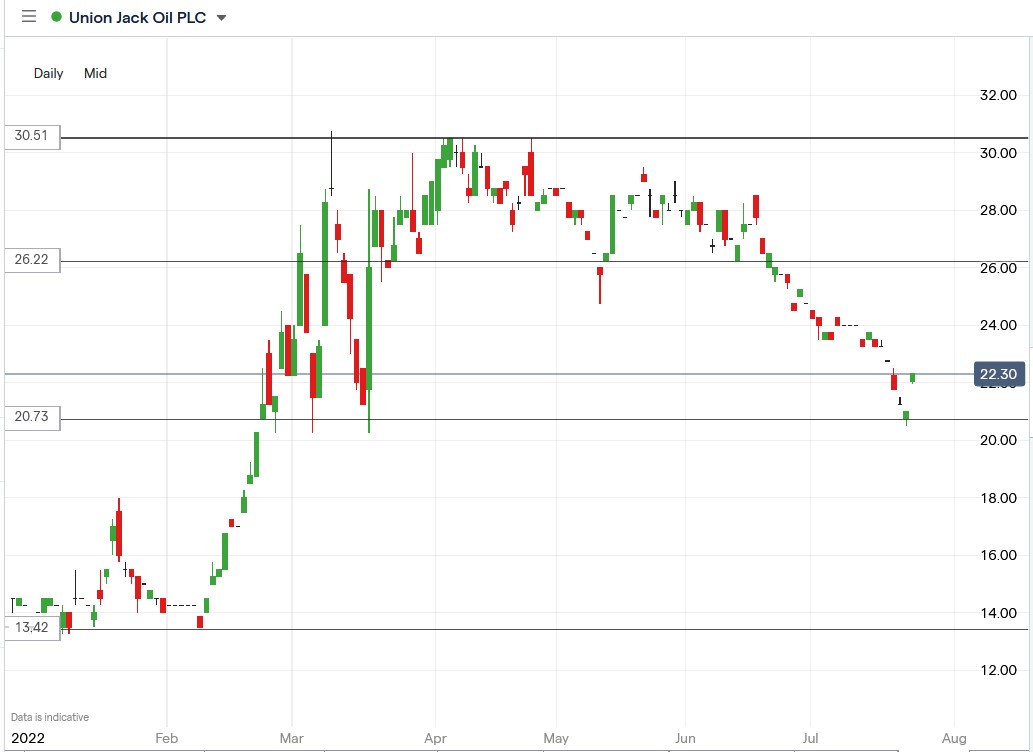 The Union Jack Oil share price rallied 6.19% to trade at 22.30p, rising from Friday's closing price of 21.00p.