Key points:
The US dollar index has risen by 13.9% in 2022, posing a significant threat.
Given the dollar's global dominance, its strength threatens other countries.
Many developing countries are struggling to repay their dollar debts.
The US dollar index, which tracks the dollar's performance against a basket of six other major currencies, has risen 13.87% this year, with its cumulative gains since January 2021 being 21%. While such a move is nothing to write about in a company's stock, currencies tend to move at most in the single-digit percentages.

A 21% surge in a currency is a big deal, more so in the world's reserve currency, which dominates most global FX transactions, international debt, and cross-border payments. The massive rally in the US poses a significant risk to the global economy, especially to developing countries whose external debt is priced in dollars.
Also read: Tips On How To Avoid Losing Money When Trading Forex.
To make matters worse, the Federal Reserve has been raising interest rates, which means that countries with dollar-denominated debts have to pay more interest on their loans and spend much more buying dollars to repay the debts.
While Americans are pretty happy with the euro now being worth less than the dollar, the situation is much grimmer in many other countries. The Fed reversing its current hawkish monetary policies is a global urgency.
We have already seen developing countries such as Sri Lanka default on foreign debts due to the high costs associated with acquiring dollars. In addition, other developing countries such as Egypt, Argentina, Pakistan, Kenya, and Ghana are at high risk of default.
The situation is getting worse by the day as many countries run out of their dollar reserves and have difficulties acquiring more dollars since they have to issue new dollar-denominated debts, with investors' appetite for the bonds diminishing due to the added risk.
The Federal Reserve chairman is set to speak at the end of the Jackson hole symposium on Friday, and most investors will be watching for clues as to the Fed's position on interest rate hikes. Many hope to hear the chair backtrack on his hawkish stance, which could weaken the dollar.
If Fed chair Jerome Powell says that the Fed is considering pausing interest rate hikes, we could see a significant pullback in the dollar. However, the Fed will have to back its comments with an actual freeze on rate hikes or a smaller rate hike at its September meeting.
*This is not investment advice. Always do your due diligence before making investment decisions.
The US dollar Index.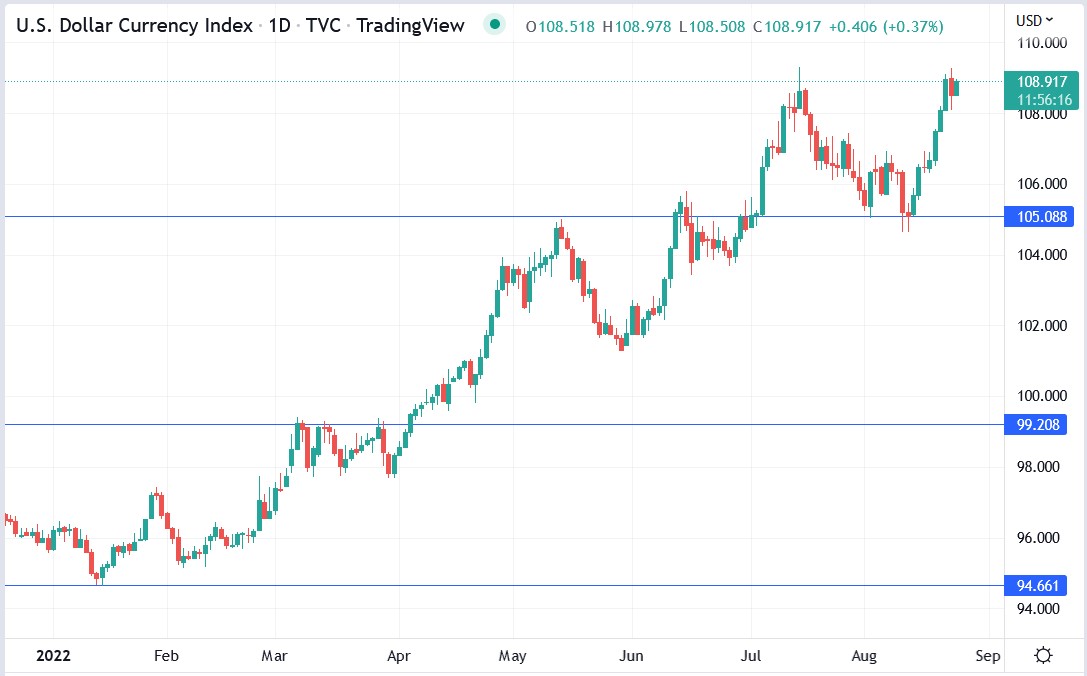 The US dollar index has risen 13.87% from a low of $95.65 on January 1, 2022, to its current price of $108.917.