Key points:
Shiba Inu's price is falling despite rumors of burning over 110 trillion tokens.
Investors were unmoved by the announcement due to several reasons.
Will SHIB price rise either way? Read on to find out.
Crypto investors have been touting the benefits of burning over 110 trillion SHIB tokens over the next twelve months on the cryptocurrency's price. Yet, despite the markets being awash with this potential development, SHIB prices are still falling.

Currently, the sellers far outweigh the buyers when it comes to Shiba Inu, which has been falling since peaking at 0.00001795 on August 14, 2022. Most SHIB holders are unsatisfied with the potential impact of burning over 110 trillion SHIBcoins.
Also read: Top 10 Altcoin To Invest In Today.
Looking deeper into the matter, we find out why many investors are not motivated to buy SHIB coins on the promise of future gains driven by burning trillions of SHIB coins. Since opening the burn portal, the SHIB community has burnt over 410 trillion SHIB coins.
SHIB's price has fallen from a high of 0.00002993 in April to its current price of 0.00001320, representing an over 50% decline in its price, which shows that burning SHIB coins has little to no effect on the cryptocurrencies price.
Therefore, the SHIB community has to think of other innovative ways to boost the coin's price. The community is currently counting on its push into the metaverse to drive prices higher, but investors' reaction to the community's planned events has been muted at best.
Luckily for Shiba Inu, the coin can count on industry leaders Bitcoin and Ethereum to lift the entire industry. Still, the coin has done an excellent job of differentiating itself, having started as a meme coin backed by Elon Musk.
The recent pullback in Shiba Inu's price mimics Bitcoin's price action; hence, there is hope that Bitcoin will lift the coin when it starts rising.
Furthermore, we should not forget the impact of the Federal Reserve on crypto markets, given that the crypto crash that started in March was triggered by the Fed's hawkish monetary policies reflected in its aggressive interest rate hikes.
Therefore, crypto investors are waiting for Fed Chair Jerome Powell's speech at the end of the Jackson Hole Symposium on Friday, which could also affect the dollar and the crypto industry. Shifting to a dovish monetary policy stance could trigger a rally in the crypto markets.
*This is not investment advice. Always do your due diligence before making investment decisions.
SHIB daily price chart.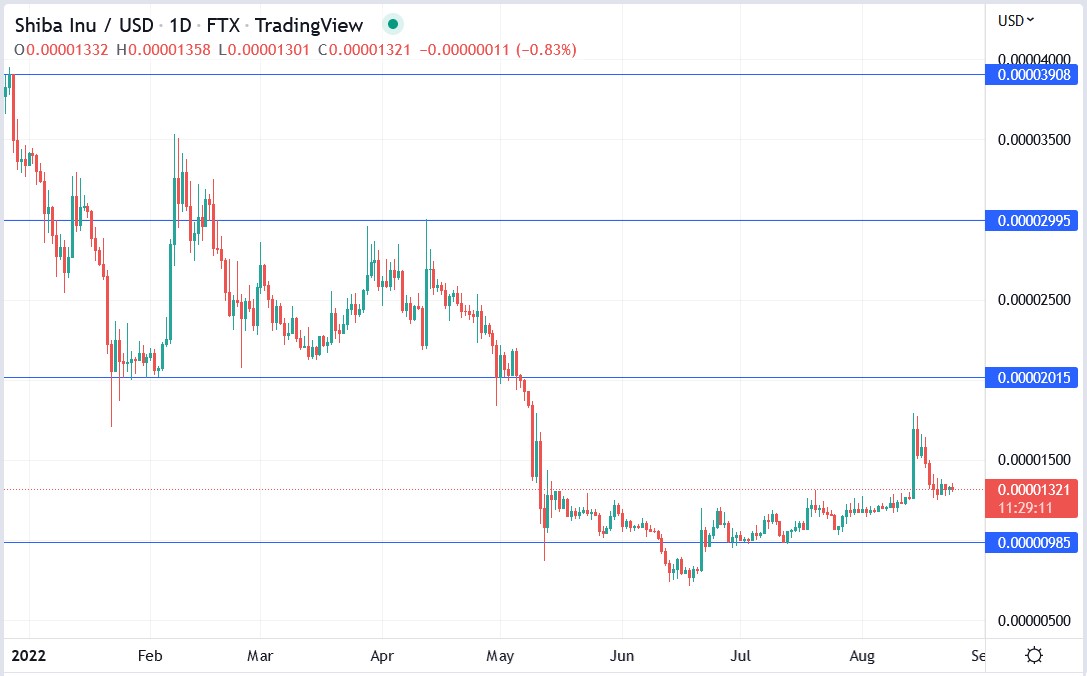 The SHIB/USD daily price chart shows its recent decline despite the news regarding the burning of SHIB tokens.