Key points:
The USDCAD currency pair was trading lower after the BoC rate hike.
Many interpreted the rate hike as being dovish amid lower growth forecasts.
The Fed is expected to implement an aggressive rate hike next week.
The USDCAD currency pair was trading down slightly after the Bank of Canada raised interest rates by 50 basis points, disappointing market participants expecting a 75 basis points hike.

The central bank further lowered its economic growth forecasts for Canada as the impact of higher interest rates started being felt in the economy. However, on the brighter side, the BoC expects inflation to fall below its 3% target in 2023, showing that the rate hikes are on track to accomplish their intended objective.
Also read: What Are The Best Forex Deposit Bonuses To Look For?
Investors interpreted the latest BoC rate hike as dovish, given that it was lower than expected combined with the lower growth forecasts. But, on the other hand, the markets expect the US Federal Reserve to hike interest rates aggressive at its monetary policy meeting next week.
However, even the Fed might be forced to abandon its aggressive monetary policies if inflation in the United States starts declining. However, some have opined that the Fed wants to cause a recession, which will eradicate consumer spending and crash inflation.
The Fed is in a tough situation as the US holds its mid-term elections, determining if the Democrats will retain their majority in both houses of Congress. Despite the dovish rate hike, the BoC noted that inflation remains elevated and that there were no signs of subsiding.
Therefore, the BoC may continue hiking rates at a slower pace than before to ensure that the inflation level finally subsides by next year. Still, it is becoming clear that if the leading central banks continue their rate hikes, the global economy will enter a recession next year.
Unfortunately, predicting when such a recession will end is not easy. Still, the central banks will likely have to reverse their aggressive monetary policies and embrace quantitative easing.
Meanwhile, the Canadian dollar had made some gains against its US peer, and the USDCAD pair was trading much lower.
*This is not investment advice.
The USDCAD price chart.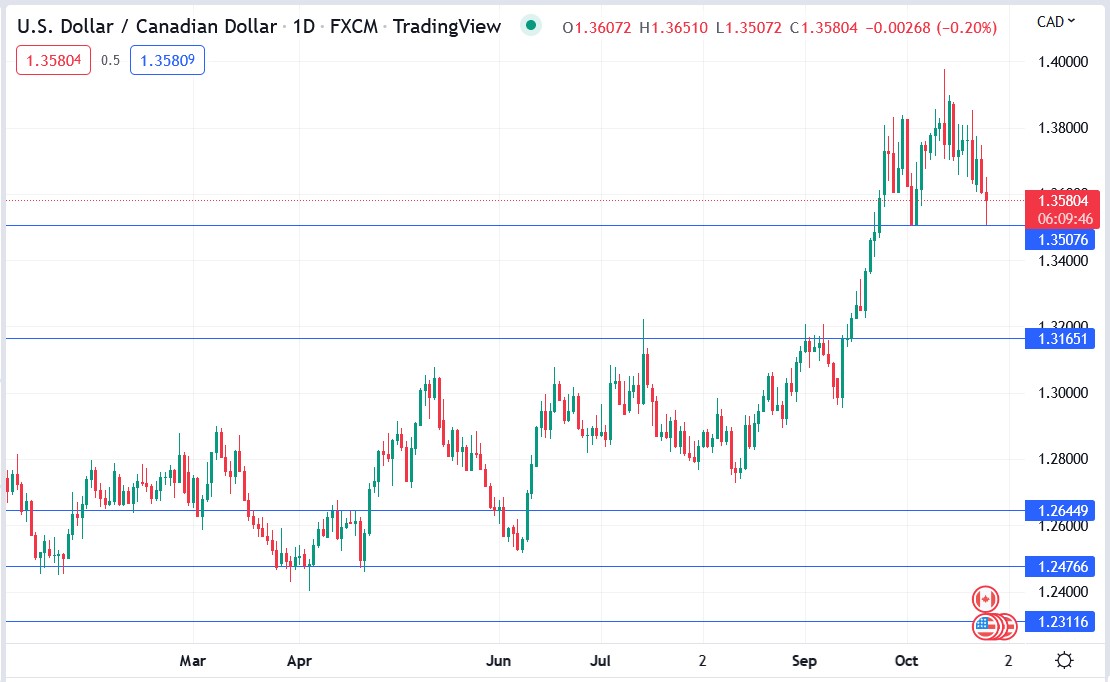 The USDCAD currency pair was trading down 59.4 pips (0.44%) after the BoC rate hike.