Key points:
Li Auto's stock price has fallen 52.5% this year and could have bottomed.
The EV industry faces significant challenges from supply chain bottlenecks.
Have Li Auto shares bottomed? Read on to find out.
The Li Auto Inc (NASDAQ: LI) stock price has fallen 52.5% this year amid rumours that the company could be losing its second technology chief this year. According to some media reports, the EV manufacturer is set to lose Wang Yilun, the man responsible for refining Li Auto's automated driving functionality.

If confirmed, the departure would be a big blow to the company after it lost its Chief Technology Officer (CTO) Wang Kai, who left the company in February this year. Wang Yilun is a Stanford-educated computer scientist heading the EV automaker's AI department and is credited with refining the EVs automated driving functions.
Also read: The Best Electric Car Stocks To Buy.
The company will have to find a replacement for Wang Yilun, whose shoes are pretty big, given his unique talents and creativity. Li Auto's stock price has fallen 37.75% in the past month amid concerns about China's economic growth.
Many analysts are worried that China's zero-COVID policy will continue hurting the country's growth while affecting EV production by companies such as Li Auto. The production figures of EV companies have been dropping due to supply chain interruptions created by the frequent lockdowns witnessed in most Chinese cities.
The re-election of Xi Jinping as China's President for a third term means that he is likely to further enforce his zero-covid policies despite widespread criticism from multiple sources. However, Xi's re-election also means that China's global supremacy battle with the United States will continue further disrupting relations between the two countries.
The outlook for EV manufacturers does not look promising amid the current global macro environment as consumers stop spending on tertiary goods such as vehicles amid rising living costs driven by record-high energy prices.
*This is not investment advice.
Li Auto stock price.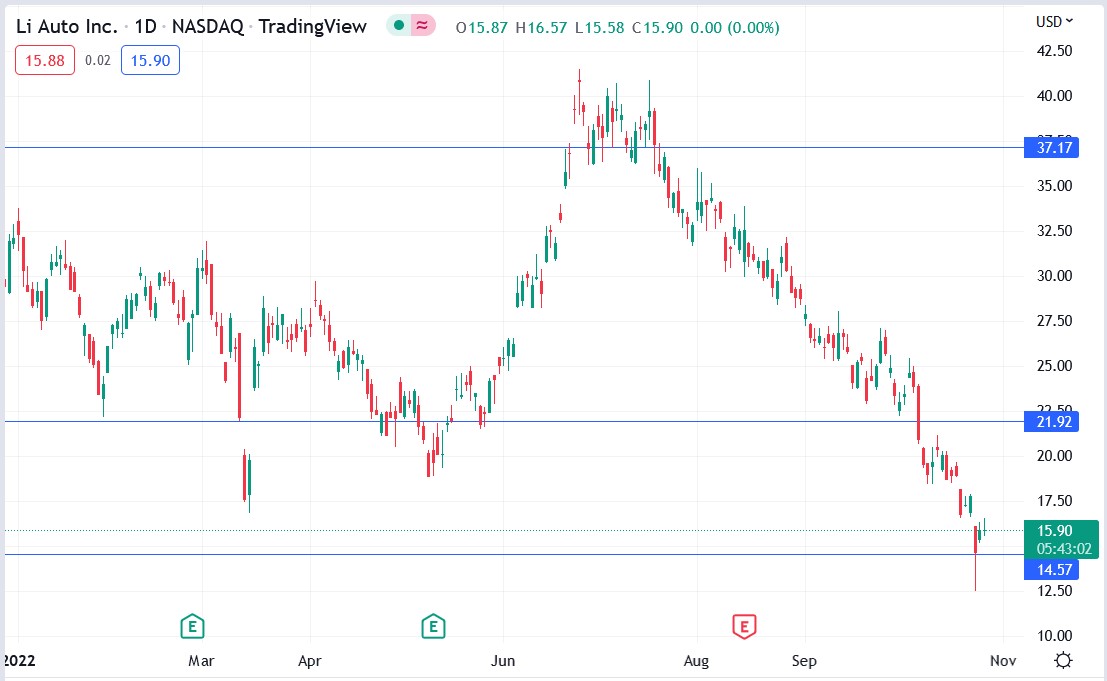 The Li Auto stock price has fallen 52.50% this year, and many are hoping it could stage a rebound.