Key points:
The USDCAD current pair fell today as the loonie rallied on rising oil prices.
The pair was trading near its daily lows ahead of some crucial US PMI data.
The loonie could keep rallying if oil prices rise during the winter season.
The USDCAD currency pair fell today as the Canadian dollar recovered against the US and launched a spirited rally against its southern neighbour driven by higher crude oil prices as tarced by the West Texas Intermediate.

The commodity-linked loonie (Canadian dollar) edged higher against the greenback (US dollar), boosted by the rising crude oil prices, given that Canada is a net oil exporter. The loonie was further boosted by the upbeat Canadian manufacturing PMI data released at the start of the American session.
Also read: Best Currency Pairs To Trade In The Forex Market.
However, investors were cautiously awaiting the release of the US ISM Manufacturing PMI data, which was due for release at 10:00 EST (New York Time). Many expect the US dollar to claw back some of the loonie's gains if the PMI data aligns with expectations or is better.
Investors cheered today's Canadian PMI data, which indicated that business conditions in the country were not as bad as initially expected. Nevertheless, strong business conditions will likely push the Bank of Canada to continue hiking rates to fight inflation.
On the other hand, robust US PMI data could also underpin the Fed's hawkish stance leading to more aggressive rate hikes from the world's leading central bank. The rate hikes by the Fed have forced other central banks globally to hike rates too to remain competitive.
Investors are watching the USDCAD pair closely as they await the US data. Meanwhile, the loonie is holding on to its earlier gains, given that oil prices were trading up $4.40 (%.52%) at writing.
A longer-term rally in crude oil prices is guaranteed to lift the loonie, leading to a downtrend in the USDCAD currency pair. Moreover, oil prices are expected to rally higher during the peak energy demand winter season.
*This is not investment advice.
USDCAD price chart.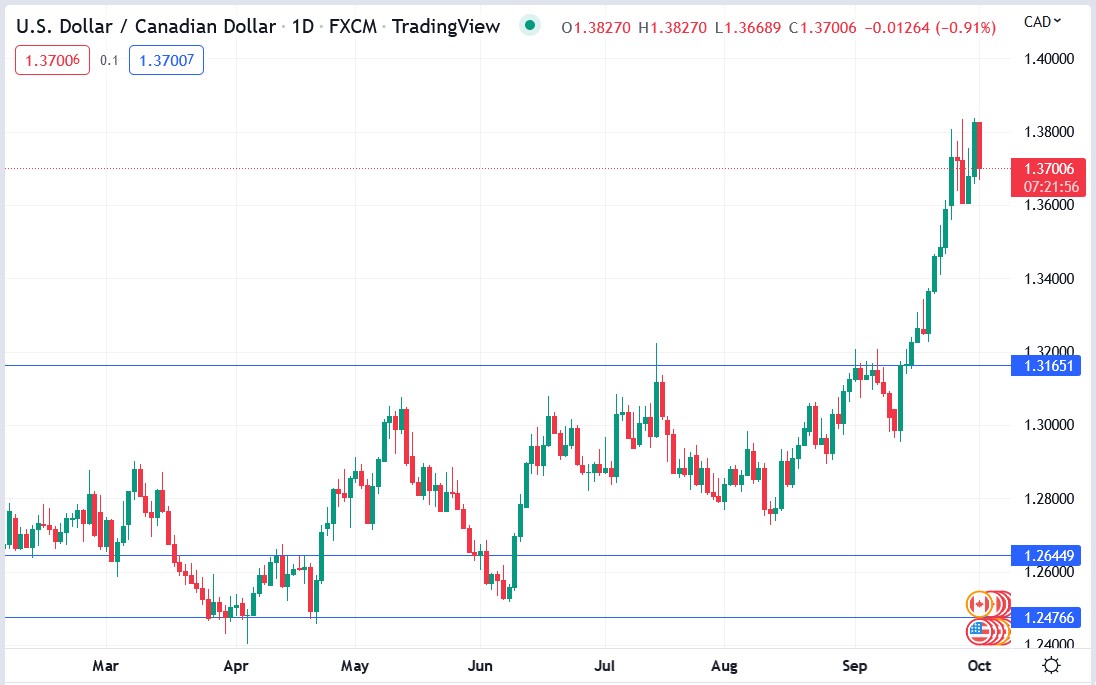 The USDCAD currency pair was trading down 126.8 pips (0.92%) at writing as the loonie remained stronger than the greenback.