Key points:
LogicBio (LOGC) stock jumped 648% on the AstraZeneca takeover deal.
The company's shares were acquired for $2.07 each, a 660% premium.
The acquisition could pay off significantly for Alexion.
The LogicBio Therapeutics Inc (NASDAQ: LOGC) stock price jumped 648% after announcing that it had agreed to be acquired by AstraZeneca for $2.07 per share. Investors cheered the announcement, which indicates that AstraZeneca's rare diseases unit Alexion, would pay a 660% premium for the company.

The acquisition comes as AstraZeneca seeks to expand its presence in the rare diseases market segment, with LogicBio's acquisition bringing an experienced rare diseases team onboard. Such a move makes sense as opposed to building a team from scratch, which is time-consuming, and there are no guarantees that the team shall deliver.
Also read: Five Best Pharmaceutical Stocks To Watch In 2022.
Acquiring LogicBio's team gives AstraZeneca access to an experienced team working on multiple treatments for rare diseases. If supplied with adequate resources, the team could deliver multiple drugs that it can commercialise.
While many say AstraZeneca paid a 660% premium, investors should look at the price paid per share, which is a mere $2.07, a small amount compared to the value the acquisition could bring AstraZeneca if adequately integrated into the global pharmaceutical giant's operations.
The pharma giant has a history of strategically acquiring and integrating other firms into its operations. As a result, the company usually generates a return multiple times what it paid for the acquired firm.
Fred Chereau, LogicBio's President and CEO, said: "We are excited about the opportunity to bring our science and expertise in genetic medicine to Alexion, which shares our commitment to discovering treatments for rare conditions and improving the lives of patients. Through this acquisition, we strive to accelerate our research in gene editing and AAV capsid development and together move the field of genomic medicine forward."
Marc Dunoyer, Alexion, AstraZeneca Rare Disease CEO, said: "The proposed acquisition of LogicBio is a significant development for our growing research in genomic medicine. LogicBio's people, experience and platforms provide new scientific capabilities by adding best-in-class technology and expertise to our genomic medicine strategy. The scientific collaboration between Alexion and AstraZeneca has been a substantial area of focus since last year's acquisition, and the addition of LogicBio will expand this foundational work."
*This is not investment advice.
LogicBio stock price.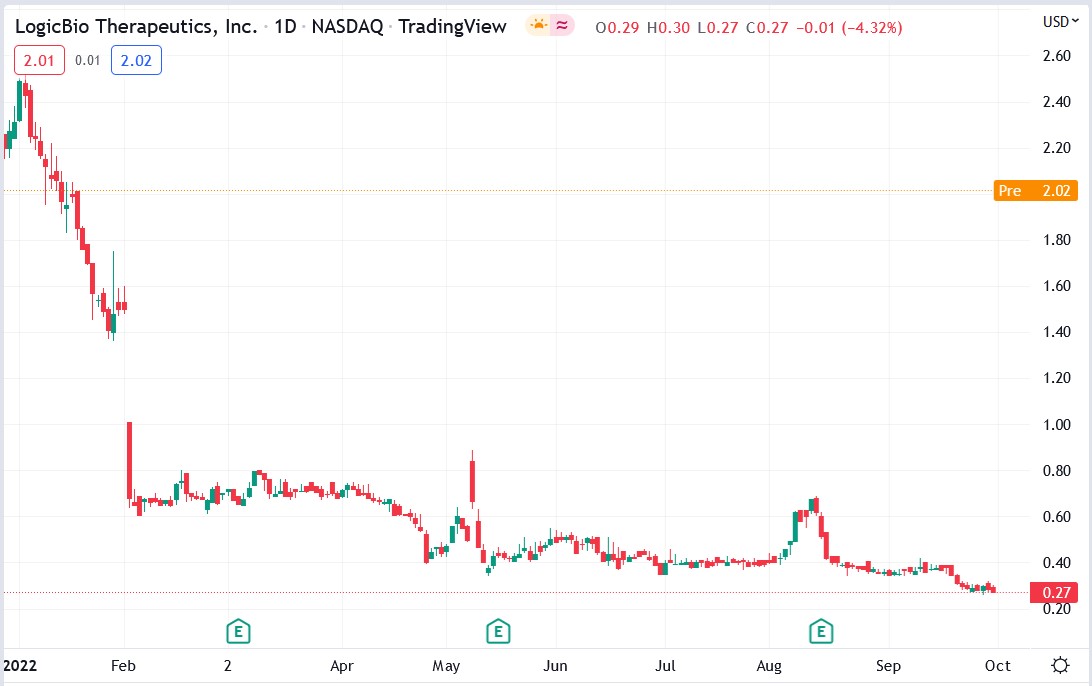 LogicBio stock rallied 648.15% to trade at $2.02, rising from Friday's closing price of $0.27.