The Vallon Pharmaceuticals Inc (NASDAQ: VLON) stock price soared 182% after unveiling plans to merge its operations with GRI Bio, Inc. The all-stock deal will see one of Vallon Pharma's subsidiaries merge with GRI Bio.

---
YOUR CAPITAL IS AT RISK. 81% OF RETAIL CFD ACCOUNTS LOSE MONEY.
---
The combined company will operate under the "GRI Bio, Inc" name. It will seek to progress the pipeline of innovative NKT cell regulators developed by GRI Bio, which aim to treat fibrotic, inflammatory and autoimmune diseases.
Top Broker Recommendation
YOUR CAPITAL IS AT RISK. 68% OF RETAIL CFD ACCOUNTS LOSE MONEY
The enlarged company will trade on the Nasdaq exchange under the "GRI" ticker symbol. The two firms expect the transaction to close in Q1 2023.
Altium Capital has agreed to invest $15 million in the combined company following the execution of the merger agreement. The amount will be invested in cash via the surrender of GRI Bio promissory notes purchased from GRI Bio during the merger's execution.
Altium has also agreed to invest another $10 million in the future, subject to the terms and conditions described in the securities purchase agreements and related agreements being met. The enlarged company will use the proceeds of the financing to fund the advancement of GRI Bio's NKT development pipeline.
David Baker, Vallon Pharma's CEO, commented: "Following an extensive and thorough strategic review process, we believe merging with GRI Bio represents the best path forward for Vallon's shareholders. GRI Bio provides an exciting opportunity for value creation by advancing a potentially deep pipeline leveraging its innovative NKT regulator technology. Our board and management believe the combined company will be well positioned with the potential to address shortcomings that exist with current therapeutic treatments targeting inflammation and fibrosis across a number of high-value indications."
Marc Hertz, PhD, GRI Bio's CEO, added: "We believe the proposed Merger and Financing will mark a transformational evolution for GRI Bio. We expect these transactions, including the additional Altium investment, to provide us with the necessary capital to propel GRI Bio forward in a meaningful way and to fund our planned operations into mid-2024, with the goal of realizing multiple catalytic clinical and regulatory milestones. Additionally, as a public company, I believe we will be in a position to drive value for both GRI Bio investors and Vallon's current investors."
*This is not investment advice.
Vallon Pharma (VLON) stock price.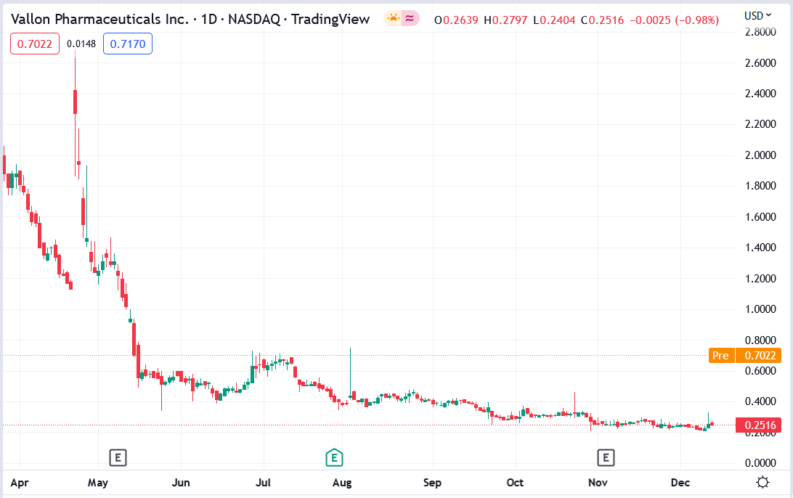 The Vallon Pharmaceuticals (VLON) stock price soared 182% to trade at $0.71, rising from Tuesday's closing price of $0.25.
---
YOUR CAPITAL IS AT RISK. 81% OF RETAIL CFD ACCOUNTS LOSE MONEY.
---