The Velocys PLC (LON: VLS) share price spiked by 27.1% higher after revealing that the Altalto Immingham Sustainable Aviation Fuel (SAF) Project had completed all the requirements to claim the first tranche of £7 million of the £27 million grant awarded to the company by the UK Government's Department for Transport (DfT) Advanced Fuel Funds.
---
YOUR CAPITAL IS AT RISK. 81% OF RETAIL CFD ACCOUNTS LOSE MONEY.
---
Achieving such a critical milestone in record time before 31 March 2023 allowed for little time to hit the first milestone. After achieving the first milestone, the project has received its private backer's first tranche of capital starting from 1 April 2023.
Top Broker Recommendation
YOUR CAPITAL IS AT RISK. 68% OF RETAIL CFD ACCOUNTS LOSE MONEY
The Altalto project's primary goal is constructing a commercial waste-to-SAF plant in Immingham, UK. The DfT grant and the matching private funding will allow Velocys to complete the project's Front-End Engineering Design (FEED) stage.
After the FEED's completion and the final investment decision, construction will start in 2025, with the project expected to start commercial operations in 2028.
Following the award of the DfT grant in December, the Altalto Immingham Project has partnered with various firms providing different technology licenses and engineering services. The company has a FEED contract with Bechtel Limited and has used the first tranche of grant funds provided by the DfT to fund the contract.
Further drawdowns of the DfT funds must be supported by a demonstration that the project has met specific milestones and that the matching private funds are available over the two years to 31 March 2025, when the project's construction is set to begin.
Velocys took the proactive step of appointing a leading global investment bank to advise it on financing its Reference Projects and to assist it in obtaining the matched funding required from private sector investors, which is on track to being secured in Q4 2023.
As Velcoys had previously announced, its contribution to the Altalto project over the two years from April 2023, including its contribution to the first tranche of private funding of £1 million, will not exceed £8 million.
Velocys intends to recover any funding it provides at the earlier development stages from 1 April 2023 after receiving the third-party project investments.
*This is not investment advice.
Velocys (VLS) share price.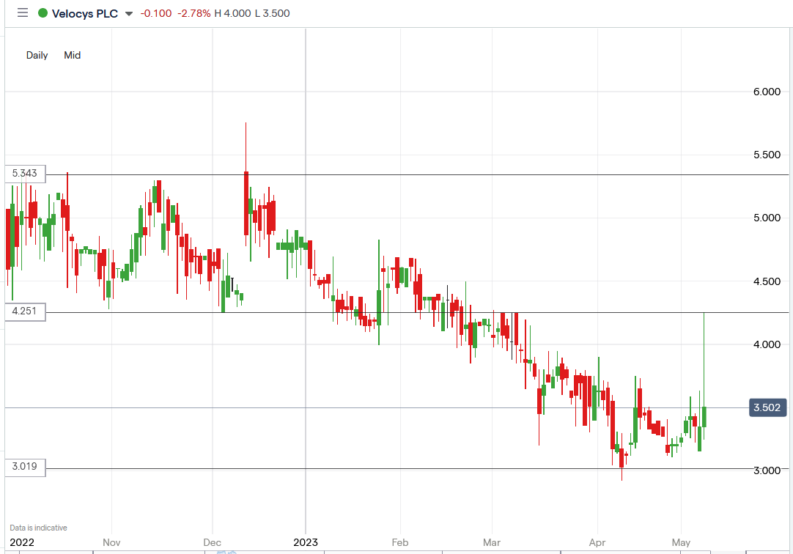 The Velocys (VLS) share price spiked 27.14% higher to trade at 4.253p, from Tuesday's closing price of 3.345p.
---
YOUR CAPITAL IS AT RISK. 81% OF RETAIL CFD ACCOUNTS LOSE MONEY.
---