The Cellular Goods PLC (LON: CBX) share price soared 230% after revealing that it had entered into a contract with the multinational beauty and cosmetics retailer Sephora to have its "Look Better" skincare range available for purchase on Sephora's e-commerce website, Sephora.co.uk from the second half of May.

---
YOUR CAPITAL IS AT RISK. 81% OF RETAIL CFD ACCOUNTS LOSE MONEY.
---
Investors cheered the news, given Sephora's international presence and popularity among beauty shoppers. In addition, the listing of Cellular Goods products on Sephora is unique since it will be the first cannabigerol (CBG)-based skincare brand to offer its products on Sephora UK.
Top Broker Recommendation
YOUR CAPITAL IS AT RISK. 68% OF RETAIL CFD ACCOUNTS LOSE MONEY
The move is part of the company's enhanced retail strategy to fuel growth by expanding its sales channels and increasing collaboration with reputable online and high-street retail outlets. The full range of Cellular Goods facial skincare products will be available on Sephora.
Therefore, Sephora.co.uk will stock products such as Cellular Goods' best-selling Rejuvenating Face Serum, designed to visibly reverse signs of skiing ageing while protecting the facial skin from irritation and inflammation.
Cellular Goods' latest range of skincare products includes the SPF 25 Rejuvenating Day Cream, Rejuvenating Night Cream, and Rejuvenating Day Mousse. All these products contain the company's proprietary formulation of CBG and CBD and will be available on the website.
Other products that will also be available on Sephora.co.uk include Cellular Goods' Calming Cannabinoid After Shaving Moisturiser and CBG-based Nourishing Cannabinoid Face Oil,  as well as selected 'mini' sizes and gifting products during seasonal occasions.
Cellular Goods' Chairman and Interim CEO Darcy Taylor commented: "I'm delighted that our products will be going on sale at Sephora.co.uk. The launch bridges the gap between customer awareness and sales by making it easier for customers to purchase our products. We're confident that our effective next-generation skincare formulations will appeal to their existing customers and encourage them to try our CBG-powered products. The Sephora launch is part of our continued customer acquisition strategy as we continue to increase awareness of our products and grow our sales channels."
*This is not investment advice.
Cellular Goods (CBX) share price.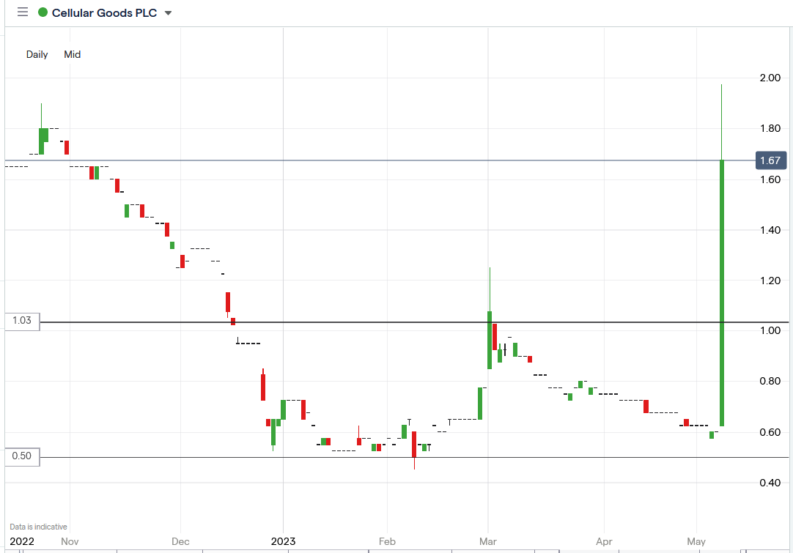 The Cellular Goods share price soared 230% to trade at 1.98p, from Tuesday's closing price of 0.60p.
---
YOUR CAPITAL IS AT RISK. 81% OF RETAIL CFD ACCOUNTS LOSE MONEY.
---