The Virax Biolabs Group Ltd (NASDAQ: VRAX) stock price soared 137.8% after revealing that it had signed an agreement to distribute an Avian Influenza A Virus (AIV) real-time PCR test kit to markets accepting the CE mark, which are most European Union countries.

---
YOUR CAPITAL IS AT RISK. 81% OF RETAIL CFD ACCOUNTS LOSE MONEY.
---
Investors reacted positively to the news, given the recent spate of AIV infections across many countries due to exposure to virus-contaminated environments or infected poultry. The test kit is available within a laboratory setting and is mainly for use by healthcare professionals.
Top Broker Recommendation
YOUR CAPITAL IS AT RISK. 68% OF RETAIL CFD ACCOUNTS LOSE MONEY
Virax Biolabs confirmed that the test can be used by healthcare professionals to accurately identify patients infected with AIV so that they can offer them the correct treatment options. The test kit can detect and differentiate the ribonucleic acid from AIV and the H5, H7 and H9 subtypes, including the H5N1 strain spreading in Europe.
The company is selling the specialized diagnostic kit, and interested buyers can find out more about it by calling its sales representatives. The current AIV virus is spreading in many European countries and has six main hemagglutinin subtypes of bird flu viruses.
The virus subtypes are the H3, H5, H6, H7, H9, and H10 viruses, which can cause mild-to-severe illness. The H5N1 and H7N9 viruses have caused the most human infections of the six subtypes.
James Foster, Virax's Chairman and CEO, commented: "We continue to expand our ViraxClear distribution platform to bring test solutions to a widening range of viral threats. With a real-time PCR test kit poised to accurately and reliably detect AIV, including the deadly H5N1 strain, we expect to facilitate rapid and potentially life-saving interventions, especially in vulnerable jurisdictions."
The news triggered significant investor interest in Virax Biolabs, causing them to soar. Over 14.73 million Virax shares had changed hands at the time of writing.
*This is not investment advice.
Virax Biolabs (VRAX) stock price.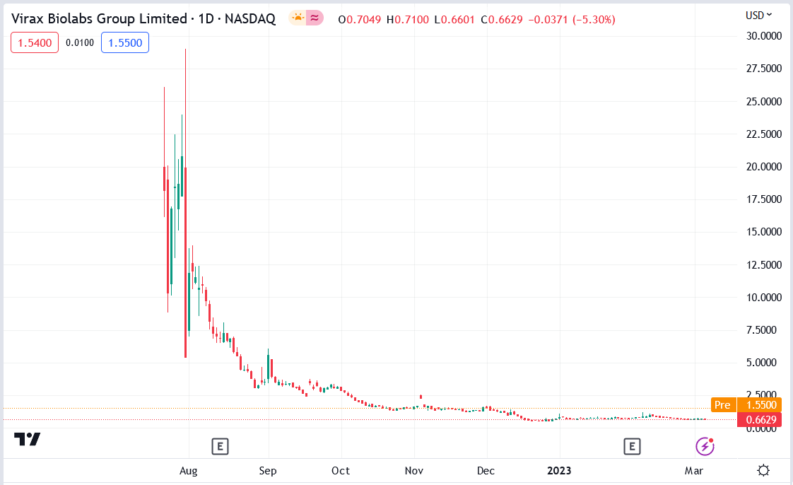 Virax Biolabds (VRAX) stock price rallied 137.84% to trade at $1.57, from Monday's closing price of $0.66.
---
YOUR CAPITAL IS AT RISK. 81% OF RETAIL CFD ACCOUNTS LOSE MONEY.
---