Vistry Group PLC (LON: VTY) fell 2.13% after the home building company revealed that its sales had kept rising amid significant demand in the current financial year.

Today, the homebuilder released an operations update covering the period from 1 July to 8 November, where its average weekly private sales rate rose to 0.77.
The company reassured investors that it was on track to deliver its pre-tax profit target of £345 million, with approximately £225 million in net cash by the end of 2021.
However, all is not rosy in the British real estate sector after Purplebricks issued revenue and profit warnings as the number of homes available for sales dwindled, driven by high demand.
Most real estate listing companies face challenging times driven by the massive demand for homes in the UK, reducing the number of homes available for sale and reducing the firm's listing and sales commissions.
The UK, real estate sector experienced significant demand starting last year when many people were forced to work from home due to the coronavirus lockdown measures. Unfortunately, the high demand is yet to taper off.
However, as a homebuilder, Vistry is set to continue benefitting from the high demand for homes. Therefore, its role in the housing market is different from that of listing companies.
Today's decline in Vistry's share price can be directly attributed to the negative investor sentiment towards the real-estate industry in general.
Greg Fitzgerald, Vistry Group's CEO, said: "We are making great progress towards our targets in both housebuilding and partnerships, with a firm focus on maximising the strengths and opportunities from our unique combination,"
Adding:
"We continue to see strong demand across all our business areas, and working in close partnership with our supply chain, we are actively mitigating any supply chain pressures. As a result, we are firmly on track to deliver a significant improvement in profits this year."
*This is not investment advice.
Vistry share price.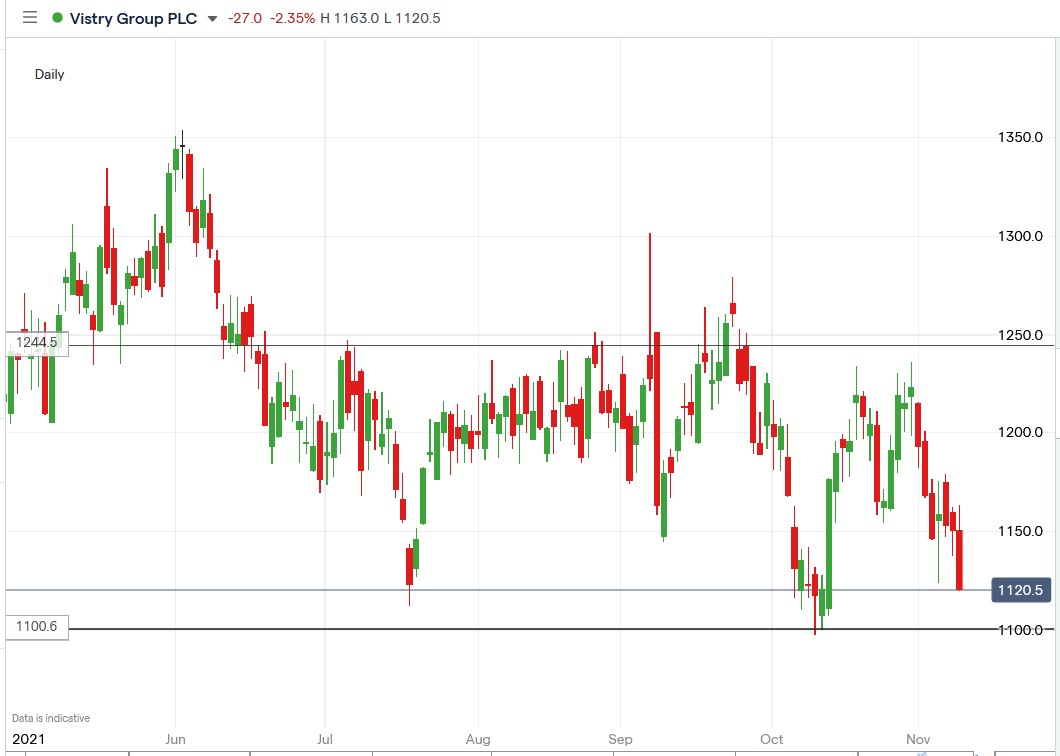 Vistry share price fell 2.62% to trade at 1120.30p, falling from Monday's closing price of 1150.5p.
Should you invest in Dollar Tree shares?
If you're a smart investor, you will know that having large-cap stocks in your portfolio is vital. They are more mature companies, considered safer investments, trade with less volatility, have greater analyst coverage, and in most cases, have a steady dividend stream. Due to the current market environment, we think now is the perfect time to add large-cap stocks to your portfolio. But which large-cap shares should you buy? Our stock analysts regularly review the market and share their picks for some of the best large-caps to invest in.