Key points:
Cornish Metals has completed the South Crofty financing
The shares are barely moving
This could be the decline in the tin price
Cornish Metal's (LON: CUSN) share price is up only 1.6% in London this morning which is a remarkably muted reaction to the completion of a successful financing. Part of this is that we all rather did think it would go through. But even then a tad over one and a half percent is pretty meagre fare for a company that is now fully funded through to the completion of the feasibility study.

The news is that the £40.5 million financing has gone ahead and been completed. New shares were issued at 18 pence to investors and a strategic investor was brought aboard in the form of the Vision Blue Resources fund. They took £25 million, UK investors another near £14 million and Canadian C$2.6 million.
The end effect of this is that the work at South Crofty is now fully funded, as Cornish Metals says: "dewatering of the mine and delivery of a Feasibility Study".
The basic idea at Cornish Metals is entirely sensible. We know that Cornwall has deposits of tin and copper (and lithium, tungsten, but they're not after those) but what we don;t know is whether they're economic at current prices and using modern extraction techniques. Those tech niques and prices do change so it is indeed often worth going back over known deposits and checking whether they have now become economic – for either reason.
The United Downs project looks like it might contain economic copper. The mine being talked about here, South Crofty, we know very well that it contains goodly quantities of tin. It's whether it's all economic that matters.
Which brings us to what might be the reason for the muted share price response to the financing: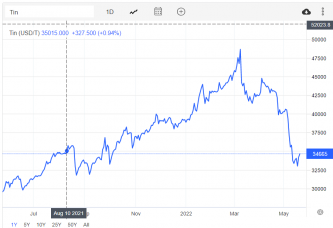 As we can see tin is a markedly less exciting material to be going mining for than it was even just two months back. It gets worse than this too. There are two basic tin mining methods, alluvial and hard rock. Both are after the same ore, cassiterite. In hard rock mining you dig up the granite (often it is granite) then crush it to liberate the cassiterite. This costs quite a lot of money. In alluvial mining you find exactly such a deposit which has already been eroded away and the cassiterite is now in the sand at the bottom of an old river bed. Which is how Bangka and Belitung in Indonesia work. Alluvial is markedly cheaper than hard rock mining.
Which means that if the tin price falls too far then hard rock mines close while alluvial ones keep going. This is the point we made about First Tin last week.
It is true that Cornish Metals has that copper interest at United Downs. There's also the cross-agreement with Cornish Lithium. C-Lithium is exploring geothermal waters (which won't contain tin) And they and C-Metals have that cross-agreement. C-Lithium finds anything interesting in hard rock it works with C-Metals, C-Metals finds anything useful geothermal it works with C-Lithium.
It's all good stuff and a perfectly dent plan to follow. But the reason that Cornish Metals isn;t soaring on the South Crofty financing is possible just because tin mining is a less exciting game now than it was two months ago.